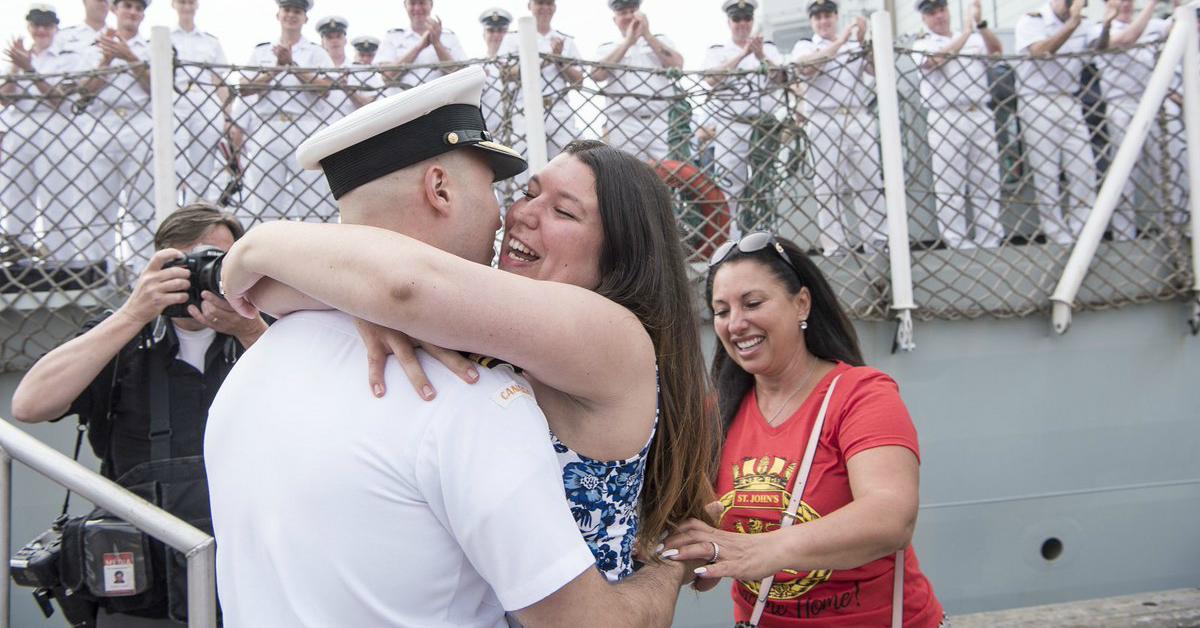 This Sailor Had A Huge Surprise For His Girlfriend After 6 Months At Sea
By Mustafa Gatollari
Lieutenant Tristan LaPointe was away at sea for six months aboard HMCS St. John's. Now six months is a long time to be on a boat, even if it is the dope Halifax-based frigate LaPointe was on. Heck, it's a long time even if you're single and don't have someone waiting for you at home.
But for LaPointe, to be separated from someone you know you want to spend the rest of your life with, the 189 days aboard the vessel must've felt like torture.
Which is why he probably did this the second the St. John's docked and he arrived at the port.
That's right, while LaPointe was riding the boat, the entire time he was thinking and planning the magical moment where he'd get down on one knee and propose to his girlfriend, Gabrielle Lambert. To say the moment was magical would be a bit of an understatement.
The best part is that there were tons of people there to witness the event, as the return of the ship was anticipated by many.
"You can catch a few waves from the sailors on board, catching their loved ones in the crowd," wrote one person on Twitter. "About 250 people here, I'd guess. Excitement is building," she continued.
But when LaPointe proposed to Lambert, it was all about them.
"She said yes. Tristan Lapointe proposed to his girlfriend Gabrielle Lambert. First one off the ship," wrote one Dave Squires along with this adorable photo that captions the moment in all of its perfection. Just look at her face! And the fact that he made sure he'd be the first one off the boat just adds an extra level of meant-to-be-ness.
And this photo pretty much says it all.
It's days like this you remember forever.