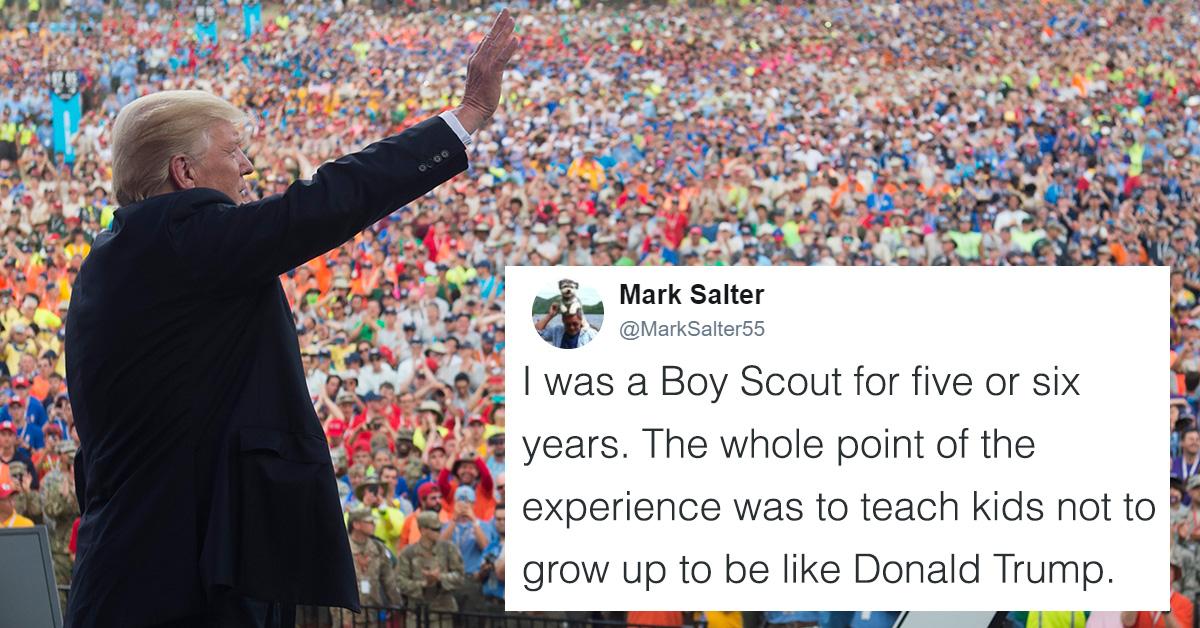 Former And Current Boy Scouts Respond To Trump's Jamboree Speech On Twitter
By Mark Pygas
Boy Scouts of America is a very tight knit organization that members old and new usually share a sense of pride and experience with eachother. A lot of young men really learned a lot of life skills in the boy scouts. Others will say it was a waste of time that their parents made them do and they didn't learn much but the same could really be said for a lot of school anyway. Regardless, it is a pretty cool skill to know how to survive in the outdoors and start fires and other useful skills that one might learn in the Boy Scouts.
President Trump gave a speech at the National Scout Jamboree in West Virginia last night. The event, which is held every four years, has gotten social media talking after it seemed to turn into more of a political rally. During the speech, Trump commented on how big the crowd was, encouraged the children to boo former President Barack Obama, railed against Hillary Clinton and the "cesspool" of politics, and brought up his electoral college victory.
Unsurprisingly, people took issue with Trump making a speech for children so political. Former and current Boy Scouts took to Twitter to voice their disapproval, including Ted Genoways, whose thread has since gone viral.
Many others also condemned President Trump.
In response, the Boy Scouts of America insisted they were "wholly non-partisan and does not promote any one position, product, service, political candidate or philosophy." They claimed that the invitation was "long-standing tradition and is in no way an endorsement of any political party or specific policies."
But based on the current state of their Facebook page, families are waiting on a sterner statement.