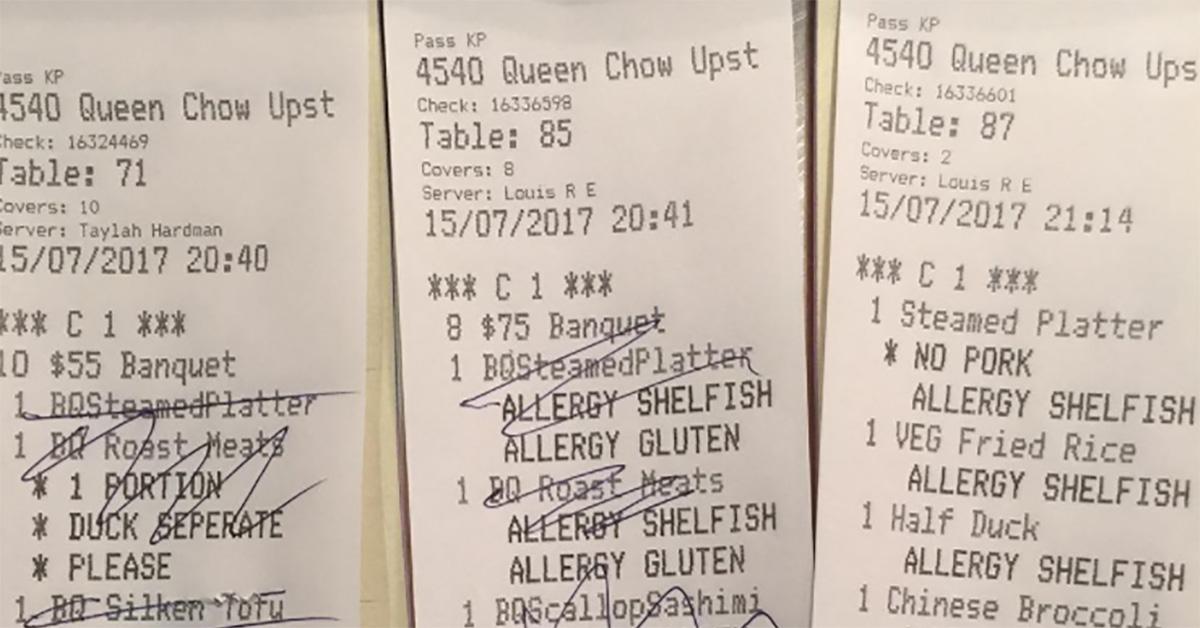 Chef Calls Out Customers Who 'Fake' Food Allergies At Restaurants
By Mark Pygas
Patrick Friesen, the head chef of Queen Chow in Enmore, Australia, has a problem with people with food allergies. That problem being that most people who say they have an allergy at his restaurant don't. According to Friesen, every day, he has customers that claim they have allergies when they're actually just dieting, or claiming they have a gluten allergy because they're trying to eat less bread.
You can imagine the confusion when someone with a "gluten allergy" asks for no bread, but orders something else that has gluten in it. And Friesen believes that this trend is causing issues for people with actual allergies.
Friesen took to Instagram to share orders from just one night that are full of conflicting dietary requirements. Friesen wrote:
"Can people with dietary requirements start knowing what you can and can't eat? Shellfish allergy but loves oyster sauce. Gluten free but loves gluten as long as it's not a piece of bread. Vegetarians that love a chicken wing. Pescatarians who eat chicken. Sort your shit out and let your waiter know. You make it really damn hard for people with actual allergies and dietaries to go out to eat."
And people seemed to agree.
"True," one user wrote." "As a celiac and someone who gets very sick from eating gluten, it's frustrating when people pretend - gluten allergy but okay with soy sauce? That's not right. It makes it difficult to eat out sometimes because people don't take you seriously, even though for me it is serious."
"Totally agree with this, had a woman come in and ask if we had gluten free bread, if not she would just have brown bread. Dipsticks like this make it hard to know if someone actually has an allergy."
Others called on him to be less judgmental:
"My mom has Lupus and she is on a strictly diet that has been working for her. No, she doesn't have the same reaction with gluten as a person who has celiac disease, but it causes her stomach to blow up and other side effects. Don't be so judgmental people and that goes for you so-called chef! She barely eats outside! So, stop complaining about your job, carry it on and do the best as you can! If you need to go that extra mile, do it or quit!!!"