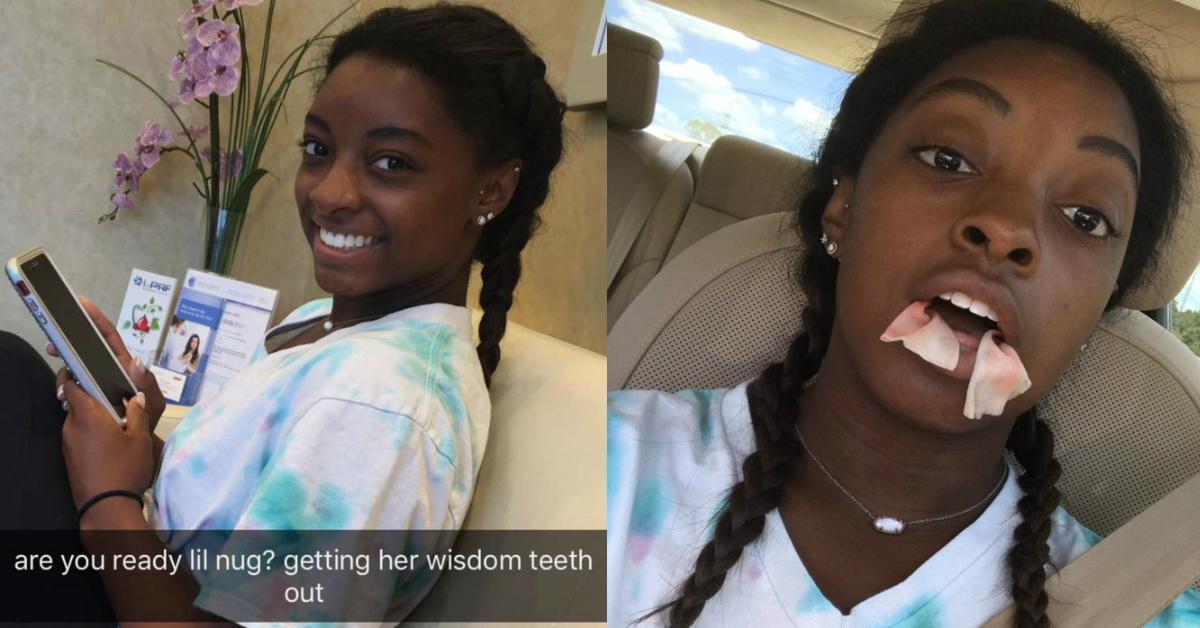 Simone Biles Shares Hilarious Video Of Herself After Getting Her Wisdom Teeth Pulled
By Mustafa Gatollari
Simone Biles didn't nab five Olympic Medals in gymnastics for being clumsy on the mat. Her balance, strength, and rhythm helped the young athlete breeze through the competition in the 2016 Rio Olympics.
But even Olympians aren't strangers to getting out of whack every now and again. Which was made very apparent when Biles uploaded a hilarious video of her at the dentist moments after getting her wisdom teeth pulled. Getting one's wisdom teeth removed is not only a rite of passage, but it's also an incredibly common procedure. So much so that most adults can probably relate to these videos of Simone coming to after the agony of having her teeth surgically removed. Fortunately for us, she decided to share the absolutely hilarious ordeal.
She first documented the experience on Instagram and Twitter with photos.
And then, of course, the video in question where she...well...just watch for yourself. As Simone explained, she "had no words" — but we have plenty; specifically: Keep 'em coming, Simone! We hope you feel better, and we appreciate that you did not hoard these videos for yourself, and instead decided to share them with the world for all of us — near and far — to enjoy.
Biles is currently enjoying some time off after absolutely killing it at last Summer's games. Something that she's been criticized on social media for. One Instagram user wrote, "Seems like u have partied non stop for a year #trash #unfollow #suckyassrolemodel."
Something Biles didn't take sitting down.
She responded: "talk to me when you train for 14 years and earn 5 Olympics Medals. I think kids would say otherwise. My year off is well deserved! Take a couple seats."
The 20-year-old Olympian can certainly handle her own online.