This Mom Has An Ingenious Trick For Making Sure Her Daughter Isn't Lying To Her
Most parents remember how crafty they were at their kids' ages and one mom thinks she found a foolproof way to check up on hers.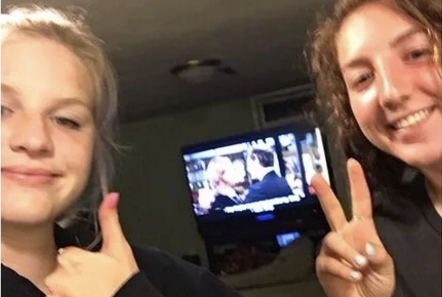 Technology has made us safer nowadays. You can put GPS trackers on your kids to make sure they don't get kidnapped throughout the day, but many of them may not be as cool with the modern day adaptation of an ankle bracelet once they start getting older, so parents have to come up with creative ways to keep tabs on the kids while making sure they understood that they didn't really have a choice in the matter.
After all, at no point in time did any of us actually listen to something our parents told us or warned us about and thought, 'Wow, this person who loves me unconditionally probably has a really good reason for telling me this based on negative experiences they've gone through with little to no benefit and they want to protect me from having a similar experience." Even typing that out sounds incredibly sarcastic, but the reality of the situation is that parents are constantly struggling between protecting their kids and letting them experience life as it comes. Cell phones have bridged that gap quite a bit, not just through means of communication, but also by keeping up with popular trends, geotags, and how parents and children communicate with one another these days, regardless of the age gap.
I'm glad that smartphones weren't around when I was a teen. I'd probably be like Kaelyn Demmon, 18, whose mom Heather Steinkopf has figured out a brilliant way to keep tabs on her.
Article continues below advertisement
Steinkopf told BuzzFeed that she requests selfies only some of the time, so Demmon never knows when she's going to get a request for one. She also requests specific poses (like thumbs up) so her daughter can't give her an old photo.
Article continues below advertisement
And yes, sometimes it has resulted in Demmon being caught in a lie. "There've been times when I've said I'm at Stevie's when I'm at a bonfire or something," she told BuzzFeed.
Article continues below advertisement
I'm just surprised she never went as far as to ask her daughter to hold up a copy of the day's newspaper or something.
Article continues below advertisement
In just a few months, however, Demmon is going to college—and her mother won't be able to keep tabs on her so easily anymore. "She's awesome, so I'm not worried about her," her mom said. If my mom is any guide, I don't believe it for a second.
Article continues below advertisement