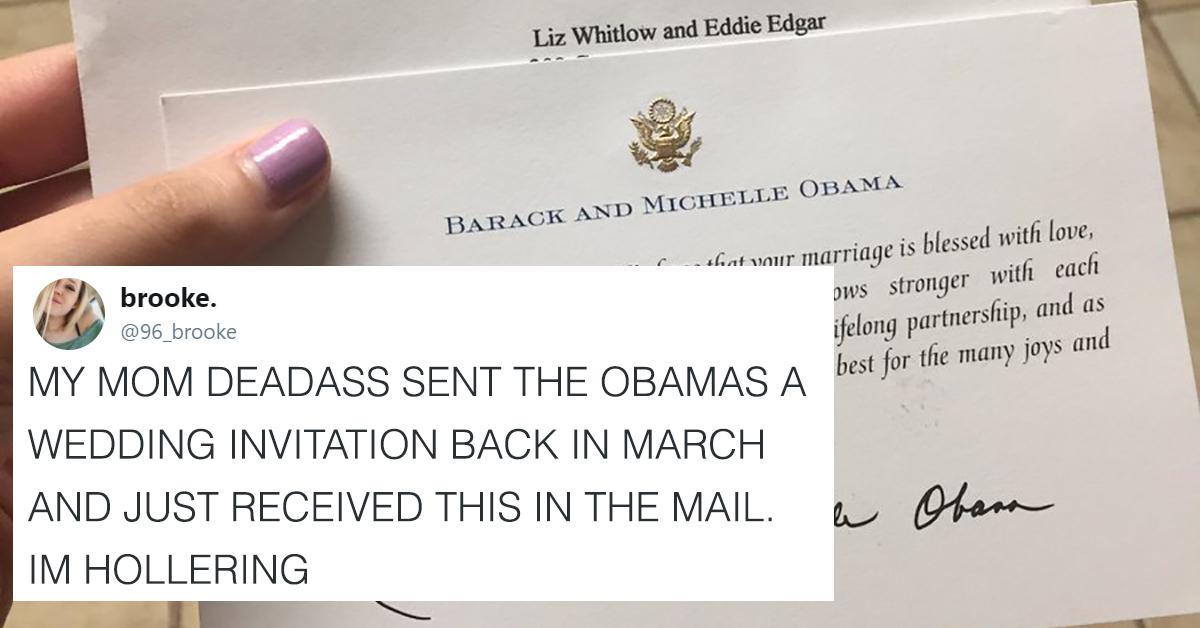 Woman Invites The Obamas To Her Wedding And Gets The Sweetest Reply
By Mark Pygas
People cast a pretty wide net when it's time to invite people over to celebrate a milestone or life changing event. While some prefer the intimacy of only having close family and friends on their special day, others want anyone and everyone to come in, especially high caliber people who've they've referenced in their lives. We've heard of many people who have invited celebrities to come to everything from proms to graduation parties. Imagine their surprise when they actually got a response.
It's a little different when it comes to doing the same for high-level political figures. For starters, it's unlikely that your letter will even be read by the intended recipient. It'll get screened, and if the letter makes it through the initial checkpoint, you in turn will be screened. It's for that reason that people often hear back from their elected officials weeks or months later, and that's if they even get a response at all. It's what makes getting a response from them all the more special for those that do hear back, even if the event they wanted them to attend has passed.
Now sure, it could just be a standard response they're receiving from the office manager or something along those lines, but we're not here to ruin the magic, especially not for this woman here.
Whether you agree with his politics or not, it's hard to deny that President Barack Obama has class. Whether it was when he helped Beyoncé reveal the gender of her twins, or enjoyed his holiday in style. And now, Twitter user Brooke Allen of San Antonio, Texas, has taken to social media to share the reply her mother, Liz Whitlow, received recently after she sent a wedding invitation to Michelle and Barack Obama back in March.
The letter reads:
"Congratulations on your wedding. We hope that your marriage is blessed with love, laughter, and happiness and that your bond grows stronger with each passing year. This occasion marks the beginning of a lifelong partnership, and as you embark on this journey, know you have our very best for the many joys and adventures that lie ahead."
And of course, her mom threw some shade at President Donald Trump.
Other Twitter users also took the opportunity to share their own replies from the Obamas.
Others just basked in the sweetness of the reply.