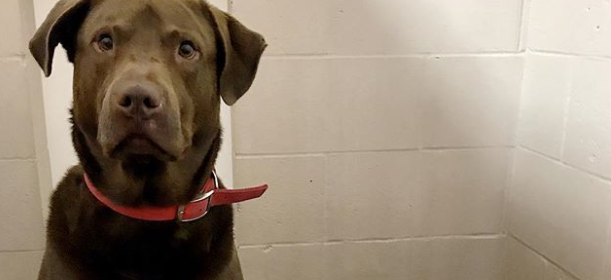 An Animal Shelter Turned A Chewed Up Dog Toy Into A Murder Mystery
By Jaime Lutz

Updated
Wisconsin animal shelter Fox Valley Humane Association is the host to an adorable chocolate lab named Hank, who is in love with his favorite toy, a stuffed animal named Fuzzy Purple Hippo. It's kind of a long name and more of a description than an actual name, sort of like the card monsters in Yu-Gi-Oh, but I digress.
That love was put in serious jeopardy, however, earlier this month, when Fuzzy Purple Hippo was discovered one morning with serious injuries. Animal shelter employees feared the worst: ATTEMPTED MURDER. Someone was responsible for the attack on FPH, and they were going to get to the bottom of it.
Luckily, Fuzzy Purple Hippo survived the attack, but just barely. It's clear that the poor little toy was left licking their wounds and was shaken by the attempt on their life.
The investigation into Fuzzy Purple Hippo's apparent assault continued, because even if you're a non-sentient being and a chew toy designed to be destroyed by the strong jaws of dogs, well, you have rights.
Fuzzy Purple Hippo, meanwhile, went to see a therapist which is a difficult but necessary step in their recovery efforts. Such a brave little Fuzzy Purple Hippo that FPH is.
Hank lawyered up, which was the smart move, especially with that guilty mug.
But even after Hank's arrest, protesters asserted that the adorable four-year-old dog was innocent.
Investigators began to study the case further.
And what they found surprised everyone. Hank was not only innocent—he had been trying to save Fuzzy Purple Hippo's LIFE!
Fuzzy Purple Hippo and Hank will presumably live happily ever after in their new family, but if you want to support the other critters living at Fox Valley, you can donate to the organization through its website.