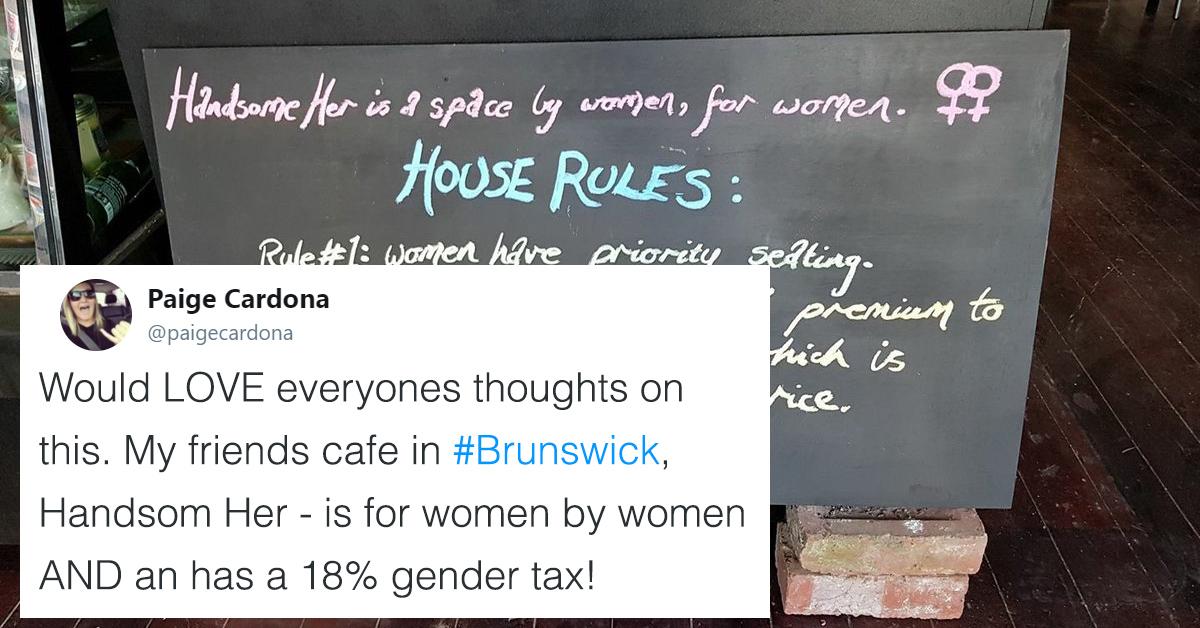 This Cafe Charges Men A 'Tax' To Make Up For The Wage Gap And Twitter Has Feelings
By Mark Pygas
As in most of the world, Australia has a stark difference in the wages of men and women doing the exact same work. According to the Australian government's Workplace Gender Equality Agency, the gender pay gap is currently 16 percent and has hovered between 15 and 19 percent for the past two decades.
Alexandra O'Brien, owner of the Handsome Her cafe in Brunswick, Australia, has recently decided to take action against the wage gap by imposing an 18 percent tax on male customers. Proceeds from the tax are donated to a charity that benefits aboriginal women.
The sign reads:
"Handsome Her is a space by women, for women."
"House rules:"
"Rule #1: Women have priority seating."
"Rule #2: Men will be charged an 18% premium to reflect the gender pay gap (2016) which is donated to a women's service."
"Rule #3: Respect goes both ways."
As you might imagine, people had mixed feelings about the photo.
One commenter even proposed that anyone who does construction work at the cafe should charge the owners an 18% "feminism tax."
Despite the reaction on social media, O'Brien says that some men even add some extra cash to the tax.
"We've had men travel across town to visit us and pay 'the man tax' and throw some extra in the donation jar - guys, you're pretty neat," a Facebook post reads.
"I had a woman bring her daughters in today and when she came up to the till and saw our gorgeous vulva stones and our period sticker packs she beamed, thanked us for what we were doing and said 'what a beautiful place to take my daughters'... I swelled with pride."
What do you think of this idea?