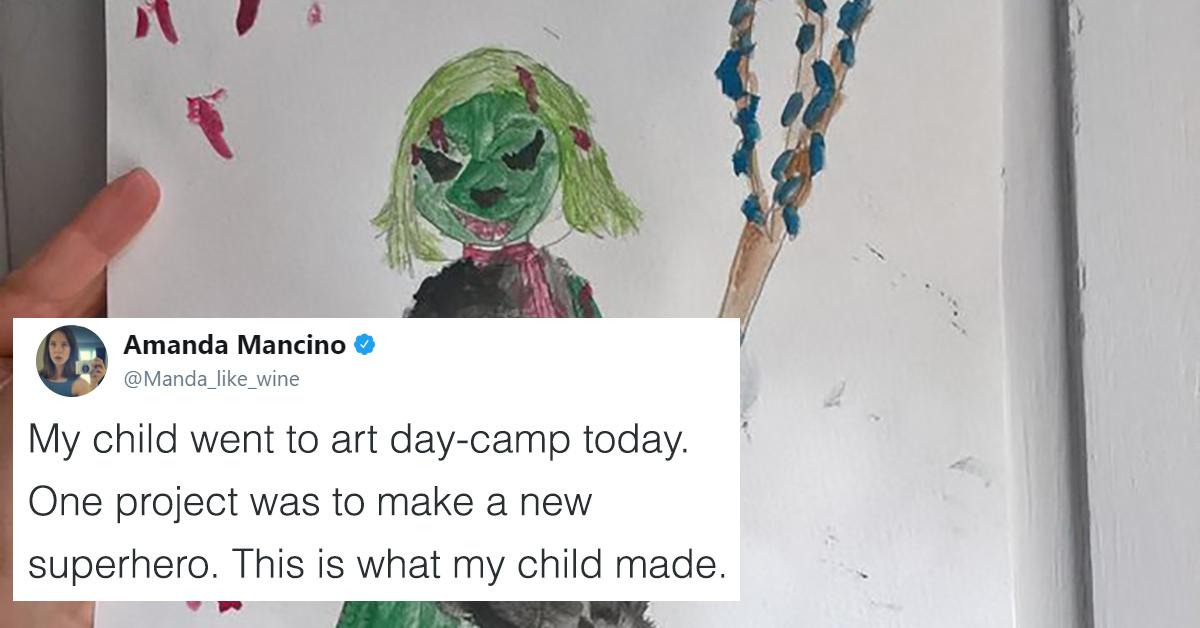 Twitter Is Obsessed With This Child's Terrifying 'Superhero' Named Janet
By Mark Pygas
We all drew superheroes as kids, and most of them were pretty lame. Cheese Man probably isn't going to be picked up by Marvel anytime soon, let's be honest. But Janet probably will be. Twitter user Amanda Mancino from the United Kingdom recently took to Twitter to share her child's creation, which had a lot more blood than the superheroes other kids at her art day camp drew...
Here's an alternate, less bloody, version of Janet that Luca drew. I don't know why Janet is such an amazing character, maybe it's the fact that her primary weapons of choice are a pair of scissors and a twig. Maybe it's because she just has a regular everyday name and is a horrifying monster, but I love her.
And just for reference, that thing in her hand is a "twig that she smacks the jerks down with." Because sometimes jerks need to get schooled by a very brittle piece of wood.
Unsurprisingly, people are in love with Janet, and there's already fan art. As great as this drawing is, I have to say that I'm a bit partial to the original, it's more raw.
And cosplay, much better than another Sailor Moon or Joker, I'll tell you that much. Plus, bonus points for cosplaying a baby.
"We (Luca and I) are seriously amazed by how many people got excited by Janet," Mancino wrote in a further post. "Thanks to everyone who sent messages, they made her day. And those of you who created art, it's just beyond cool. You'll find the drawings below."
In all seriousness though, the Janet drawings that sprung up in the thread were pretty cool and the fact that a kid came up with such an original and funny character is awesome. I'd be proud if she was my kid, even if Janet is creepy as heck.