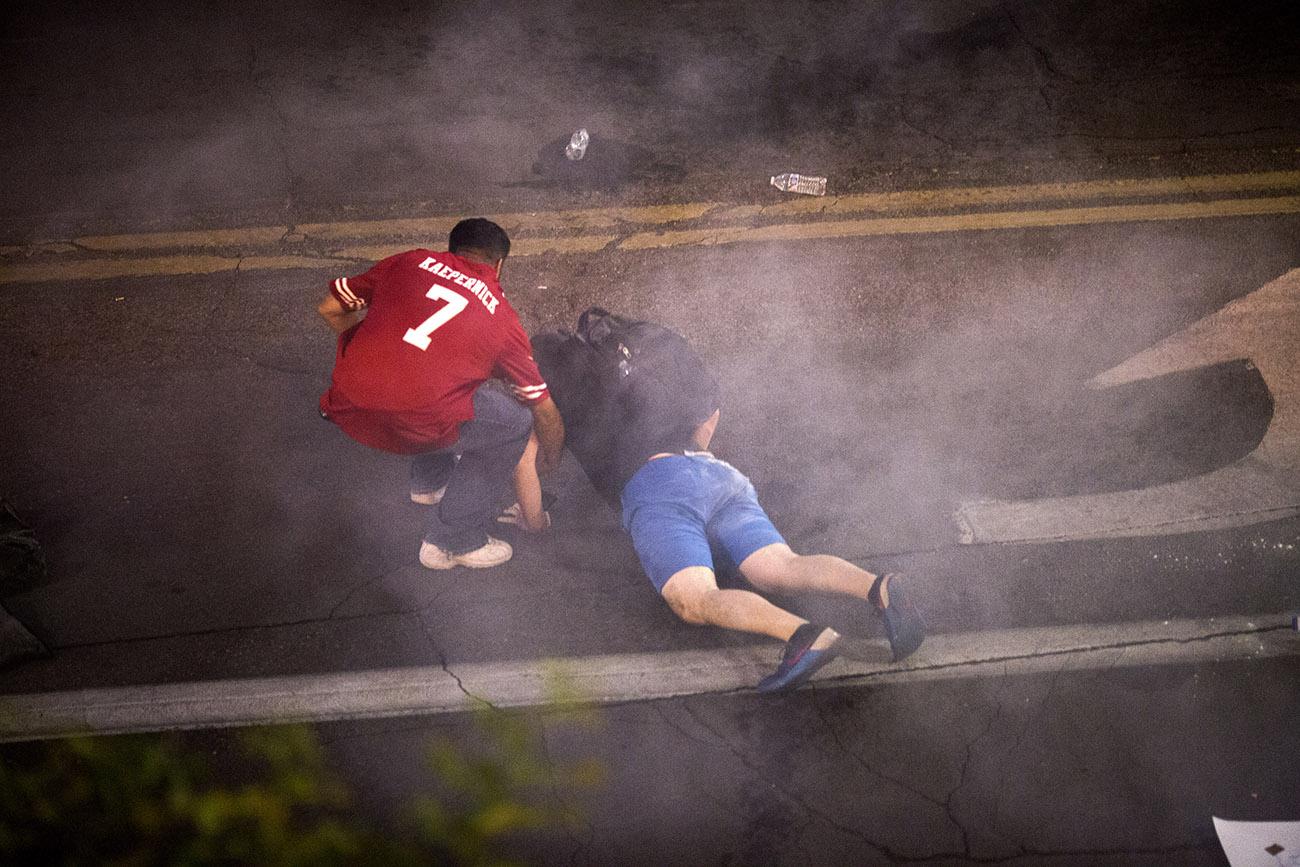 Trump Rally Protestor Kicks Tear Gas Back At Police, Gets Shot With Rubber Bullet On Live TV
By Mark Pygas
Despite a successful presidential campaign and getting into the White House months ago, President Donald Trump held a campaign rally in Phoenix, Arizona, on Tuesday evening. At the rally, Trump spoke out against movements to remove Confederate statues following the violence at Charlottesville, saying: "They're trying to take away our culture. They're trying to take away our history."
While protests against the rally were largely peaceful, violence broke out later in the night. Local news outlet CBS5 was covering the events, and caught the moment that one protester wearing a gas mask kicked a canister of tear gas back at police. Seconds later, the protester fell over as he appeared to be shot in the groin by a rubber bullet.
Phoenix Police Chief Jeri Williams told reporters that three people were arrested at the protest and that police responded with tear gas, pepper spray, rubber bullets and pepper balls, after bottles and rocks were thrown at them.
Two officers were treated for heat exhaustion on the night, with temperatures reaching 107 degrees.
Reactions to the video were unsurprisingly mixed.
I think we can all agree that's got to hurt, especially when you consider that the man wasn't posing a physical threat to the officers or anyone else in the protest and was just trying to kick away a gas canister. Does assaulting the police extend to the non-physical objects they they're intending to hurt you with as well? It's a can of tear gas, it wasn't like he was rioting and throwing trash cans at a cop car or attempting to burn down a police station. He was just trying to get a gas canister away from him so he could continue to protest. But I guess that warrants getting shot these days.