The most wonderful thing about memes is that no on really understand why they become popular in the first place or where some of the most viral ones ever came from in the first place. For some reason an image or joke becomes the hottest thing on the web and it turns into a gigantic running joke that snowballs and pretty soon every single social media account and media outlet, comedic or not seems to get its paws on the meme for some sweet, sweet traffic.
You could probably measure internet cycles in memes, and as of right now, there's a new meme in town and it's based off of this incredible stock photo that people just can't get enough of. Probably because the models' faces are so exaggerated in it.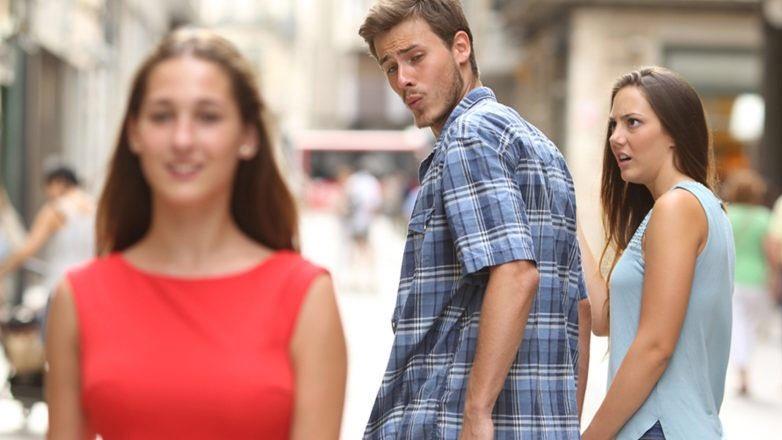 Now you're probably thinking the same thing as everybody else when they see this photo: Why is this dude checking out a girl who looks almost exactly like his girlfriend?
I mean, who says he's even checking out the other woman, and not just admiring his own taste in women with his current GF? But people have their own theories.
The strange-as-hell nature of the stock photo, as it turns out, lends itself perfectly for memes.
It can really be applied to any situation.
They're just so easy to relate to.
Some even got all inception-ey.
But just remember...They are essentially the same person. Which adds a whole deeper meaning to this meme when you think about it.
Are we ever truly satisfied? Aren't we all this guy looking to external entities as sources for our own happiness?
Or is satisfaction a choice? A choice we have to struggle and make for ourselves? Man this meme is deep.