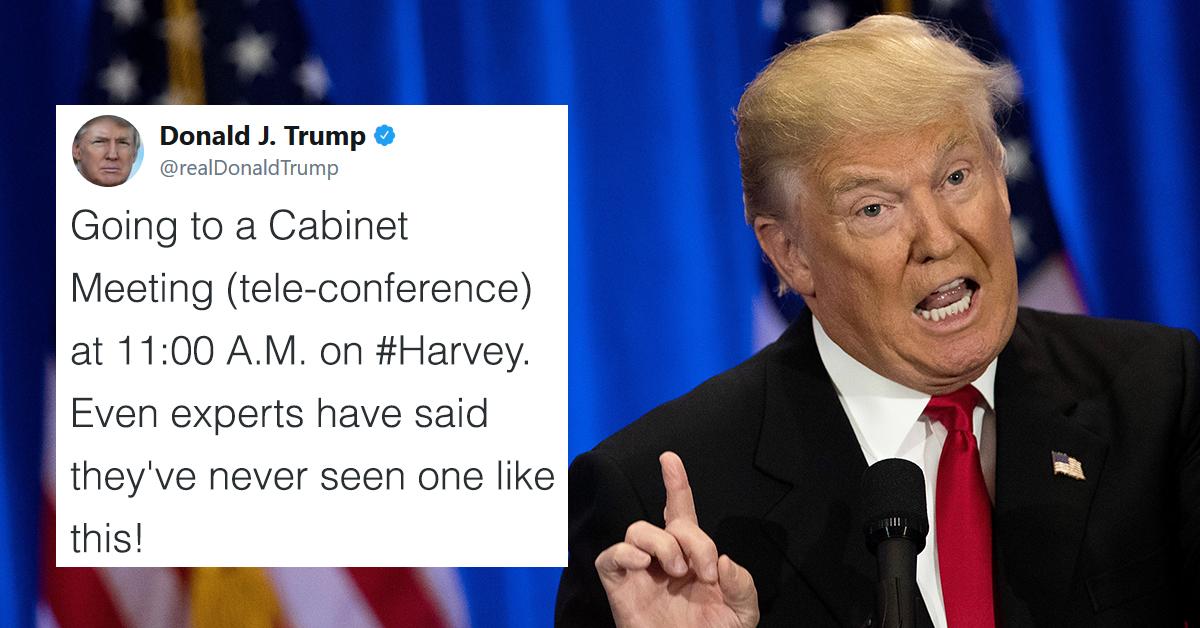 Comedian Points Out The Irony In One Of President Trump's Latest Hurricane Harvey Tweets
By Mark Pygas
The planet is getting warmer because of human carbon emissions. With that increase in heat, the risk of extreme weather events has already doubled. Those extreme weather events include stronger hurricanes, like we witnessed when Hurricane Harvey struck Texas on Friday.
As the world warms, evaporation of our oceans speeds up, meaning that there's more and more water vapour for a storm to sweep up and dump on cities like Houston with devastating effect. Harvey was also made worse by the unusually warm waters of the Gulf of Mexico.
"This is the main fuel for the storm," Kevin Trenberth, a senior scientist at the U.S. National Center for Atmospheric Research explained. "Although these storms occur naturally, the storm is apt to be more intense, maybe a bit bigger, longer-lasting, and with much heavier rainfalls [because of that ocean heat]."
President Donald Trump disagrees with the vast majority of scientists, stating in 2012 that that global warming is a myth invented by the Chinese to make American industry less competitive. As president, Trump pulled the United States out of the Paris Climate Accord.
And on Sunday, President Trump took to Twitter to express his apparent shock that Harvey had been so devastating...
Thankfully, comedian Jess Dweck was on hand to explain why to the president.
Obviously Twitter loved the burn...
While others accused Dweck of making science a political agenda. Which seems like a pretty good idea.
The death toll for Hurricane Harvey currently stands at seventy, while Hurricane Irma is predicted to cause massive devastation in Florida. Irma has already slammed the Caribbean, reducing some areas to rubble.
Hurricane Harvey moved into Texas as a Category 4 hurricane over the weekend, and has since been downgraded to a tropical storm. Despite being downgraded, Harvey is still the strongest storm to hit the United States since Charley in August 2004 and the most powerful to hit Texas since Hurricane Carla in 1961.
The National Weather Service predicted that as much as 50 inches of rain has fallen in some areas, and at least five deaths have been reported. Perhaps the hardest hit area has been Houston, the most populous city in the state, with millions being affected by flash flooding.
Joel Osteen, head of the Lakewood mega-church in Houston, Texas, also became the focus of the Internet's anger over the past several days. When Hurricane Harvey hit the coast, flooding huge swaths of land and leaving thousands without shelter, Osteen refused to open the doors of his 17,000-seat building.
Osteen then began claiming the church was inaccessible due to flooding, despite pictures people quickly shared on Twitter showing the premises almost completely unharmed. In response to the intense public outcry, Osteen finally bowed to pressure and opened Lakewood to those in need.