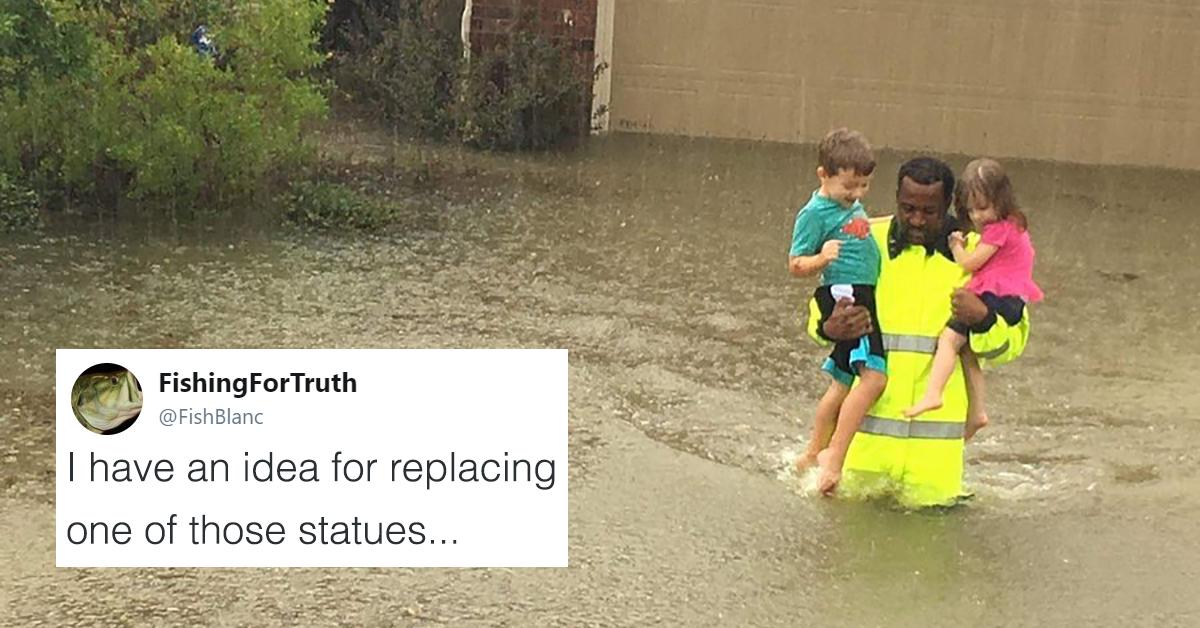 Photo Of Hero Rescuing Two Children In Hurricane Harvey Emerges Online
By Mark Pygas

Nov. 18 2019, Updated 2:16 p.m. ET
At least eight people are believed to have died as a result of Hurricane Harvey, with a record 30 inches of rain falling on the city of Houston, leaving highways totally submerged by water. The heavy rains are expected to continue into the week, with Harvey set to pick up more water from the Gulf of Mexico before heading inland once again. 
Article continues below advertisement
And while many have focused on the devastating impact of the storm, there have been many cases of heroism amid the chaos. One of the photos that has gone viral shows a Harris County Sheriff's Office deputy carrying two children to safety. 
Article continues below advertisement
The image of the storm shows Harris County sheriff's deputy Rick Johnson carrying two small children to safety. The photo was taken by one of his colleagues and shared on the sheriff's office Twitter account. Johnson is seen calmly walking the two children from their house in suburban Cypress, Texas. 
"I grabbed the kids, and in order to keep the kids focused on happy thoughts given the seriousness of what was going on around us, I told them a couple of light jokes. We joked about swimming, and the water being cold."
The photo has understandably attracted a great deal of praise. 
Article continues below advertisement
Many heroes out there today! Thank you all!
This is who we really are America!

— Tin Man 🤖 (@Amalgam65) August 27, 2017
Article continues below advertisement
But that's not the only tale of heroism. KHOU reporter Brandi Smith has been praised for saving a truck driver's life while she was broadcasting live. 
Article continues below advertisement
As were citizens who responded to officials asking anyone with a boat to help search for anyone in trouble. 
Article continues below advertisement
Article continues below advertisement
A group of people were able to form a human chain to save a man stranded in deep water. 
Article continues below advertisement
And of course, the emergency services and army personnel who have been risking their lives. 
Article continues below advertisement
Daryl Hudeck, a Houston Police SWAT officer, is seen carrying Catherine Pham and her 13-month-old son Aiden. 
 "We were waiting for daylight to try to get out, but by that point the water kept rising and rising and it was unsafe to even try to get out [by truck]," Troy said by phone on Monday. It wasn't going to be possible for them to leave without help.
"Then, they heard helicopters and voices. Troy decided to see whether the sounds were rescue crews.
Troy took his kayak about 400 yards down the street, where he  found members of the Houston SWAT team and a volunteer civilian and son helping people get out of the Meyerland neighborhood. The crew of six used their motorized boat to help ferry the family from their home."
Article continues below advertisement