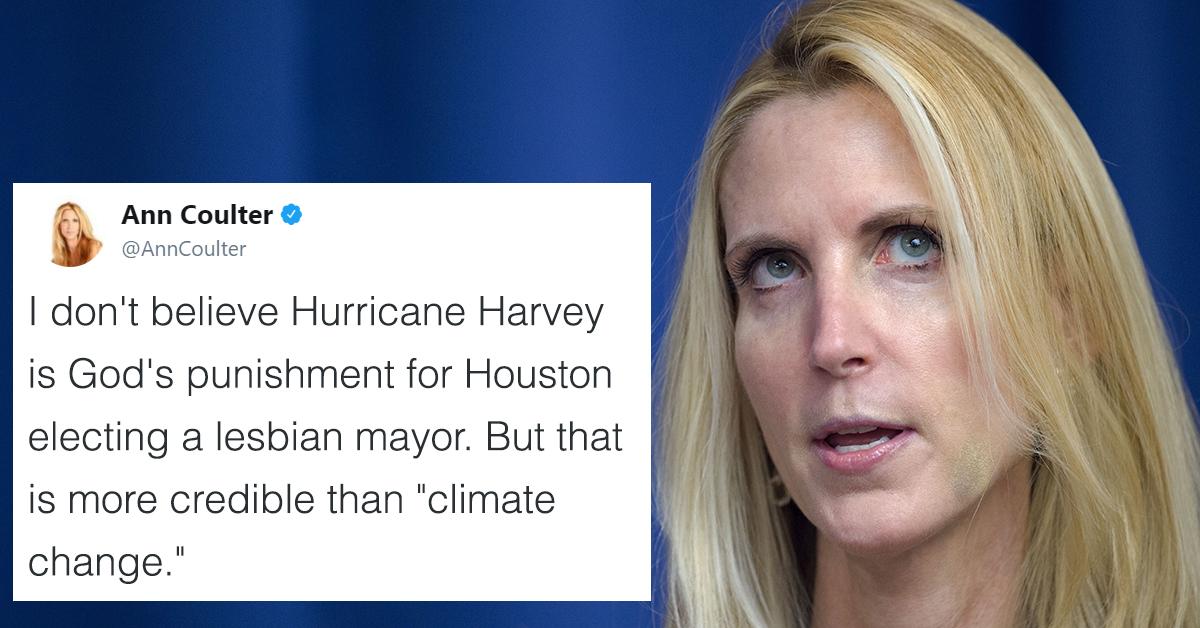 Ann Coulter Blames Hurricane Harvey On Houston Electing Lesbian Mayor, Gets Shut Down Immediately
Ann Coulter, a right-wing media pundit, took to Twitter on Tuesday to dismiss climate change by instead saying that Hurricane Harvey was more likely caused by the election of Houston's openly gay mayor, Annise Parker, who served from 2010 to 2016.
Article continues below advertisement
Experts believe that increased evaporation as a result of climate change allowed Harvey to pick up more water, leading to devastating effects in Houston. The storm was also made more fierce by the fact that water temperatures were unusually high in the Gulf of Mexico.
Article continues below advertisement
"This is the main fuel for the storm," Kevin Trenberth, a senior scientist at the U.S. National Center for Atmospheric Research explained. "Although these storms occur naturally, the storm is apt to be more intense, maybe a bit bigger, longer-lasting, and with much heavier rainfalls [because of that ocean heat]."
Article continues below advertisement
People were understandably confused that Coulter had denied a fact that the majority of scientists agree on.
Article continues below advertisement
Article continues below advertisement
Article continues below advertisement
The death toll for Hurricane Harvey currently stands at seventy, while Hurricane Irma is predicted to cause massive devastation in Florida. Irma has already slammed the Caribbean, reducing some areas to rubble.
Hurricane Harvey moved into Texas as a Category 4 hurricane over the weekend, and has since been downgraded to a tropical storm. Despite being downgraded, Harvey is still the strongest storm to hit the United States since Charley in August 2004 and the most powerful to hit Texas since Hurricane Carla in 1961.
The National Weather Service predicted that as much as 50 inches of rain has fallen in some areas, and at least five deaths have been reported. Perhaps the hardest hit area has been Houston, the most populous city in the state, with millions being affected by flash flooding.
Joel Osteen, head of the Lakewood mega-church in Houston, Texas, also became the focus of the Internet's anger over the past several days. When Hurricane Harvey hit the coast, flooding huge swaths of land and leaving thousands without shelter, Osteen refused to open the doors of his 17,000-seat building.
Osteen then began claiming the church was inaccessible due to flooding, despite pictures people quickly shared on Twitter showing the premises almost completely unharmed. In response to the intense public outcry, Osteen finally bowed to pressure and opened Lakewood to those in need.