If, for whatever reason, you've always wanted to wear the Milky Way on your legs, then you're in luck.
But that's not the best part. Because this bad boy actually lights up.
That's right, not only does this skirt look great on its own with a cool, blue ombre color, it packs a bunch of dazzling constellations thanks to some nifty tech.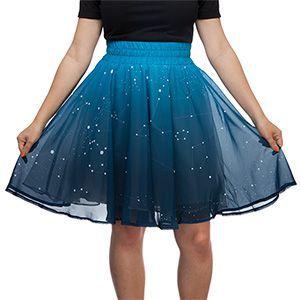 250 tiny LED lights decorate the skirt that can be activated with a tiny switch tucked into the waistband. Sparkly, I know.
The video below shows you exactly how the skirt is constructed: the LEDs are fastened by sturdy wires and secured in layers of gauze so you know they aren't going anywhere in case you feel like twirling in the middle of the night and acting like a Disney princess. Because let's face it, if you cough up $60 for this thing (totally worth it in my book) you're going to do exactly that.
You're definitely going to leave people absolutely star-struck with this cool design.
The Think Geek site reads:
"Our lives are busy. We're always on the go. We don't have time to go home and change between work and play, so our outfits frequently have to go from day to night. Let your look do that literally when you select this Twinkling Stars Skirt."
"We guarantee this skirt will put a twinkle in your step. Equipped with over 250 tiny LEDs, this midi-length skirt flatters many body types. You can set the lights to off (or wear it without the battery pack), and you'll have a stellar ombre skirt featuring an actual star chart sure to spark conversation. But the real magic happens when you set the lights to On or Twinkle. Over 45 feet of LED wire lights sparkle inside the layers, looking like little fairy lights shining through the fabric."
(h/t mashable)