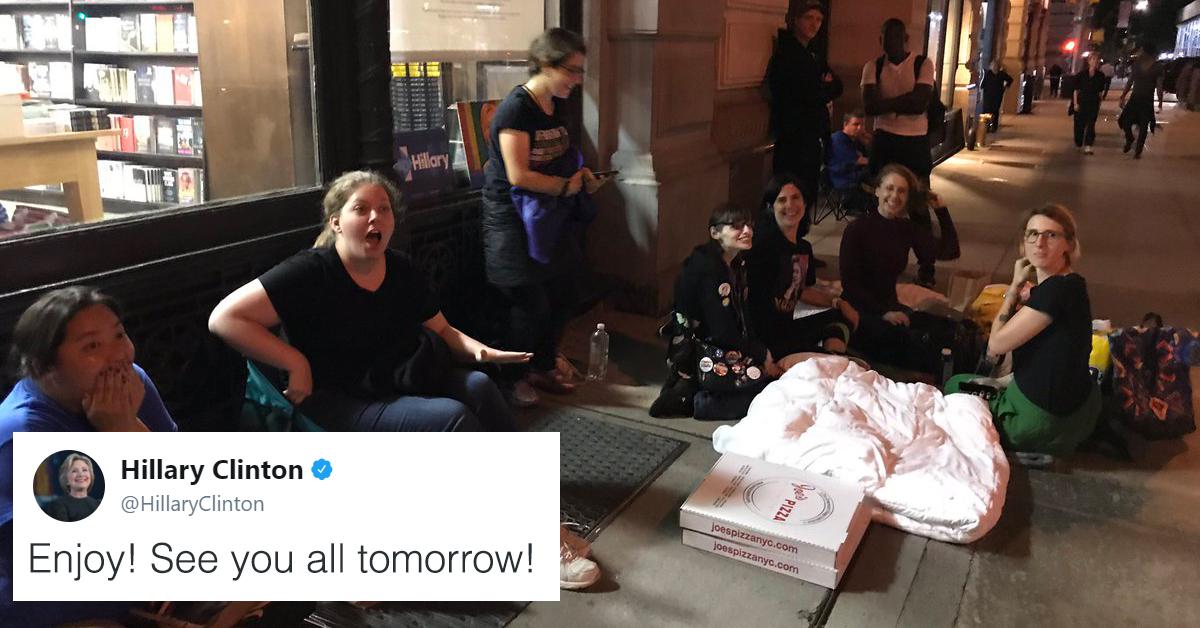 Hillary Clinton Knows How to Treat Fans Who Waited In Line Overnight For Her Book Signing
By Mark Pygas
Hillary Clinton's memoir of the 2016 election, titled What Happened, is set to be released this week, and a few very excited people started lining up in New York to be the first to get a copy of the book along with an autograph when the candidate herself comes for a signing. And to thank them for showing up so early, Clinton's team has a little surprise delivered... To show her appreciation to some of her most dedicated fans, Hillary — the former Secretary of State herself — had her staff deliver pizza to the legions of supports braving the streets of New York! How kind.
Clinton took to Twitter to confirm that they'd sent the pizza, shutting down the naysayers who thought she just got lucky with the event, or that someone else was claiming to have sent it on her behalf. She kept her sentiment simple: "Enjoy," she tweeted. "See you all tomorrow!" As if those people weren't excited enough to meet the former Secretary of State/Senator/First Lady, they now have another thing to make them appreciative — she's the lady that kept them warm and fed! Yes Hillary!
Though it definitely looks like there's not enough pizza to go around anymore... The masses that showed up just meet Hillary, hear more about the book, or get the chance to say thanks for your service (and double thank you for the pizza) was immeasurable. People clearly can't get enough of Hillary!
So far, early reviews for Hillary's book — which takes on her account on what she thinks went wrong in the election, starting with the campaign, leading all the way up to election night — have been positive, which means the pizza-loving people of New York have a solid read to look forward to.
Yay, pizza! Yay, Hillary!