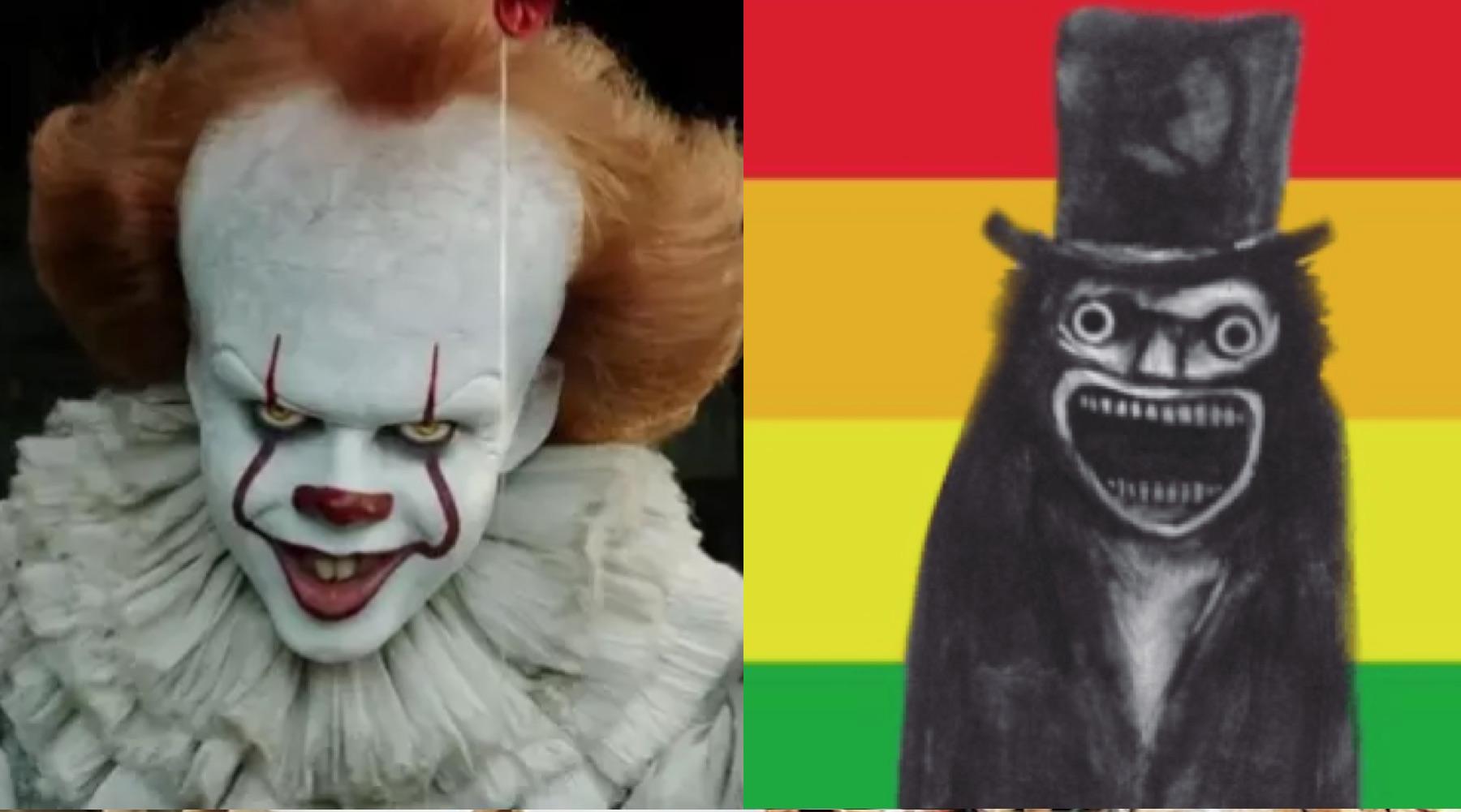 The Internet Has Decided That Pennywise The Clown Is Gay, And That He's Dating The Babadook
By Aimee Lutkin
Over Pride this summer, the Internet became more widely aware of how the scary monster from the cult hit film The Babadook had become something of a queer icon. He was appearing at Pride events everywhere, and people were loving it:
Now that IT has been released, folks are trying to do a little matchmaking. What if evil clown Pennywise were gay? Wouldn't they make the perfect couple:
Everyone thinks it's a match made in heaven:
BuzzFeed News reports that the notion Pennywise might be a gay murderous clown came from Twitter user @Starkrhodey, who tweeted that Pennywise was an LGBT ally. Their tweet inspired the ultra-viral illustration above by @Kumivenarts.
"I've posted a 'Thanos is an LGBT ally' edit before and it didn't gain as much reactions as this one," they said. "So I thought 'hmm, what if I post a Pennywise is an LGBT ally edit too.' And I was thinking only my mutuals would enjoy it. Then of course, the moderate republican account came and immediately started spewing things."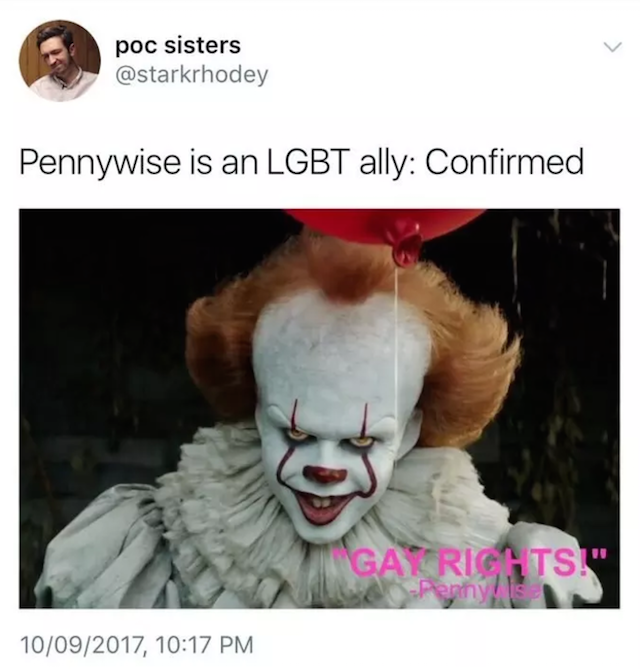 Since the BuzzFeed article was published, it appears that @Starkrhodey's account has been deleted, including the original Pennywise tweet. They told BuzzFeed that they been getting harassed and shared some pretty vile messages from people who are upset over the idea that Pennywise might be gay. Not sure why that would be such an issue, but I guess when hate is your primary motivator, you can't think rationally.
Let in the love, everyone. Maybe then you'll find happiness like what The Babadook and Pennywise have.
The Stephen King fan wiki explains:
"It (Referred to as IT) is an ancient alien/eldritch monster and the title character and main antagonist of the 1986 novel the same name (and subsequent television and film adaptations). It is a shapeshifting creature known as a Glamour and is billions of years old. Although it lived on planet Earth for many years, it originated in a void/dimension outside the regions of space known as the Macroverse. Since its true identity is unclear, due to its shape-shifting abilities making its real name and species unknown, the creature is just named IT."
"It can morph into any other person, animal, or object (including combinations thereof). This ability is useful for A) appearing as the target's loved ones or friends to lure them into a trap or B) appearing as the target's fear. However, It's favorite and most common form is that of a circus performer named "Pennywise the Dancing Clown". It's real name (if indeed, it has one) is unknown. Although, several times in the novel, It calls itself by the name Robert "Bob" Gray. This may be an allusion to real life child cannibal Albert Fish, who reportedly used the name "Robert Gray" as an alias."
"It's primary goal is to feed on humans, generally preferring children than adults since they were easier to scare and manipulate. According to the creature, frightened flesh tastes better."