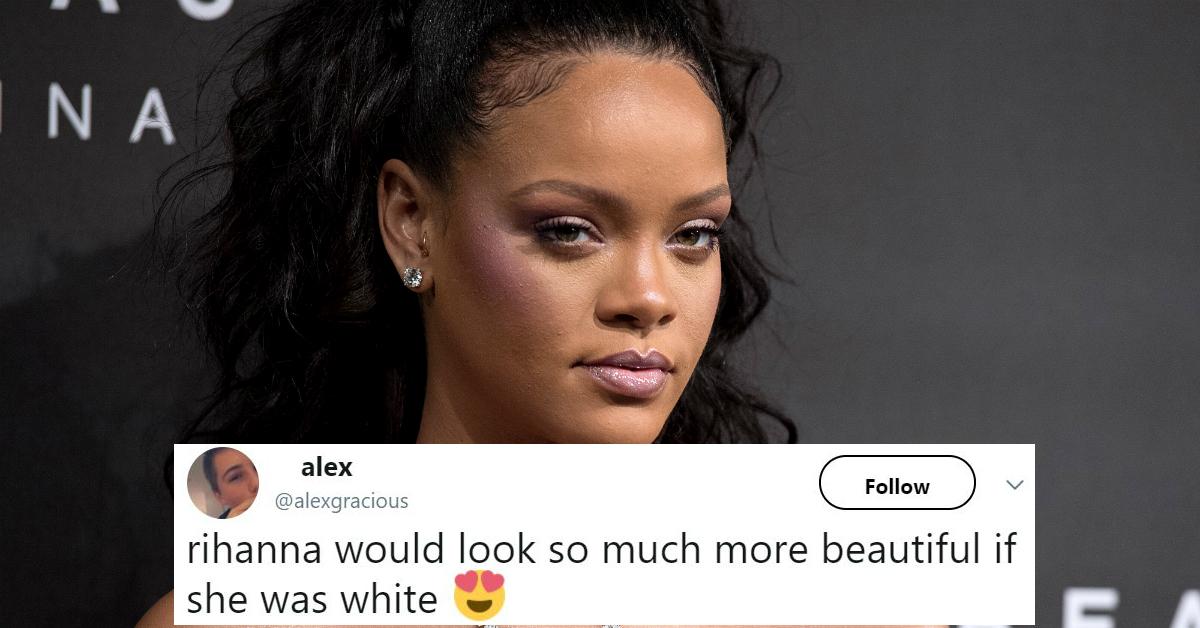 Fan Photoshops Rihanna Because She 'Would Look More Beautiful' If She Were White
By Mustafa Gatollari
Twitter user @alexgracious says they were blocked by Rihanna after posting photoshopped pictures of the singer saying that she "would look so much more beautiful" if she were white. Which is as untrue as it is ridiculously offensive, but we just don't know what's wrong with some people. All we know for sure is that if they are going to say ludicrous and offensive things about Rihanna, they definitely deserved to be blocked by the music mogul — and get whatever is coming to them at the hands of Rihanna's legions of fans, known affectionately (and accurately) as her Navy.
And as messed up as this whole thing is, it turns out that it is somehow more common than we may have realized. As it happens, RiRi isn't the only pop star that's been getting the whitewashing treatment on Twitter: Users are also uploading pictures of Beyonce rocking lighter skin, as well.
Given the sensitive history of whitewashing in advertisements and film, along with the longstanding social stigmas associated with dark skin being considered "ugly" in many cultures, people were understandably upset about the photos @alexgracious posted of Rihanna.
The backlash ultimately resulted in the following: The person got blocked, and rightfully so. We love a queen who stands up for herself and knows garbage when she sees it — and immediately takes action to just block them rather than feed the trolls. Way to work, work, work, work it, Ri!
In other Rihanna news, the singer's new line of beauty products is getting tons of praise from people with different complexions, both light and dark. The singer's cosmetics line is supposed to tailor to a wide variety of people's skin tones — with many people say she already changed beauty industry standards.