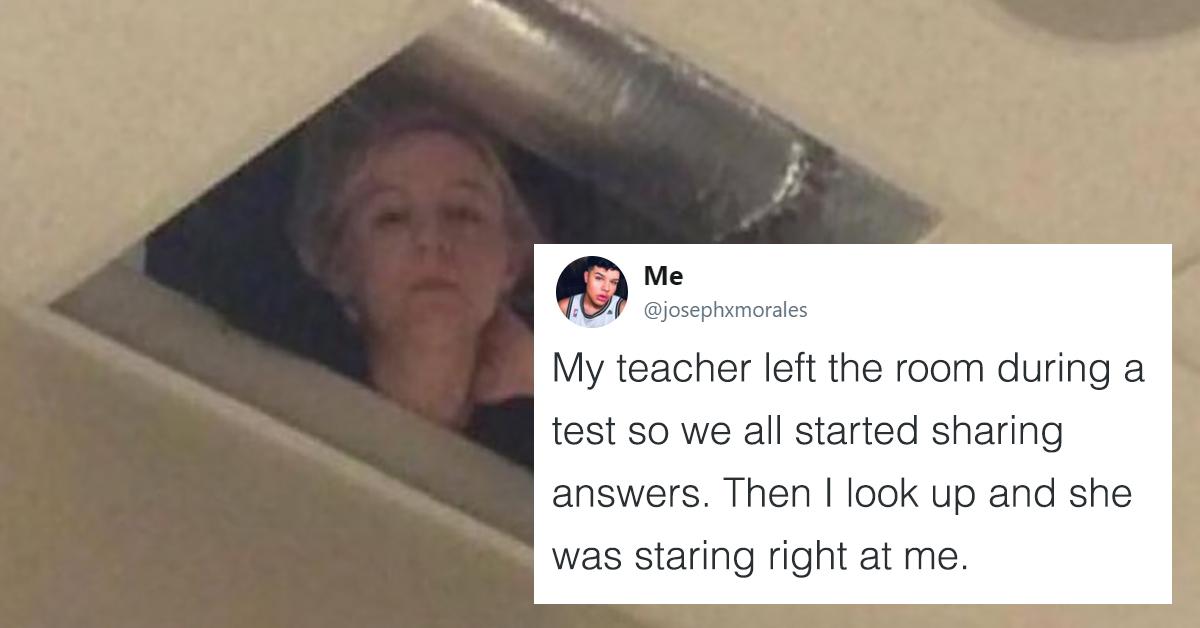 Viral Photo Of Spying Teacher Is Actually Fake--Sorry To Burst Your Bubble
By Mark Pygas
We've all cheated on a test before, and teachers have had to get pretty inventive to call students out. And Twitter user Joseph Longoria recently took to Twitter to claim that his teacher walked out of the room during a particularly difficult test, and as students started sharing answers, he looked up and noticed this: His teacher, looming over his head, spying on the classroom from what appears to be a vent.
Twitter commenters found it pretty hilarious. Because these things are always much funnier when they are happening to literally anyone else in the world that isn't you — a lesson Twitter has taught us time and time again.
The problem? It's fake. Longoria told BuzzFeed the story wasn't true, he just found the photo online. We gotta admit: Finding out that it was not real wasn't exactly shocking; climbing through the air vents in a building is, it appears, something that really only happens on Disney Channel and spy movies that need an easy out. Anyway, it would appear Longoria has had this photo for a while, and was unsure of the origin. He just knew that it had potential to be loved by way more people than just him.
"I just had it along with the rest of my pictures," he said. "I was deleting them because ya know, storage almost full, iPhone probs. So I decided to make it into a meme."
In fact, Buzzfeed managed to track the image down to a man from Turkey, who posted it on Twitter in June. Though they don't know where the image came from either, even though we'd really like to believe that — once upon a time — this woman really was a teacher who handed out a particularly tough test, walked out, and then caught her classroom cheating. We can dream, right?!