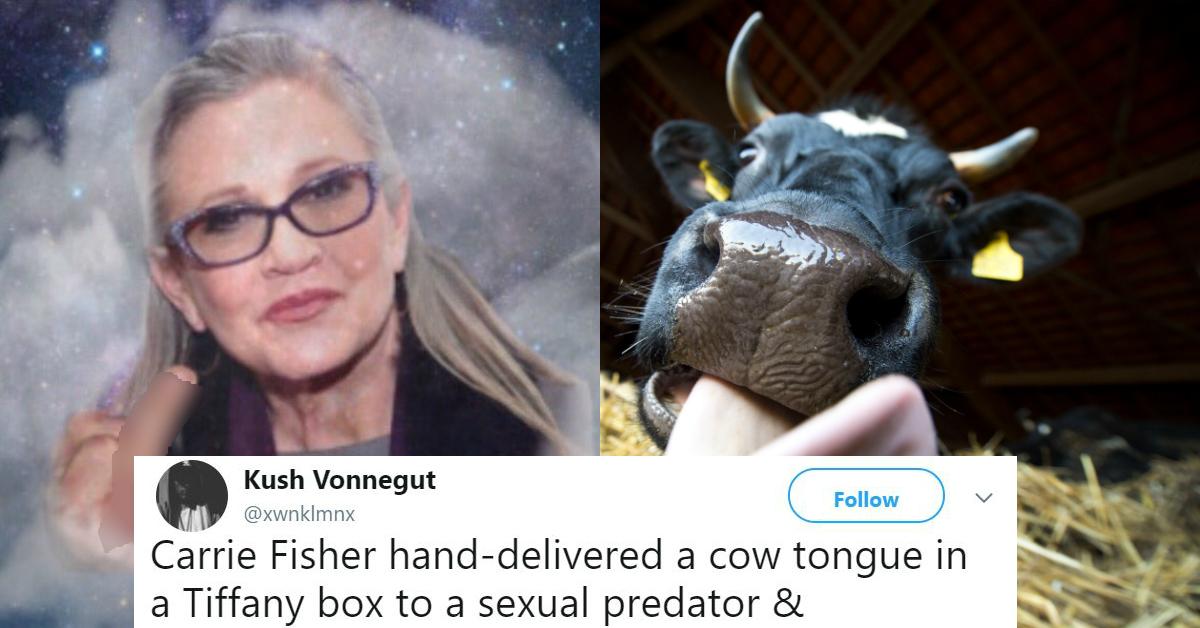 Carrie Fisher Sent A Cow's Tongue To Producer Who Assaulted Her Friend
By Mustafa Gatollari
If you don't know about the incredible late Carrie Fisher, then let this interview where Fisher brought her french bulldog on TV with her tell you everything you need to know.
In a recent interview with MIXfm radio station based out of Tucson, Arizona, Director Heather Ross recounted a time when Carrie Fisher stood up for her.
The two were good friends, and Ross had shared with Fisher that she was allegedly sexually assaulted by an Oscar winning producer. So when Fisher was visiting Sony Picture Studios one day and knew that the producer was going to be there, she got revenge on behalf of her pal, by sending a strong warning that involved a severed cow tongue and a Tiffany box.
You can hear Ross recount the story here:
"Carrie sent me a message online and she said, 'I just saw blank at Sony studios I knew [the producer] would probably be there, so I went to his office and personally delivered a Tiffany's box wrapped with the white bow. It was a cow tongue from [LA haunt] Jerry's Famous Deli with a note that said, 'If you ever touch my darling Heather or any other woman again, the next delivery will be something of yours in a much smaller box.'"
That's right, Fisher went full Corleone on the producer.
Twitter is understandably in love with the story.
And honestly, this just keeps adding to her legend.
It's not often that an actor surpasses the awesomeness of the characters that they portray on screen. For Carrie Fisher to somehow be even cooler than Princess Leia is truly a feat, but she managed to pull it off.
And that's truly admirable. Also, with all of Hollywood speaking out against sexual predators now, anyone want to place bets that more and more gross men are going to get Fishered for their behavior? (h/t page six)