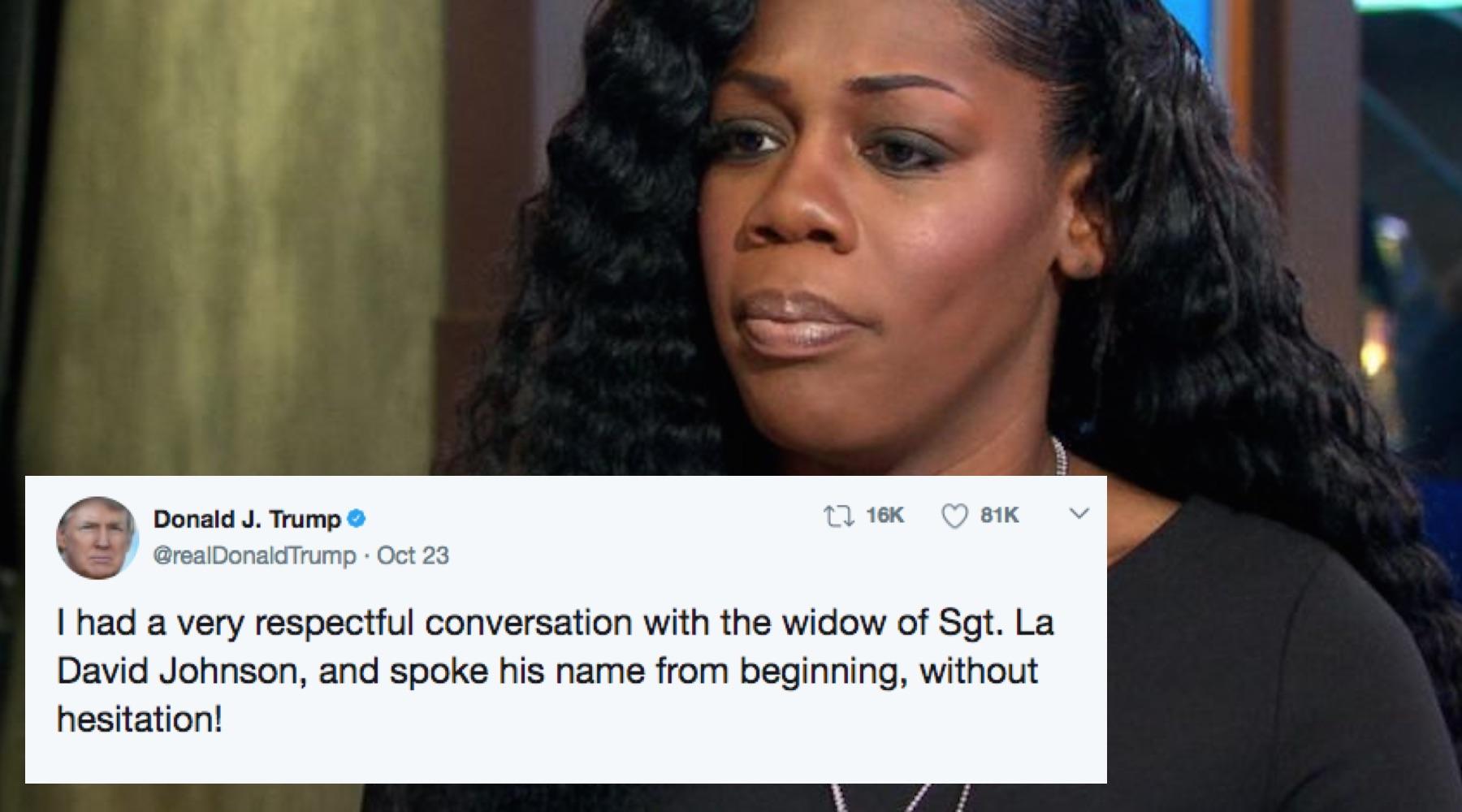 Trump Is Now Refuting Condolence Call Recollection By Fallen Soldier's Widow
By Aimee Lutkin
Myeshia Johnson is the widow of Sgt. LaDavid Johnson, who died in Niger earlier this month during an ambush. President Donald Trump apparently delayed calling the family of the fallen soldier and started a wild controversy over whether or not President Obama ever contacted grieving families (he did). When Trump finally contacted Myeshia Johnson, she says the president told her that her husband "knew what he signed up for." It's definitely a strange stance for the headline making President, who tends to never be on the good side of things due to his unpredictable statements that always directly conflict with the truth. (also known as lies.)
Good Morning America invited the widow on their show this week to share her story, and she claims that the president did not even seem to know her husband's name and was basically giving her a cookie cutter response with almost no personality behind it:
You know how Trump responds to criticism. He never seems to be able to contain bad news and will pretty much respond to any sort of negative slant on the crappy things he says.
He soon took to Twitter to contest the widow's version of events:
It looks pretty bad to get into a fight with a woman who is mourning her husband, who died serving the country. Johnson says she hasn't even been able to see her spouse's body, and is obviously in a great deal of pain. It's yet another example of a botched handling of a PR issue by the White House.
People are wondering why Trump can't just swallow his pride and give a decent apology so everyone can move on. Clearly the woman's mourning isn't on the high list of priorities for Trump:
But class isn't really his style.