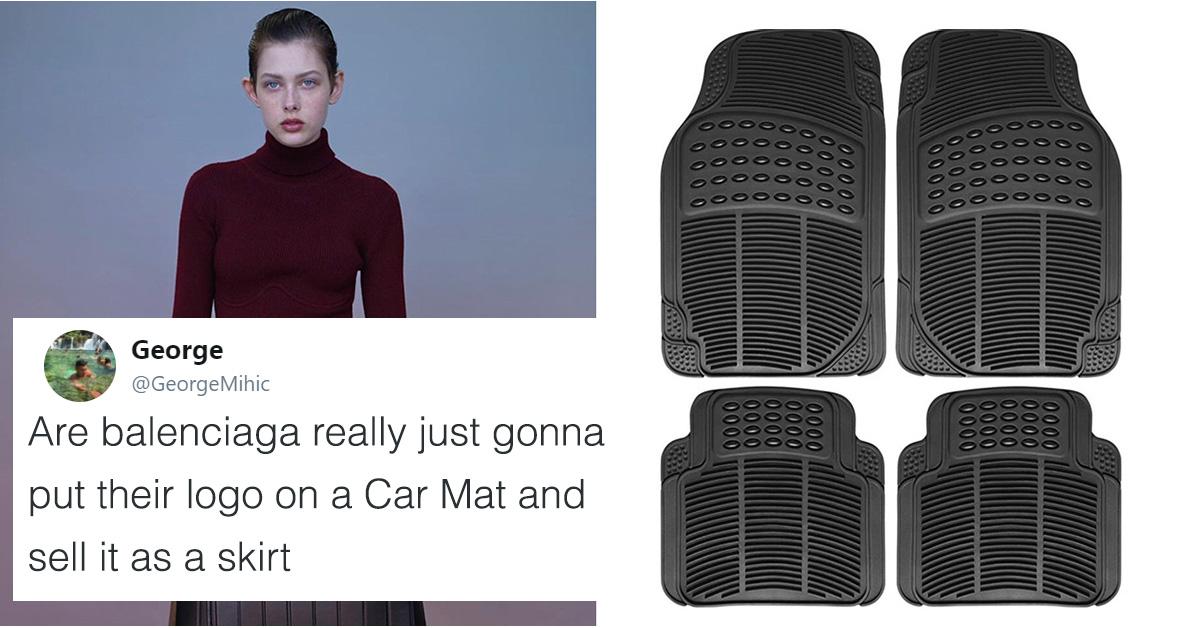 Balenciaga's New $2200 Skirt Looks Like A Car Mat And Twitter Can't Stop Laughing
By Mark Pygas
Earlier this year, fashion brand Balenciaga released a $2,000 bag that looked all too familiar to IKEA shoppers. Can you spot the difference? Because we can't. Except one is like $5 at checkout and the other is a month's rent.
The brand has also sold shirts that look like they were discarded by a homeless person for having too many holes and stains, again for exorbitant prices. Truly, I am torn. On the one hand, I kind of find it brilliant that they're taking the money of stupid rich people who are willing to drop that kind of money on something that looks like literal garbage." But also, how are you selling a $2,000 IKEA bag, that's bonkers! And it's not like they're giving the rich people's money to charity or anything. They're just lining their own pockets.
Well, it'll be interesting to see what kind of money the make off their latest creation, which looks like they picked it up at Pep Boys or Auto Zone.
Balenciaga is at it again, trolling us with their "found object" style of fashion design. At their recent Autumn / Winter runway event, the label revealed a skirt that looks a lot like a car mat. The price? £1,700, or around $2,200.
Twitter users were obviously in hysterics, pointing out that you can buy something very similar for a much cheaper price, though why you'd want to wear it on your body is something we can't begin to understand.
Stay tuned for their Spring line, which I guess at this point will probably be an adult diaper or maybe they'll cut the bottom out of a recycling wastebasket, slap on a $2000 price tag and call it a designer skirt. The sky is the limit!