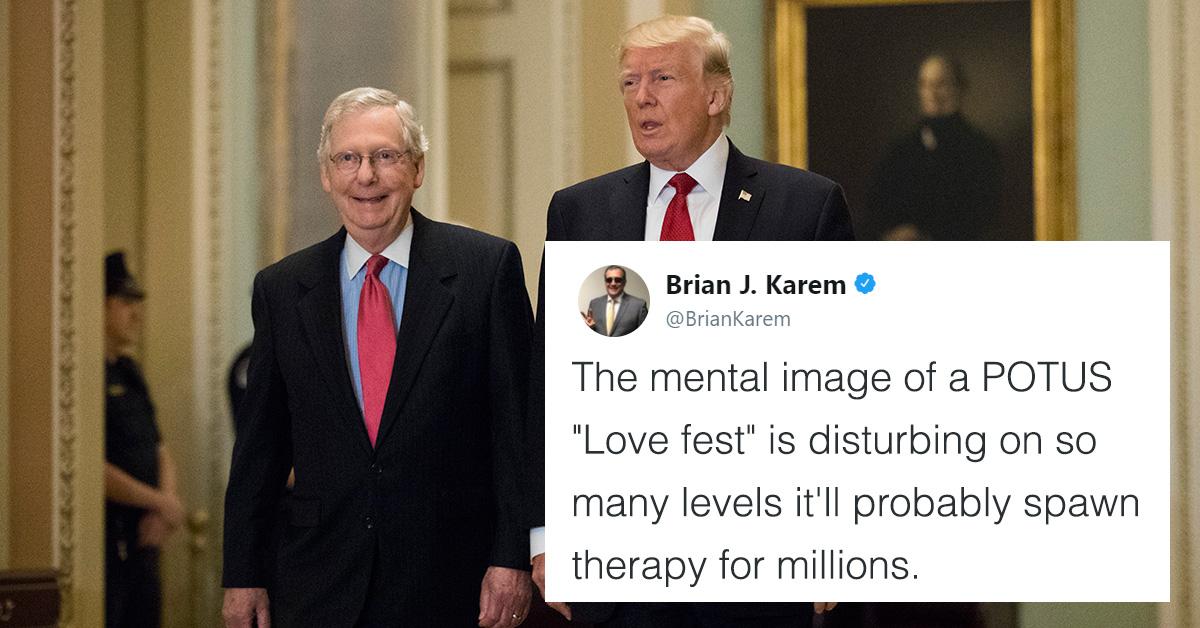 Trump Calls Meeting With GOP A 'Love Fest' And The Jokes Came Rolling In
By Mark Pygas
President Donald Trump has been gradually losing the support of a number of Republican senators, even taking to Twitter to attack them. Last week, John McCain of Arizona slammed "half-baked" nationalism in a speech that Trump seemed to take personally. It's the latest in a string of defeats for the new President who has struggled to gain ground all while using his Twitter platform to lash out at his dissenters. Trump has been known to seek fierce loyalty from people then discard them when he's done with them. So it's no shock he's quick to expect Congress-wide support for all his ambitious plans.
While this week, Senator Jeff Flake of Arizona announced his retirement, saying that President Trump was "undermining our democratic norms and ideals." Meanwhile, Senator Bob Corker of Tennessee accused the president of lying in a series of television interviews. It doesn't really get more muddled than this.
The Republicans hold the senate by a slim majority, meaning that President Trump's feuds could seriously hamper his efforts. That means Trump's latest weekly lunch with senators on Tuesday was especially important, and it was rather uneventful according to some reports. President Trump even took to Twitter to describe the meeting as a "love fest." While President Trump has never been known for his smooth talking, there's certainly some better verbiage he could have used to describe the meetings he took with the Republican brass.
You can probably imagine how Twitter reacted to that bizarre description. It was just too good of an opportunity to joke and meme the already easy to target Trump.
It's a love fest, people. We're just waiting for his next blunder. It seems like every day he's Tweeting something that makes headlines.