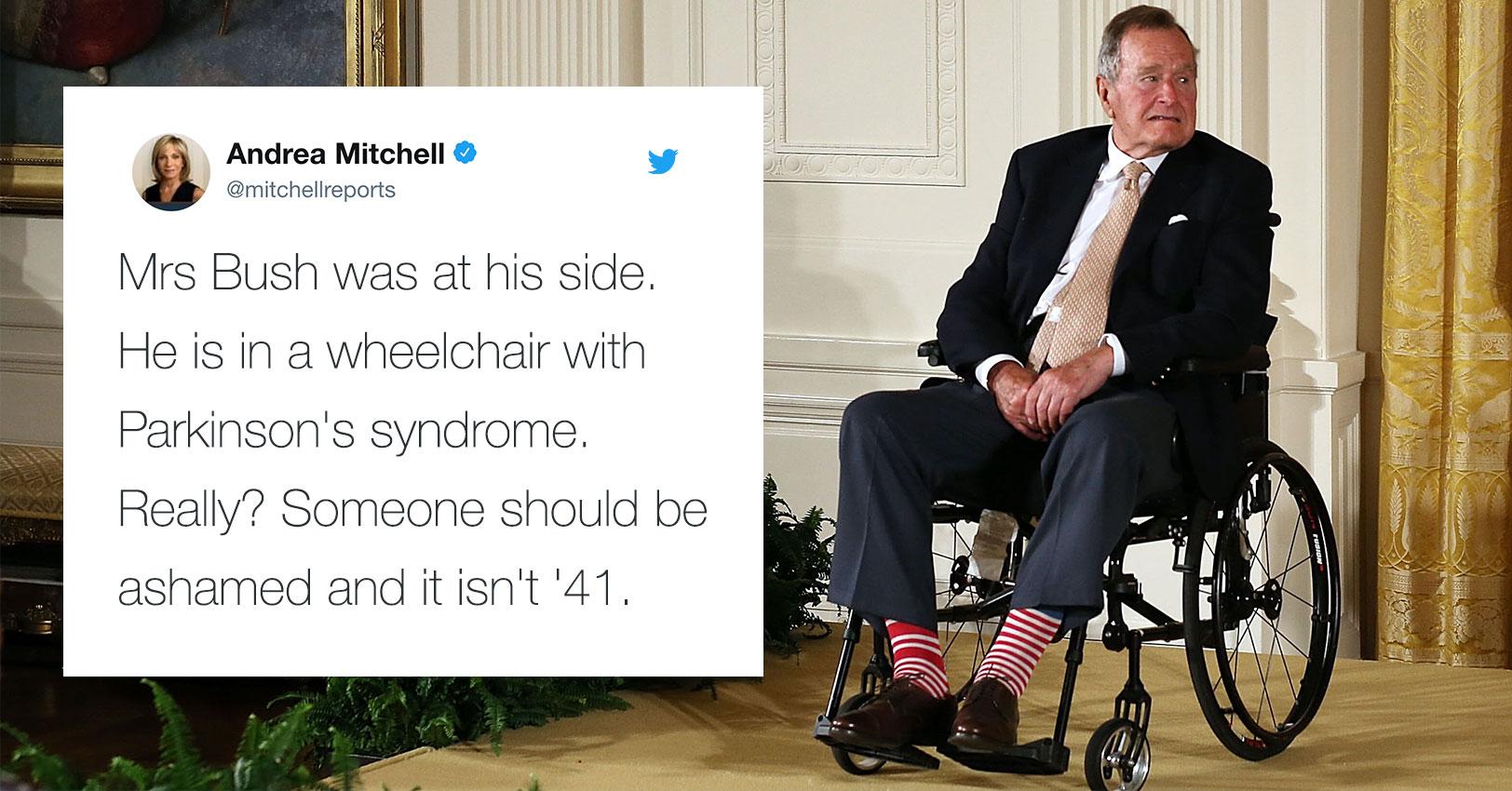 NBC's Andrea Mitchell Ignites Firestorm After Defending Bush Sr. On Twitter
By Aimee Lutkin
Sexual assault is on everyone's minds these days, since the Harvey Weinstein scandal has blown apart the Weinstein company. Victims of harassment feel empowered to say something about the powerful men who have been getting away with it for years. It seems like everyday we wake up to someone new being accused of harassment, and this week the spotlight fell on former US president, George H.W. Bush.
It started when actress Heather Lind accused Bush of grabbing her butt during a photo op. His spokespeople released a statement saying that Bush sometimes touches people by accident, because he is seated in a wheelchair, but then it came out that he likes to make a joke about being magician "David Cop-a-feel," so now people have a lot of feelings.
There is an obvious difference between being raped and having an elderly man grab your ass, but that doesn't mean the latter is okay by any stretch of the imagination. Unfortunately, there are still people willing to defend this type of behavior, because Bush is old or sick, or both. One of those people is NBC's Andrea Mitchell, who implied in an oddly worded tweet that it is the actress who should be ashamed of herself, not Bush. She also suggested that because his wife was present, he couldn't have assaulted someone.
People were pretty quick to take her to task over the issue:
It is true that people's notions of appropriateness can be effected by aging, particularly if they're experiencing dementia. But considering what's been coming out about men with power, it doesn't really make sense to give someone who was president of the United States the benefit of the doubt. When is it time for us to finally believe women?