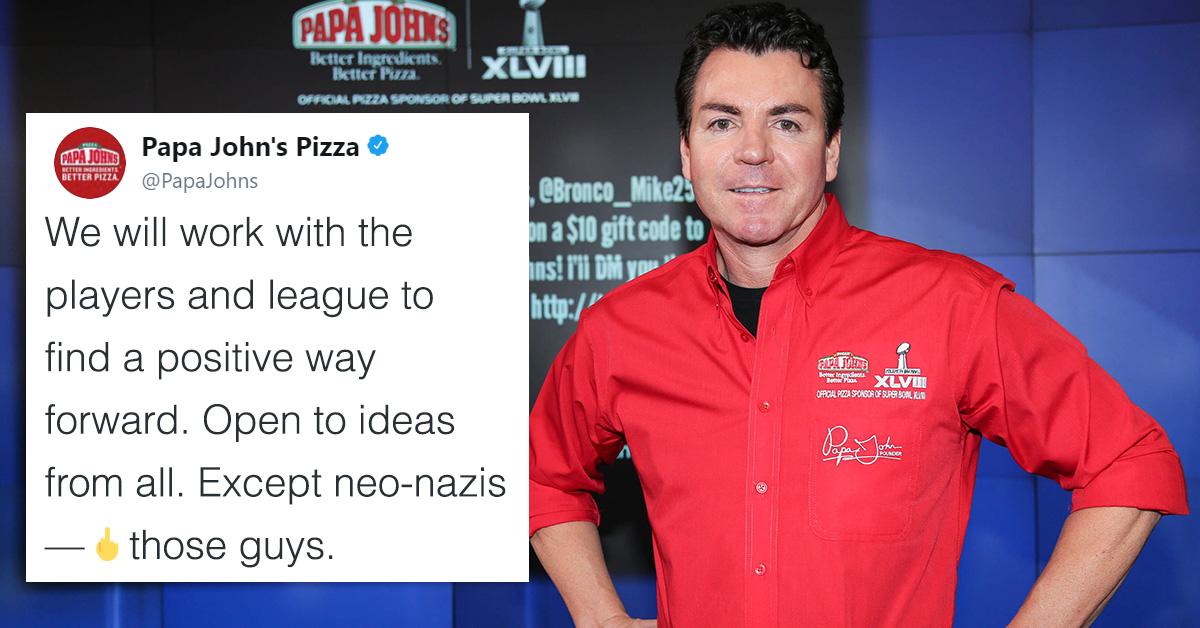 Papa John's Just Released A Public Apology To Protesting NFL Players
By Mark Pygas
A few weeks back, shares in Papa John's fell 13% after an earnings report showed that the company was losing customers. The fall in value resulted in CEO John Schnatter losing $70 million of his personal net worth within just 24 hours of the report, according to Bloomberg.
In a call with investors after the report was published, Schnatter blamed the fall on the NFL for not cracking down on players who are taking part in the 'take a knee' protests to highlight social injustices. It's been an ongoing topic of debate among politicians whether or not the act is actually hurting ad revenue for sponsors, but Papa Johns is the first of the major corporations to openly blame the protests on their dip in sales.
"We are totally disappointed that the NFL and its leadership did not resolve the ongoing situation to the satisfaction of all parties long ago," Schnatter told investors. "This should have been nipped in the bud a year and a half ago."
Papa John's and Schnatter were roasted online, including by competitors Pizza Hut and DiGiorno, for blaming the fall in sales on the protesting NFL players. And now, the company has taken to Twitter to officially apologize for the statements made during the call. It's the first step they've taken in building back trust after essentially insulting half of America with their insensitive comments on something the company's founder clearly did not understand. The pizza chain is now openly trying to distance itself from the comments, and evidently, it's founder.
While the response took around two weeks, social media seemed to like the middle finger to neo-Nazis.
What do you think of Papa John's response? Was it enough for the chain to earn a second chance?