A Twitter user named Macy Hollenkamp shared the recipe book from her mother's kindergarten class just in time for Thanksgiving. It's full of incredible suggestions for how to make the perfect corn, mashed potatoes, and turkey, as told by children who aren't allowed to use a butter knife alone. They have pretty wild ideas of what the perfect Thanksgiving should look like. Considering they haven't had many experiences with the Thanksgiving festivity yet, it's hilarious to see the perfect recipes the kids came up with.
These recipes are like something you would make while sleep-walking on Ambien, but better. You've got to give them credit for being both creative and hilarious with the Thanksgiving 'staples' they've created.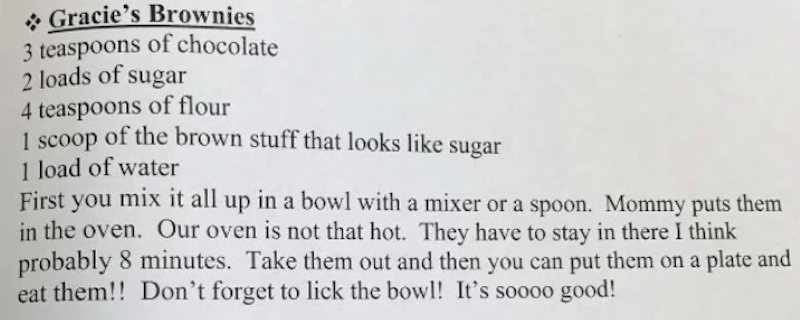 People cannot get over the very specific details to the Thanksgiving recipes. Like SUPER exact. No deviation from their holiday masterpieces.
And everyone is remembering how they were forced to give recipes out for adult's amusement when they were kids, back before social media connected us all. And really if you think about it -- we were all forced into really silly holiday traditions, though we are still pretty partial to Thanksgiving Turkey Hands. Who could hate those?
If you can't get enough, Hollenkamp also shared the collection from 2016. Let it inspire you to teach your children their way around the kitchen as early as possible. It seems like the perfect way to get your family into the holiday spirit. Bonus points if you actually test out some of the recipes. Very curious how Bella's Stuffing would turn out when cooked on 6 degrees.