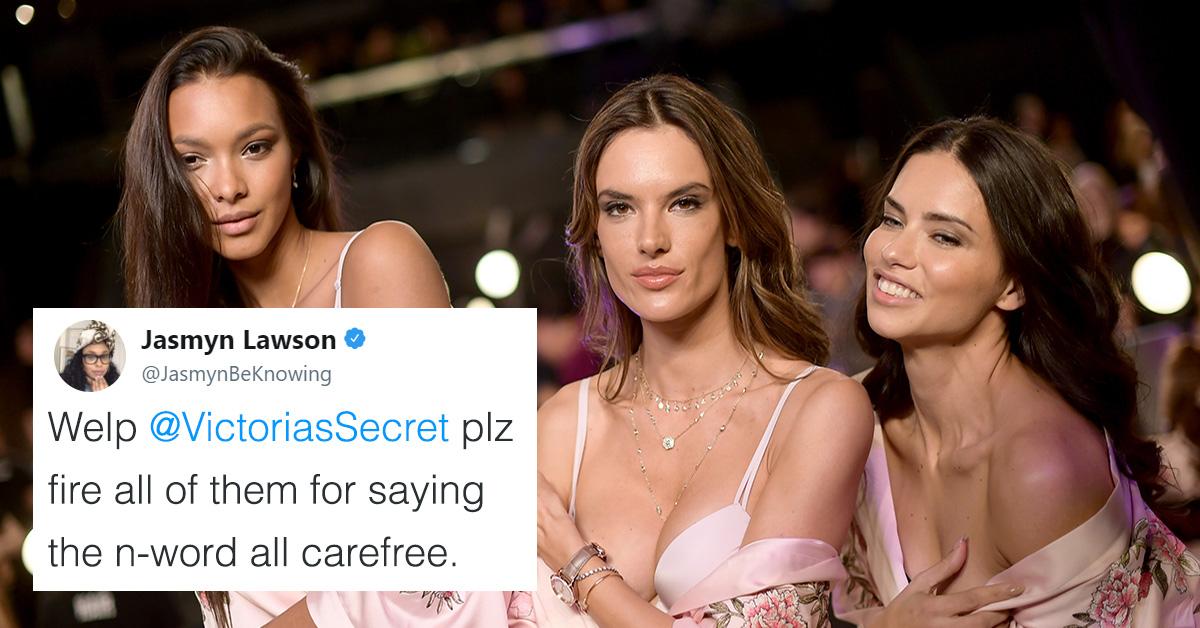 Video Of Victoria's Secret Models Singing Racial Slur Backstage Emerges, And Twitter Is Furious
A backstage video from the 2017 Victoria's Secret Fashion Show in Shanghai has gotten the Internet talking for all the wrong reasons. The video in question shows a group of models singing along to Cardi B's 'Bodak Yellow,' and you can clearly hear all but one of the models leaving the n-word in the lyrics.
There's been plenty of debate over the years over the use of the n word by black people, the distinction between an -a sound at the end versus a hard "r" sound, and about a thousand other discussions. But common wisdom is that however you feel about Black people using the word, non-black people should definitely never say it. No exceptions. Not even when listening to the hottest new song on the iTunes charts.
If you're confused about that fact, all you need to do is a quick Google around about the history of that word. While it's been reappropriated by a portion of the Black community over the years, there's a huge difference between Cardi singing that word and a bunch of white models singing it. The former is a case of a member of a marginalized group dismantling a tool that was used to oppress her race in the past and stripping it of its power, while the latter involves a bunch of people who benefit from white privilege deciding it's also their privilege to use a racist word and not be labeled racist because "it's just a song." If you want to appreciate Cardi's music, buy it, dance to it, whatever, but definitely drop out of singing along whenever an N word comes up.
Article continues below advertisement
Cardi B herself retweeted this tweet, though her views on the video aren't clear.
Article continues below advertisement
But others let their feelings be known.
Article continues below advertisement
Article continues below advertisement
Article continues below advertisement
Article continues below advertisement
Article continues below advertisement
Article continues below advertisement
Article continues below advertisement