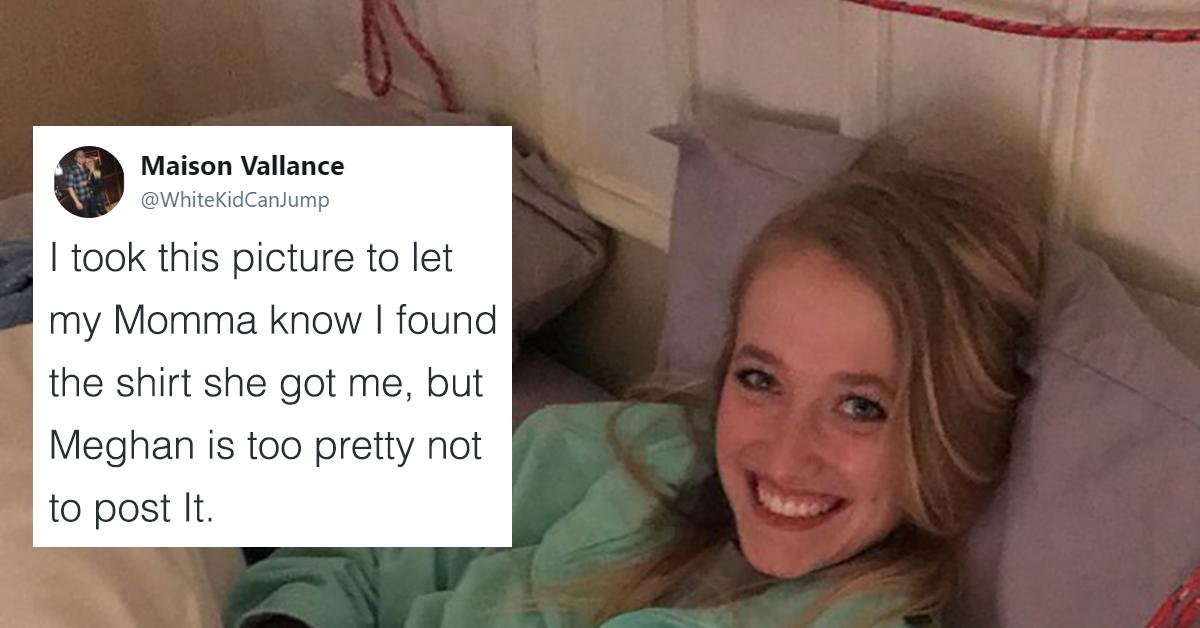 Guy Sends Picture Of His Girlfriend To His Mom, Quickly Notices Hilarious Detail
By Mark Pygas

Updated
Maison Vallance, a 22-year-old from Tennessee, got together with his new girlfriend, Meghan, about two months ago. And the relationship has been going great, according to Buzzfeed. That was until he decided to  send a photo of his girlfriend to his mom, showing off a new shirt that his mom had gotten for him, thinking it'd be cute.  
He also posted it on Twitter to show off his girlfriend, but Twitter users were quick to notice something: Ropes casually hanging in the back of the picture — on the headboard of the bed. 
To the kind people of Twitter, he politely explained that they were for "constraining purposes." But when he remembered that this is the same photo he sent to him mother, Vallance understandably panicked. 
Thankfully, mom didn't seem to notice. Which is also a nice reassurance for Vallance that his mom isn't into the same kinky stuff that he is into (it would be wild if she were, though... genetics is a crazy ride). 
Twitter seemed to get a laugh out of the entire incident, though. As they tend to do. 
she's a part time paratrooper. it's tradition to sleep next to your harness

— j (@The_real_jaewon) November 22, 2017
Backup for when the clothes dryer goes boom.

— Corey Gunnin (@CoreyGunnin) November 21, 2017
Is that a figure 8 knot or noose knot lmao

— Spicyboii (@Skinny_Boiii) November 20, 2017
She's a restless sleeper and uses those to stay put

— Jared McNeece (@JaredMcneece) November 21, 2017
Vallance mostly just wanted to share his interest with the people of the Internet — kindly telling them to buy their own headboard, two hitch rings, and some rope, calling the ~investment~ the "best $20 you'll spend."
While you're probably tempted to say "poor mom" right about now, don't fret: Maison told Buzzfeed he and his mom are "very comfortable" with each other. 
And don't worry, Vallance does plan to tell his mom about the mistake, and he's promised to share her response with Twitter. "I think it will be funny and I'll just say, OK, let's forget about this now," Vallance told Buzzfeed.