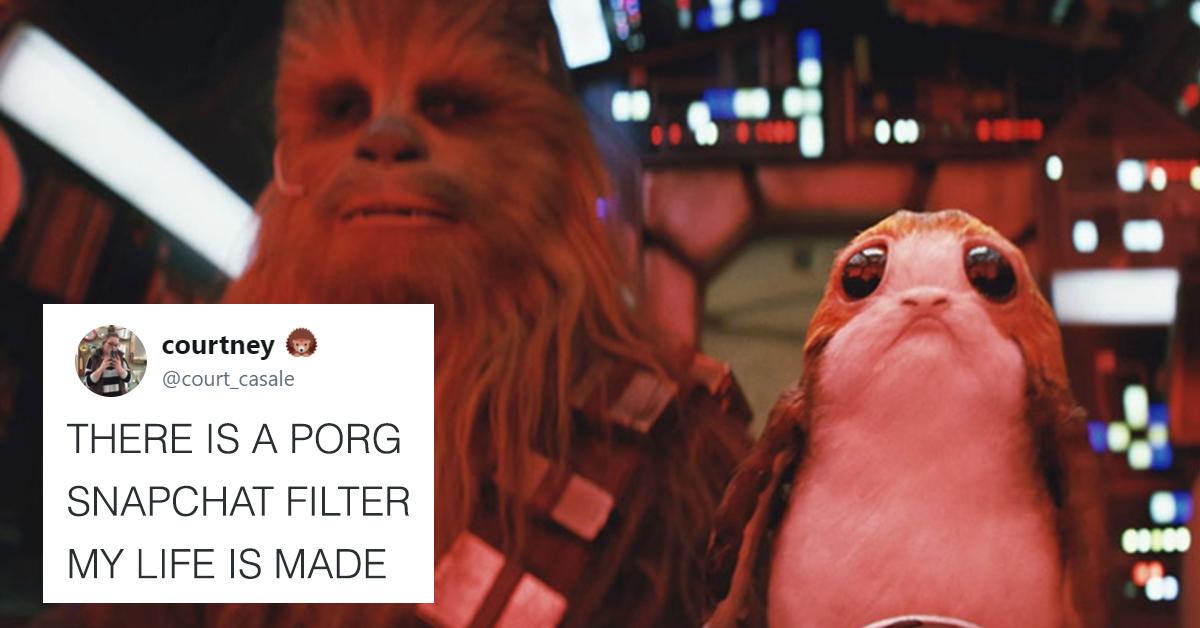 There's Now A Porg Snapchat Filter, And 'Star Wars' Fans Are Getting Excited
By Mark Pygas
Star Wars: The Last Jedi is just days away, and as you might imagine, people are pretty excited. Of course, fans are hyped about the return of Luke Skywalker, but a lot of people seem way more excited to finally see a Porg in action.
If you're out of the loop, Porgs are the latest edition to the fauna of Star Wars, and are best described as an adorable cross between a penguin and an owl. Though they do have terrifying babies.
And to get folks even more excited, a Porg filter has made its way to Snapchat. Here's how fans have been reacting...
"The Snapchat filter with Porg has me so excited," wrote one person on Twitter. Another chimed in to add, "GUYS. This #Porg filter on @Snapchat is filling my heart with such joy. #TheLastJedi" along with a photo of an adorable Yorkie.
"Yes. We are now a #SnapChat filter. Ewoks don't have a filter. We win. #LastJedi #Porg #PorgNation #Ewok #StarWars," wrote another excited and avid Star Wars fan. Someone else added, "Meet your new best friend on Snapchat: Porg."
Most people agree that the Porg addition is all it took for their lives to be "made." "Oh my goodness there is a #Porg Snapchat filter and I'm crying, It's like having my own Porg as a pet, only... it's not... and now I'm sad but I love this thing!! #porgs #porglife #porgnation #StarWars #thelastjedi," added another person on Twitter. We're so excited for the content that comes out of these.
We all want a Porg for Christmas.