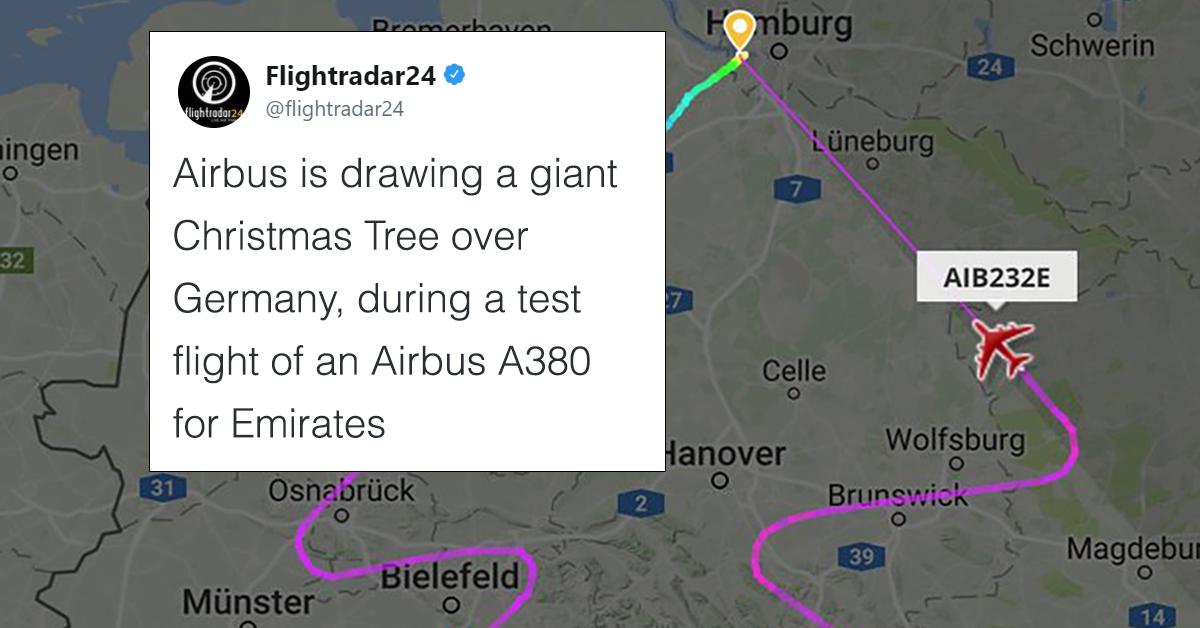 Airbus Test Flight Spends Five Hours Drawing A Christmas Tree Over Germany
By Mark Pygas
The holiday season is fast approaching, and to get us all in the mood, Airbus decided to give one of their test flight crews based in Hamburg, Germany, a pretty bizarre flight plan for their five hour test of an Airbus A380.
Why did the flight plan have them going in circles? Because they were drawing a Christmas tree, as this flight data from air traffic website Flight Radar shows...
"@Airbus is almost finished with their A380 Christmas tree. Will they put a star on top?" tweeted a flight tracker.
And yes, they did add a tree topper. Which just happens to cover the length of neighboring Denmark.
One concern social media users seemed to have was the amount of carbon dioxide emitted drawing the tree.
"An A380 burns 13.5t kerosene/hr which generates 3149kg CO2/ton. With a scheduled flight time of 4h52m that would be ~206 tonnes CO2. Yay," calculated on person on Twitter.
Flight Radar explained that the flight is actually a test for the Airbus A380, so it would be up in the air even if it wasn't drawing a Christmas tree.
To clear the air, they tweeted, "Answers to a few common responses to the Airbus Christmas tree (and other special flights like the Boeing 787 drawing a 787): 1. Yes, it's real. 2. This is a test flight that would be conducted regardless of the particular flight path."
Phew, we were getting worried about all that extra waste floating in the stratosphere. Not that it's not there anymore, but at least we now know it would be there regardless of whether or not they'd drawn a fun shape.
They also shared the flight data from a similar test flight across the United States, where the route drew a plane.
In general, people on social media seemed to think it was pretty cool.