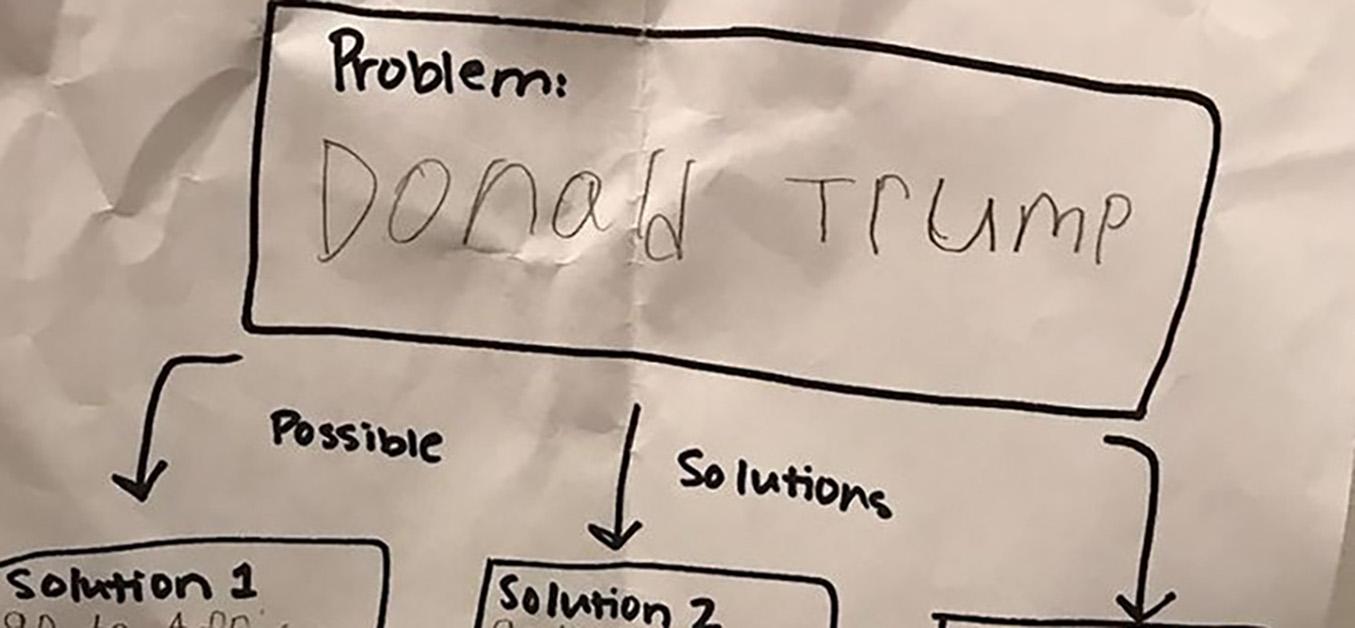 This Third Grader's Plan For Dealing With Donald Trump Has The Internet Divided
By Mark Pygas
Adults aren't very good at dealing with their problems, but third graders apparently have it all figured out. Kelly Cohen, a reporter for NBC Washington, recently took to Twitter to share a piece of homework reportedly from one of her friend's third grade students.
Kids can be absolutely brutal, and Josiah is definitely in the resistance despite their young age. Just take a look at his suggestions for how to deal with President Donald Trump, which include leaving the country or just going into hibernation until the next election.
You can probably guess why Kelly's friend was so proud of her student's answer that she had it hanging pride of place in her apartment. "My friend's friend is a third grade teacher, and just texted me this student's homework she had hanging in her apartment," Kelly tweeted along with a photo of the assignment.
Under the "problem" known as the Donald, Josiah lists three suggestions: "go to Africa," go to Canada," or "be Sleeping Beauty for four years." All valid suggestions. Under those "solutions," Josiah is asked to list the possible outcome of each of his escape plans — and it is what he wrote under Africa that has the internet divided. "I might starve," Josiah innocently wrote, unintentionally raising the bigger problem of the lack of diversity in the U.S. education curriculum. In comparison, his outcome for going to Canada is "Go to Toronto and meet Drake." (We blame the teacher more than the student, FYI).
Luckily, we can all agree on the third solution, right?
Some users weren't happy with the third grader's perception of Africa.
While some pinned the blame on the media.
Others focused on other aspects of the homework.