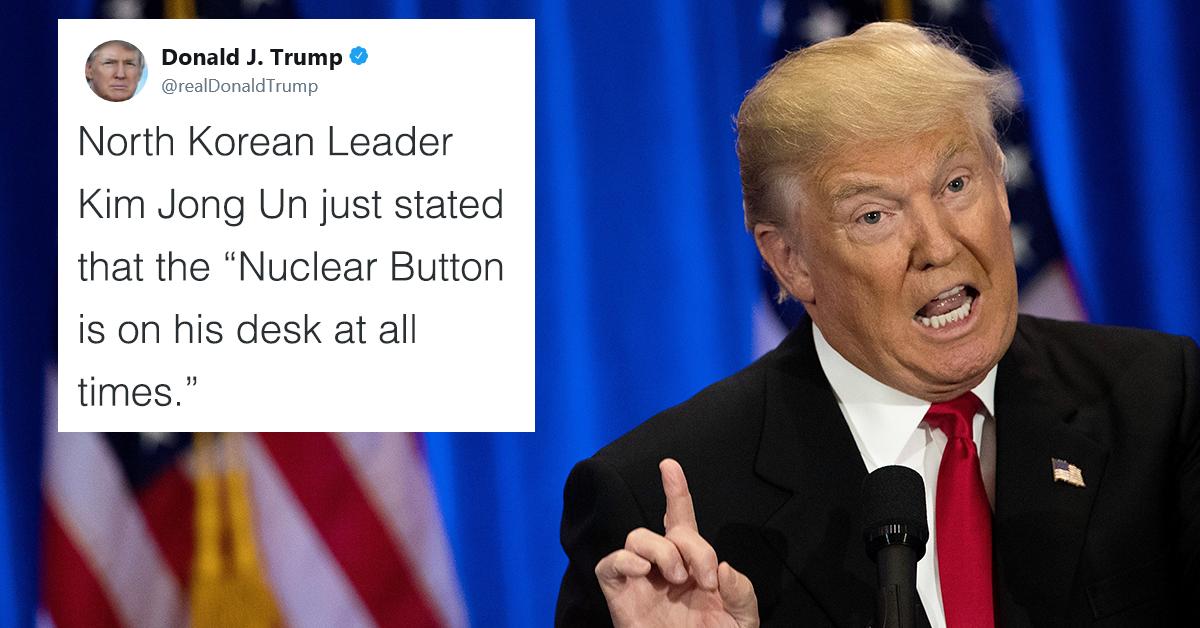 President Trump Just Threatened North Korea Back — So That's Exciting
By Mark Pygas
President Donald Trump took to Twitter on his first day back in Washington after spending the holidays at his Mar-a-Lago resort in Florida. He attacked the Department Of Justice, announced that he'd be holding some bizarre fake news award show next Monday, and that's just the start. You can say anything about the Trump administration, but you definitely can't say it's predictable.
On Tuesday night, President Donald Trump responded to claims by North Korean dictator Kim Jong Un that he keeps an armed nuclear button on his desk in the only way Donald Trump could...
Yes, the leader of the free world just said that his "nuclear button" is "much bigger and more powerful." And just in case you were wondering, it "works," even at 71 years old.
North Korea has pursued a nuclear weapons program since the end of the Korean War, and previous presidents have enforced international embargoes to force the regime to the negotiation table. North Korea now claims to have missiles that could reach the continental United States, and the two new leaders have been in a war of words, with President Trump threatening "fire and fury" and calling Kim Jong Un "little rocket man."
Yes, the Internet knows what Donald Trump is insinuating. And many users were unimpressed given the seriousness.
Others seemed to get a laugh out of the tweet.
Some users allured to the claim that President Donald Trump has a red button on his desk that he uses to have coca cola and snacks delivered to his desk.
What do you think of the President's nuclear button?