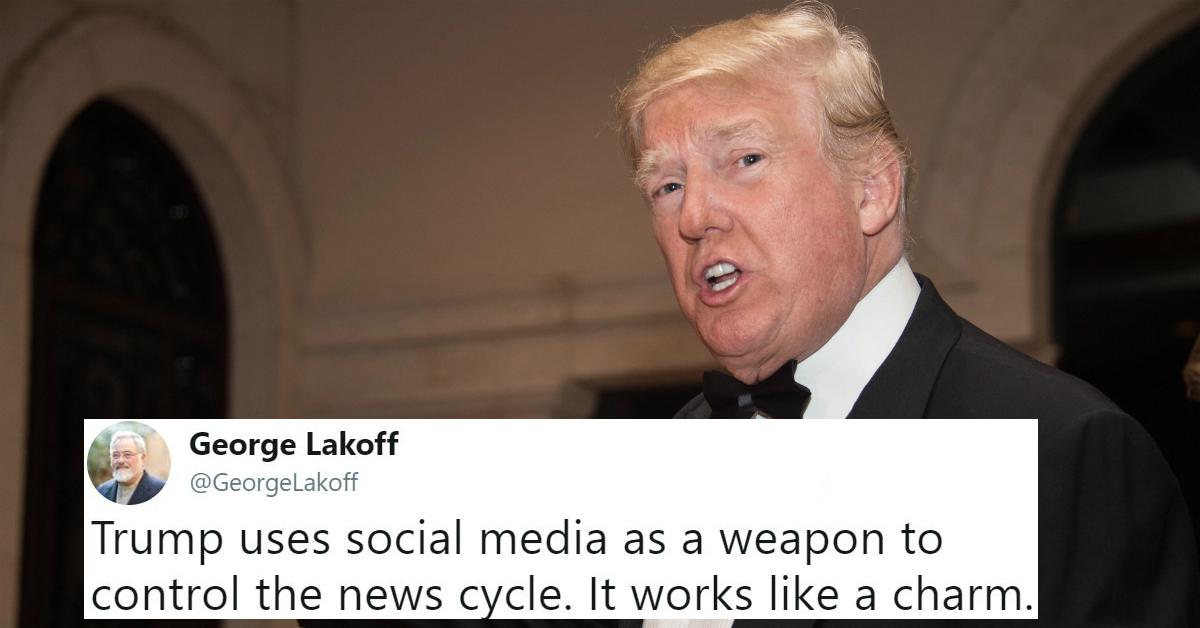 This Professor's Viral Tweets Explain Trump's Social Media Use
By Mustafa Gatollari
By constantly vilifying Hillary Clinton, Trump managed to not only get people who liked and supported him to be mobilized to vote, but get a lot of voters who were on the fence to believe that anything would be better than voting for Hillary. To this day, I have family members who admit that they think Trump is an absolute moron and is unfit to be President, but that their hands were tied because Hillary was so evil they couldn't vote for her.
As President, Trump hasn't been able to do much aside from make headlines for erroneous, offensive, and borderline insane claims. When he does apologize for saying something wrong, he tends to sidestep the blame and place it on other sources, like the time he wrongly claimed an attack in Sweden was spearheaded by a Muslim immigrant. It wasn't. So he said he wasn't at fault because he saw it on Fox News.
Although Trump's use of his Twitter account might seem like the ramblings of a mad uncle who trolls YouTube comments and parrots Alex Jones conspiracy theories, it turns out there may be a pretty brilliant strategy behind his postings.
University of Berkeley Professor, George Lakoff, laid out Trump's social media strategy after scrutinizing the President's reactionary post patterns. Donald's tweets, according to Lakoff, fall into one of four categories.
He provided examples of each and explains them in-depth.
According to this professor, almost all of the tactics employed by Trump are heavily rooted in deceit, lies, side-stepping issues or blaming them on others.
The first tactic, "pre-emptive framing" allows Trump to frame an argument that isn't really rooted in fact or ends up making a mountain out of a mole-hill. An example of this would be Hillary Clinton's housing of White House emails on a private server. Notice how Trump's outrage at this practice stops at Clinton, as him and his administration are doing the same thing.
Trump is able to get his message across after making such a bold claim because sites help disseminate his brazen idiocy. His supporters will inevitably come to Trump's aid and vehemently attack anyone who attacks him fomenting an even greater hullabaloo over what he said. This theory suggests that Trump doesn't care at the end of the day because, as the old saying goes: there's no such thing as bad publicity.
Unfortunately, the media turned him into the popularity monster, love him or hate him, that he eventually became.
Because we're constantly talking about him, we're legitimizing him as a figure. Doesn't matter if we think he's a joke, we're still talking about him, usually more than anything or anyone else outside of our immediate relationships with family and friends.
Pointing out Trump's flaws and lies are seen as attacks by his loyal fan base and in a way, justifies the false, pre-emptive narrative that there's a "crusade" against him. "Mainstream Media" and "Fake News" can bring up all the valid, backed-up sources and evidence that they want, oftentimes bringing up Trump's old quotes and footage to show his hypocrisy, but much of his fanbase ultimately sees these as "attacks" and give them more reason to back the president.
Lakoff points out that reacting to Trump in this way and taking the low-hanging fruit isn't an effective means of discrediting him. By "stooping" down to his level, we're legitimizing his medium of communication and are thus legitimizing him.
Instead, Lakoff thinks that Trump's bold claims should be met with this appropriate response:
Instead, if us, as the media, focused on things that actually matter, like how our government is tearing apart at the seams and not this drama fomented by a blowhard, we'd be able to lay the groundwork for some meaningful change.
So Lakoff proposed a simple three step plan for journalists and news commentators to follow:
Simply don't share what he writes, and you'll immediately help to focus on what is actually important.
Or we could laugh at him because he has small hands and tweets nonsensical words like "covfefe." What do you think?