There are some advertising campaigns that are so offensive, they just leave you shaking your head.
Unfortunately, there's been a lot of campaigns like these as of late. Remember Kendall Jenner's amazing Pepsi ad?
Yeah, way to take police brutality protests and turn them into a vague, non-messaged advertisement for soda.
As tone deaf as the "join the conversation" ad was, however, it's got nothing on this latest H&M website ad that's got people unbelievably ticked off.
Apparently, the popular clothing retailer thought it'd be perfectly fine to feature a black child model in a sweatshirt that reads, "Coolest Monkey In The Jungle" on it.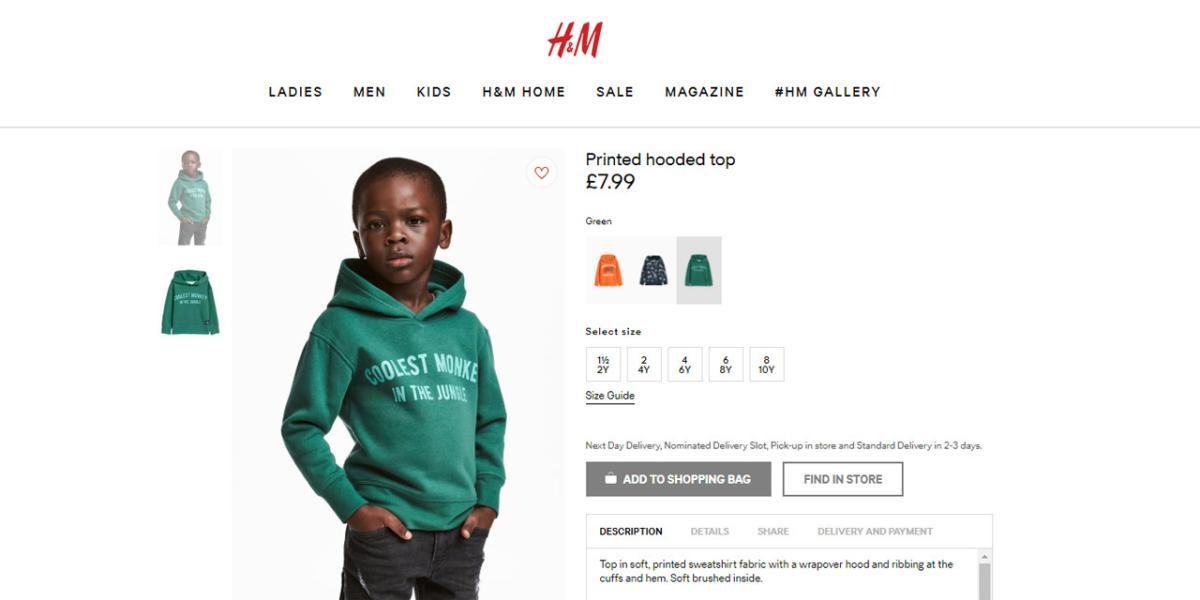 The ad was spotted on the company's UK page and was taken down after social media users began to point out just how offensive it was.
They also released the briefest of apologies for the blunder, because, really, it's difficult to imagine anyone messing up on so grand a scale; better to go the pithy route.
"This image has now been removed from all H&M channels and we apologise to anyone this may have offended."
People were unanimously condemning the ad on social media, from the Models of Diversity Twitter account...
To New York Times columnists.
It's insane to think that not a single person on the retailer's website sat and thought that there would be at least a ginormous amount of backlash before uploading that picture.
Something that more than a few people mentioned online.
Users also began pointing out that the hoodie was part of a line of other sweatshirts for young boys. There was a white model rocking an orange sweater, calling him a "Survival Expert."
Also, this is probably a total coincidence, but when you put the photos of the two models side-by-side, the white kid looks totally horrified that they made the black model wear that sweater.
Given that African people have had to endure being likened to apes and monkeys by racists for a very long, long time, and it has links to literature and propaganda that dehumanized Africans, it's hard for H&M to argue that they shouldn't have known better.
People are already hopping on the boycott wagon as a result of the massive blunder.
Others thought that the kid and his parents deserved as much blame as the clothing retailer, calling people's outrage over the ad, "fake."
For the most part though, people just weren't having it.
Personally, I think it'd make more sense if they had all the kids model all the different shirts, which is how photo shoots for these things usually go. But by having only the African American kid wear the shirt, it definitely looks worse for H&M as a result.
One of the biggest names in music today, The Weeknd, caught wind of the ad and immediately announced he'll no longer be collaborating with the Swedish clothing line.
A decision that people are applauding.