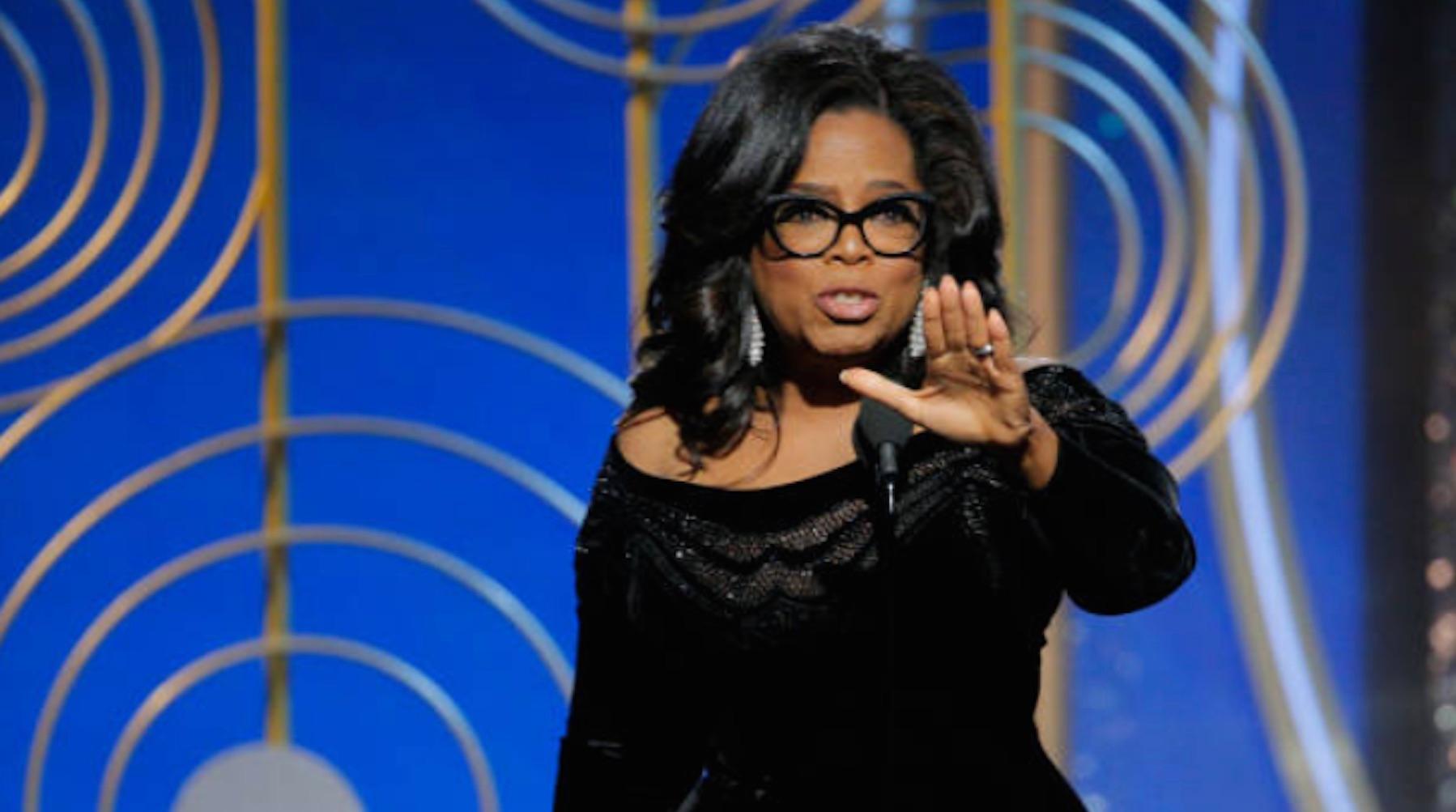 Oprah Gave a Speech at the Golden Globes That's Inspiring Everyone
By Aimee Lutkin

Updated
At the Golden Globes on Sunday night, Oprah received the Cecil B. DeMille Award, which is given by the Hollywood Foreign Press to acknowledge "outstanding contributions to the world of entertainment." She was the first black women to ever receive the honor, and she really prepared on hell of of a speech.
Late in 2017, famous producer Harvey Weinstein was exposed as a predator, and accused of sexual assault and harassment by a staggering number of women. The shocking case opened the floodgates; women everywhere were hashtagging their own experiences with sexual harassment and assault with #MeToo, a phrase created by activist Tarana Burke and boosted by actress Alyssa Milano. 
Burke was in the audience of the Golden Globes Sunday, as were a number of other organizer's of the new political group Time's Up, which seeks to eradicate sexual assault and harassment in the workplace. They were the guests of actresses who wore black on the red carpet in solidarity with all the victims who have been speaking out on their experiences.
All that is to say that the night was already electric. The audience likely expected for Oprah to light things up. She's an incredible speaker. But what she actually delivered was above and beyond.
Oprah began by saying how much it meant to her to see Sidney Poitier win Best Actor at the Academy Awards as a child. It was the first time she saw a black man celebrated in such a way.
"I tried many, many times to explain what a moment like that means to a little girl, a kid watching from the cheap seats as my mom came through the door bone tired from cleaning other people's houses. But all I can do is quote and say that the explanation in Sidney's performance in Lilies of the Field: 'Amen, amen, amen, amen.'"
Poitier went on to win the Cecille B. DeMille award in 1982, and Oprah expressed how meaningful it was to her that somewhere, little girls were seeing a back women receive it for the first time.
She then thanked people in the entertainment industry who helped her along in her career, but continued to thank all the women who have been coming forward to share their experiences. Not just women in the entertainment industry, but everywhere.
But it's not just a story affecting the entertainment industry. It's one that transcends any culture, geography, race, religion, politics, or workplace. So I want tonight to express gratitude to all the women who have endured years of abuse and assault because they, like my mother, had children to feed and bills to pay and dreams to pursue. They're the women whose names we'll never know. They are domestic workers and farm workers. They are working in factories and they work in restaurants and they're in academia, engineering, medicine, and science. They're part of the world of tech and politics and business. They're our athletes in the Olympics and they're our soldiers in the military. 
She then shared the story of Recy Taylor, a young black mother who was raped on her way home from church in 1944, by six white men who were never prosecuted for their crime. She died ten days before Sunday's award show at almost 98. Oprah explained that Taylor fought for justice with the NAACP and the lead investigator was a young Rosa Parks, who is most widely known as a prominent figure in the Civil Rights movement. Taylor was also a Civil Rights activist, sharing her story as part of her work.
RIP to Ms. Recy Taylor who passed away yesterday. In 1944 she was walking from church service, when she was gang raped by 6 white men. The savages offer her $600.00 as hush money. She refused. The rapists where never prosecuted. She would have turned 98 on Sunday, Dec 31. pic.twitter.com/ebbMWmkS3f

— Sankofa TravelHer (@1BlessedCEO) December 29, 2017
Of Taylor, Oprah said, "She lived as we all have lived, too many years in a culture broken by brutally powerful men. For too long, women have not been heard or believed if they dare speak the truth to the power of those men. But their time is up. Their time is up."
Oprah's speech had many people crying before she was even halfway through:
#Oprah
✔️There are no words,her speech
was TRUTH‼️
✔️Magnificently spoken,thoughtful,
brilliant,wonderful and an inspiration‼️
✔️A CHANGE IS A COMING‼️
✔️CHANGE CAN OCCUR WHEN WE
UNITE AROUND THE TRUTH‼️
✔️THERE IS THE POSSIBILITY OF
A BRIGHTER DAY TOMORROW‼️

— Bambi Koslen (@koslen_bambi) January 8, 2018
After saying declaring that "speaking your truth is the most powerful tool we all have," Oprah had one last thing to say to the people at home.
So I want all the girls watching here, now, to know that a new day is on the horizon! And when that new day finally dawns, it will be because of a lot of magnificent women, many of whom are right here in this room tonight, and some pretty phenomenal men, fighting hard to make sure that they become the leaders who take us to the time when nobody ever has to say 'Me too' again."
Just watched Oprah's speech, sobbed, did ten shots, did a triple axel straight through my window, died.

— Bryan Safi (@bryansafi) January 8, 2018
#RecyTaylor is trending because @Oprah was the first black woman to win this award and used the platform to tell her story.

Black women are so transcendent.

— Brittany Packnett (@MsPackyetti) January 8, 2018
And some people are suggesting she be the next celebrity to run for president:
Hey, we made it through a year with—you know what, I'm not even gonna bring his name into this. Let's just enjoy being in the presence of Oprah instead.