Being a mom is so hard, and there are so many things that can go wrong. You're just trying to keep this wild, unpredictable tiny human from spinning itself off a cliff while also maintaining a hold on their mental development. It's so much. But are people nice to each other about it? No!
It seems like moms and dads are always catching backlash about the most innocuous things. It's especially intense if you're a celebrity with any kind of public profile. There's so much scrutiny. And Chrissy Teigen gets a lot of it.
Maybe because she's so active on social media, maybe because she's someone who seems genuinely happy with her husband and life, I don't know. But Chrissy Teigen is constantly getting told how to parent. She posted this adorable pic of going down a tiny slide with her daughter Luna, captioning it, "Weeeee are very skeptical of slides right now." Cute, right?
Um, not so fast. A woman is doing something on the Internet, so she must be wrong.
The comments are just littered with people criticizing Teigen's slide technique.
Apparently, it can be dangerous to go down a slide with a child in your lap, because there is potential for their tiny limbs to twist and break. That is a very scary image and definitely something to be avoided! And people thought they should tell Teigen that, over and over and over: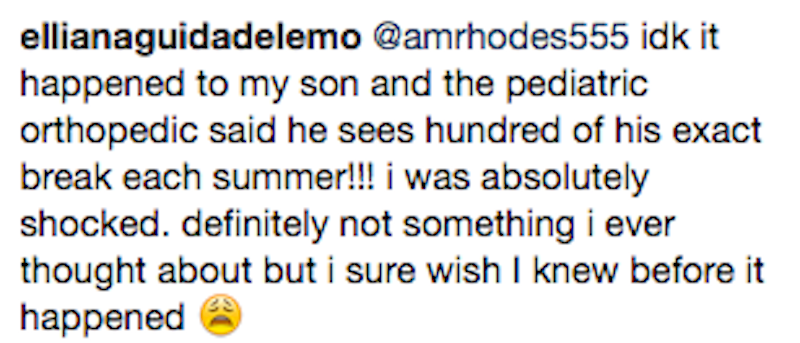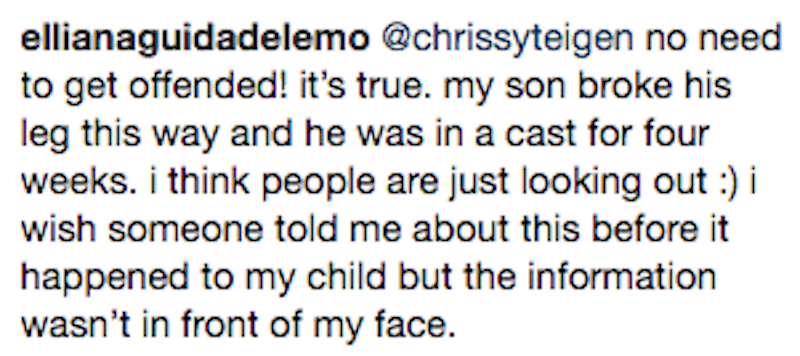 It certainly would be terrible if you broke your child's leg like this. But also please stop, because she seems to get it.
There are plenty of more comments in Teigen's defense:




There were also a couple people who just seem generally angry about everything:

But the best comment of all is, of course, from Chrissy Teigen herself: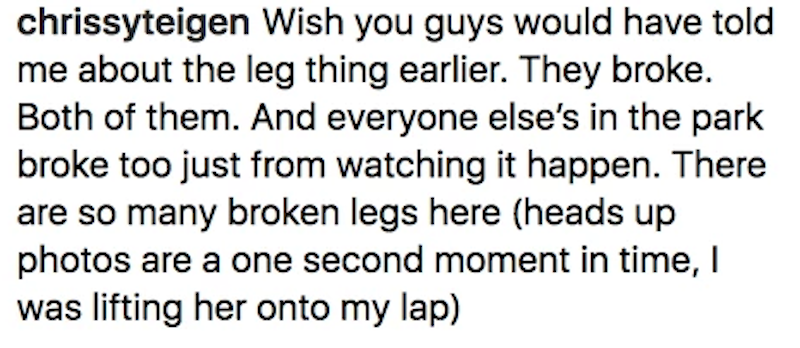 Wow. We were too late. RIP everyone's legs.