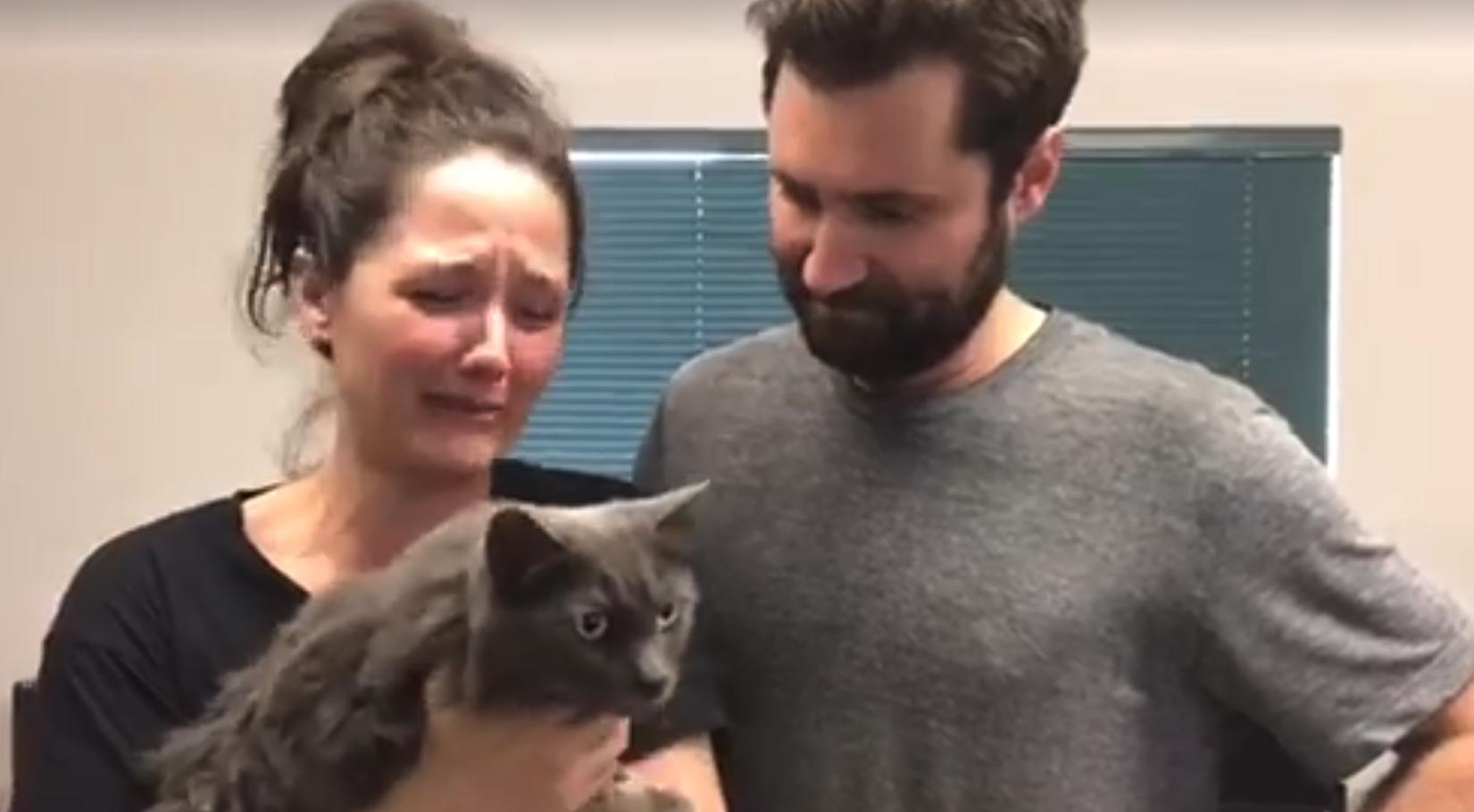 Cat Survives For A Week In Home Destroyed By Santa Barbara Mudslide
By Mark Pygas
Earlier in the month, landslides devastated the community of Montecito, California, leaving at least 20 people dead and several still missing. More than a hundred buildings were also destroyed or damaged, as roads became rivers of boulders.
Experts pinned the blame on mountains rising and becoming unstable because of the region's active faults. It's believed that these were made even more unstable because recent wildfires had scorched much of the surrounding area's vegetation, allowing much more rain into the soil.
Lindsey and Woody Thompson were among those affected by the disaster, losing their home in the space of a few minutes. The couple were so afraid, they left goodbye messages for each other in case one of them did not make it.
They were luck enough to survive, and were airlifted to safety after rescue teams were unable to get to their home by land. But in all the chaos, they lost their beloved cat Koshka.
Despite getting separated, the couple were certain that Koshka was still alive. "We knew that she was alive and we knew that she was smart and she would find a safe spot," Woody said.
They reached out to Santa Barbara County Animal Services (SBCAS), who were helping track down lost animals and providing shelter to the animals of families who needed it.
SBCAS sent a team to the house to see if they could find any signs of the cat.
"Our teams went to the property as soon as we were able but we were not able to access the property safely," they wrote in a statement.
Because a local fire team was on the scene, they were able to get close enough to spot some positive signs but were also unable to enter the property.
"We consulted with a nearby fire team who was unable to see Koshka but could see her muddy paw prints which gave us hope."
The team returned daily from January 9th to the 15th, when officers Pennon and Lauren of the ASPCA felt it was safe to access the house through a window. There, they found Koshka caked in mud, but in good health and excited to see some human faces for the first time in more than a week.
SBCAS recorded the tearful moment the family was reunited.
"They called her the 'pawprint kitty' and she lived, and I just can't thank you enough. We needed this. Thank you. You're our heroes," Lindsey says during the video.
"Those small victories are so important. there's so much devastation here and being able to reunite that cat with her family was special for me, was special for our department," Officer Pennon told KEYT.
As you can imagine, social media was touched by the reunion. The video has received over 3,000 shares since it was published.
One Facebook user shared a similar experience and what it meant to them:
"We lost our home, everything we had-barely managed to escape-from a wildfire in Nor Cal," the commenter wrote. "A week later I got an email from Home Again, they found my cat (she was microchipped and the microchip was registered with current contact info), Animal Control found our cat. Burned, scared, and alive. We lost everything we own, but got our cat back. I feel these people's joy. Congratulations!"
Others couldn't imagine the same thing happening to them.
"I own 7 kitties and can't even imagine the thought of losing one of them like this," another user wrote. "Thanks SO much to the rescuers who kept returning to search for this beauty and thanks to kitty Koshka for keeping the faith and having good instincts. Lots of tears here!"
Others were quick to applaud all those involved in the rescue.
"Thank you so much officer Pennon and partner Lauren. You made two people very happy because you took the time to rescue their kitty. There is a special place in heaven for people like you."
"So nice to see something positive come from so much tragedy!"
"Thank you Officer Michael Snyder-Pennon from Dallas, Texas. There is a special place for people like you in heaven. What a selfless act sir. Thank you. You have helped start the healing process for this family."