Wife's Dying Wish To Husband Ends Up Being A Hilarious Practical Joke
This man just realized his late wife has been trolling him from beyond the grave.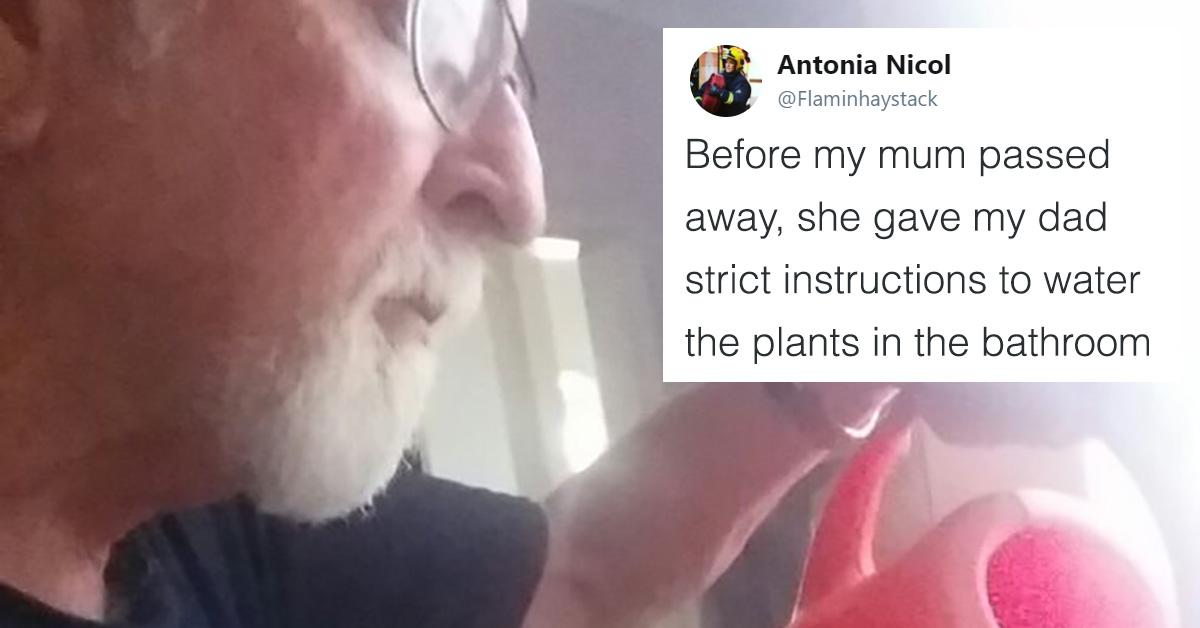 When Phedre Nicol was battling cancer in 2013 at the age of 69, she gave her husband, Nigel, strict instructions should she pass away. Those instructions? Keep watering the plants in their South Africa home.
Article continues below advertisement
And when Phedre lost her battle in the same year, Nigel, now 73, started keeping that promise. And he's been watering the ferns in their bathroom for years. Though he probably did wonder why there were puddles of water on the floor every time he watered them.
Fast forward to 2018, and Nigel is moving into a retirement home. The ferns were still in such good shape, that he decided to pack them along with his belongings. Only then did he realize that how wife has been playing a prank on him this entire time.
Article continues below advertisement
Daughter Antonia, a firefighter from London, explained the prank on Twitter...
Article continues below advertisement
Yes, Phedre has had Nigel watering plastic for a few years. Antonia explained to The Mirror that no one else was in on the prank...
"My mum battled cancer for five years, but sadly passed away in November 2013. She was hospitalised for the last few weeks. It was very traumatic for all of us. I live here in London, so I was back and forth to South Africa a lot."
Article continues below advertisement
"When she was in hospital, she told my dad that he was under strict instructions to water the plants in the bathroom. There was a purpose built container for real plants with a drain, but my mum must have replaced them with plastic ones. None of us knew."
Antonia explains that her father was so "overcome with grief," he religiously watered the plants. The couple had apparently always been pranksters...
Article continues below advertisement
"It was hilarious. They were always jokers. Once, my daughter sent them a picture she had drawn of 'naughty Grandad' jumping on the bed and granny being shocked. They recreated the picture and sent it back to her."
She goes on to explain what the discovery meant for her father...
Article continues below advertisement
"My mum died a while ago, so this is a lovely memory of her for my my dad."
And the reaction it got from social media was even more heartwarming.
Article continues below advertisement
"I was totally shocked when I saw how many people liked it. What has been lovely are the responses from so many people remembering their loved ones who have gone."
"Or people wanting to have the same relationship as my parents did. Or sharing stories of how they've done similar stuff."
"It brought a tear to my dad's eye to see how happy it has made so many people and that's been so brilliant. Remembering my mum in such a positive way like this means a lot to us."
Article continues below advertisement
Nigel even reenacted the watering of the ferns for his new fans...
Article continues below advertisement
To say this is peak relationship goals is an understatement...
Article continues below advertisement
Article continues below advertisement
Article continues below advertisement