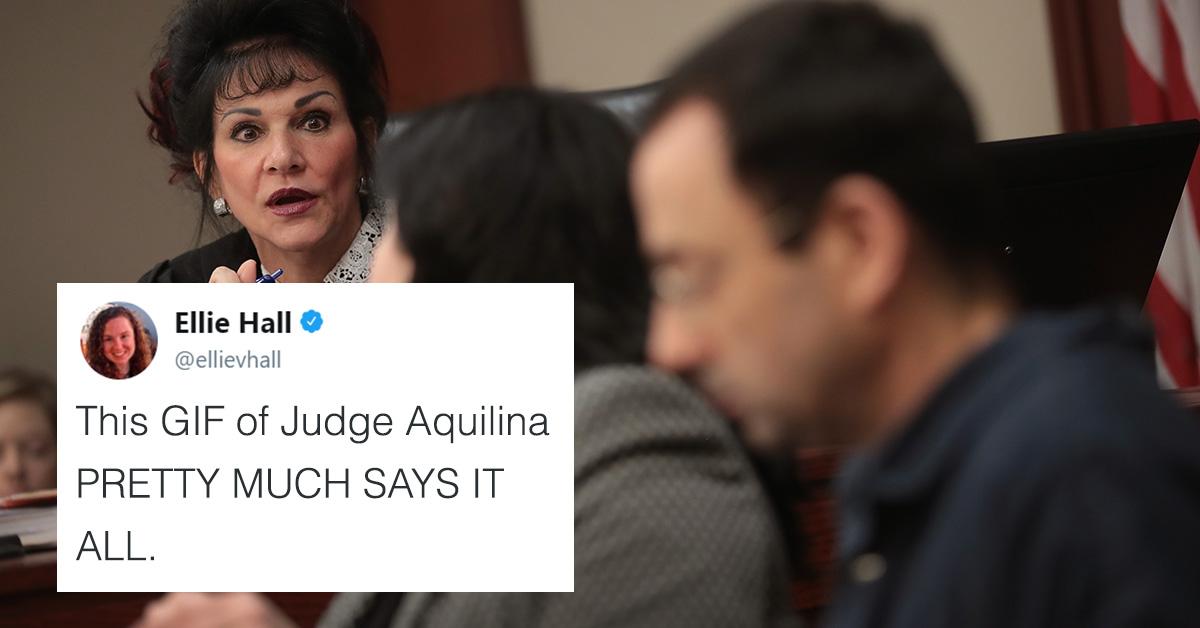 Larry Nassar Complained About Listening To Survivor Statements And Judge Aquilina Wasn't Having It
By Mark Pygas
Ex-Team USA Gymnastics doctor Larry Nassar was sentenced to up to 175 years in prison on Tuesday, after more than 150 women and girls came forward to accuse him of sexually abusing them. Circuit Court Judge Rosemarie Aquilina handed down the judgement, adding:
"Because the crime, all of the crimes, the depth of them have cut into the core of this community and many communities in all of the families and people we don't even know."
Aquilina called issuing the sentence a "privilege," adding: "I just signed your death warrant."
On Monday and throughout last week, 133 of Nassar's accusers read out victim impact statements, with dozens more women choosing to remain anonymous, telling their stories of Nassar's abuse and how it has affected their lives.
Since then, athletes including Jeanette Antolin, Jessica Howard, Jamie Dantzscher, McKayla Maroney, Aly Raisman, Maggie Nichols, Gabby Douglas, Simone Biles, and Jordyn Wieber, have been among the more than 150 accusers.
Aside from the incredibly powerful statements of some of the survivors, one of the main talking points of the last week has been Judge Aquilina.
Aquilina has been praised on social media for focusing on the survivors over the last few days. When one survivor, Amanda Cormier, explained that she loved to write songs as a teenager, but that she hadn't written one since the abuse, Aquilina gave some advice to the woman and her unborn baby:
"It seems to me, after this, you can finish writing. You found your voice," Aquilina said. "It's a strong, effective, brave voice, and you have a child coming. Maybe what you need to do is start and finish a lullaby."
Every survivor received advice from Judge Aquilina. She told another woman:
"I wish my robe came with a magic wand so I can wave it over you and heal you. But that's fairy tales."
Aquilina told Rachael Denhollander, one of the first women to come forward, that she was the "bravest person I have ever had in my courtroom."
And one moment from Thursday has people loving Aquilina even more. Nassar wrote to a letter to the judge, complaining that he was unable to handle the continued victim impact statements because of his mental state, and which contained the phrase: "hell hath no fury like a woman scorned."
"You need to talk about these issues with a therapist," the judge told Nassar. "Contrary to CNN's headline, I'm not a therapist." Moments later, she threw the letter onto the ground.
Despite the attention she's gotten on social media, Aquilina is refusing to comment to media, only saying that the week should focus on Nassar's victims.
That hasn't stopped Twitter from praising the judge, though. With Simone Biles, one of the survivors, taking to social media with her thanks.
There was also a flood of comments from the general public.