Thomas Resch is a 21-year-old who lives in Maryville, Washington. Buzzfeed News reports that he recently lost his mother, Deborah. Deborah went into cardiac arrest; she was recuperating from her first heart attack when it happened again in January. She died last week.
In a post about her on Twitter, Thomas called his mother his "best friend" and shared pictures of the two of them spending time together:
But he started to get a lot of attention after sharing how he chose to honor Deborah's memory.
After her first heart attack, Deborah was in recovery. The blood flow had been shut off to her brain for awhile during cardiac arrest, and it ultimately affected the dexterity of her hands. She found it quite difficult to write.
Thomas told Buzzfeed, "When I was a kid and all of growing up my mum always prided herself on her handwriting."
The day of Deborah's death also coincided with Thomas's plan to move out of the house and live on his own. She wrote him a note in her new, shakier handwriting that read:
"I'm going to miss you a lot. I love you."
Thomas decided to tattoo his mother's words on his body. He also realized she'd been wearing her Fitbit at the time of her death. He looked up her data and saw the exact image of her final heartbeat. He combined them as a tribute to her: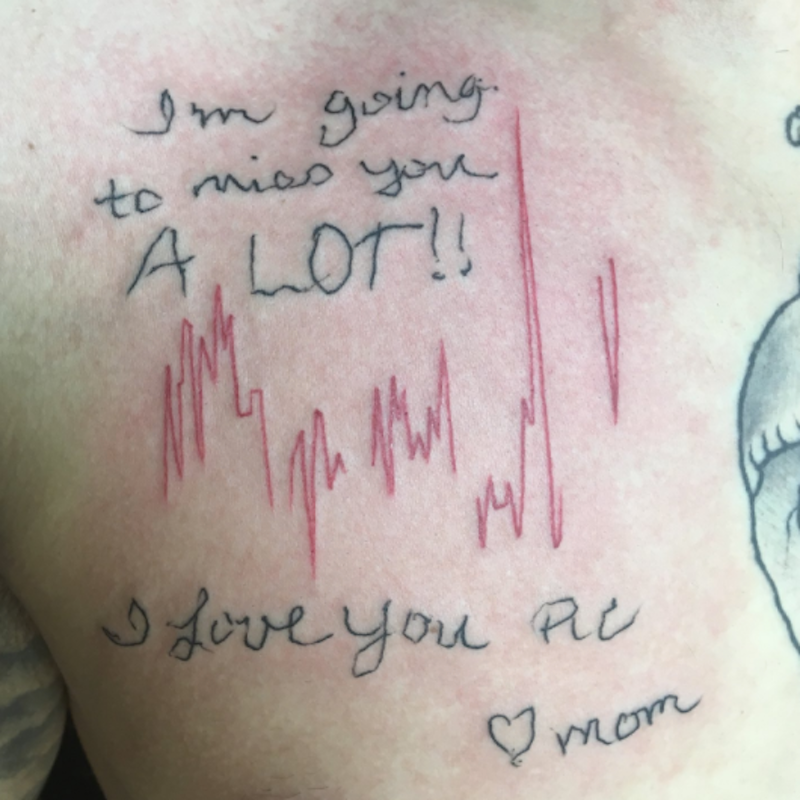 Thomas shared a picture of the tattoo on Twitter, saying that her handwriting was "perfect" in his eyes.
"I miss you momma," he wrote.
People are incredibly touched by his story. Many related, having lost their own mothers. Some had also tattooed their mothers handwriting on their body!
Thomas is moving forward and pursuing his dream of becoming a professional bodybuilder.
"Now that she's passed I'm still going to pursue my bodybuilding dream and make my mum proud," he said. "She never wanted me to give up, especially on what I loved."