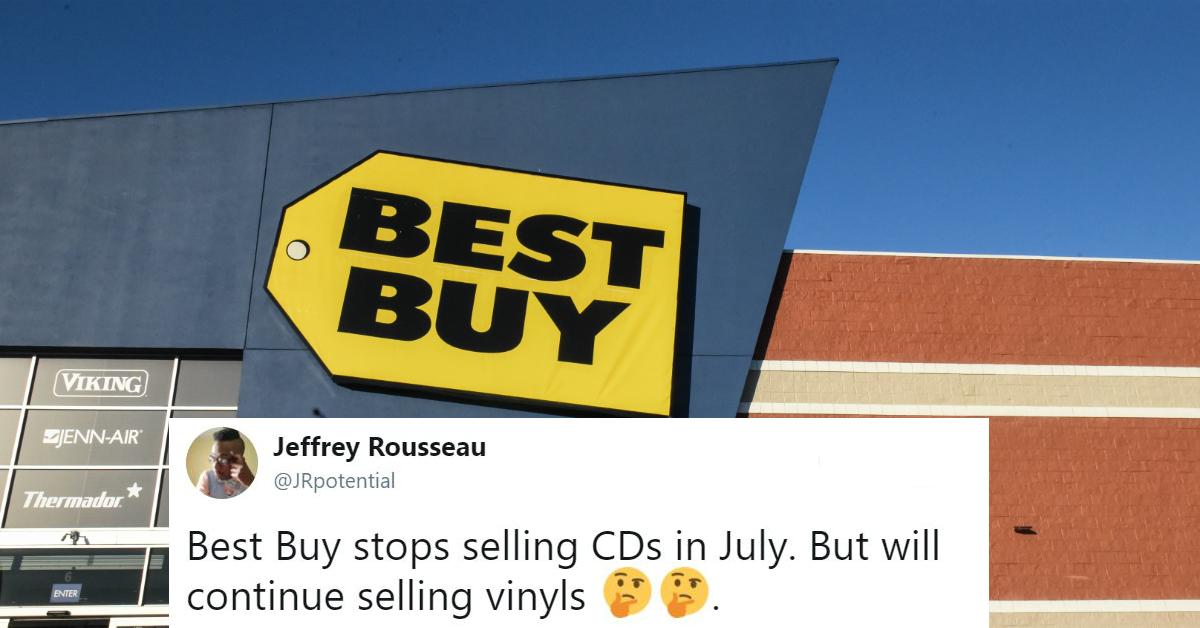 Best Buy Will Officially Stop Selling CDs And People Are Freaking Out
By Mustafa Gatollari
The last time I ever saw someone buying a CD was at Wal-Mart. While waiting in an unnecessarily long line to get a pint of midnight Ben & Jerry's because I lost my self respect a long time ago, I saw someone in front of me with even less self respect.
In the overflowing shopping cart, on top of some And 1 neon green sandals and several microwavable dinners, were various country music CDs. I don't remember all of the artists, but Toby Keith was front and center.
I was baffled: the last time I remember ever buying a CD was when I went to a Coconuts the day Sam's Town from the Killers dropped. That huge disappointment was the end of the compact disc era, as far as I was concerned, and yet here this man was, in 2017, buying his music on a dead medium.
Even though I have a CD player in my beater Corolla, I used it only once, as a joke, when my best friend Chris Conroy found a Space Hog CD in his apartment that we listened to and summarily tossed from the car on a short road trip during this past summer. I'm sure the majority of people reading this aren't jamming to tunes bumping from an old Sony Walkman, and yet still, store shelves and precious retail space is reserved for a bunch of compact discs no one will ever buy.
So it only makes sense that Best Buy has let music suppliers that it'll no longer be carrying compact discs.
Apparently the news isn't sitting well with some people, especially because they're still going to carry Vinyl versions of albums.
The nostalgic, old-school appeal of Vinyl is understandable. Plus, when you have something on Vinyl, it looks like a piece of art you can hang in your home. But at the end of the day it's all about business: Vinyl is coming back: the numbers don't lie.
If people are freaking out about CDs going the way of the cassette, it's probably because I, like other folks my age, probably feel old as hell.
I mean, I remember walking around the CD section, snooping track selections and trying to learn about new bands from the dude behind the counter.
Some people are arguing that CDs carry longer, live versions of tracks - ones that can't be purchased on iTunes.
Others are just saying, "about time."
Then the all-important juggalo demographic weighed in on the news.
Some people actually brought up some legitimate points about why this is a bad thing. But then again, you could always order them off Amazon.
If you really want to listen to music on a CD, you could always burn them yourself and make yourself a sweet mix.