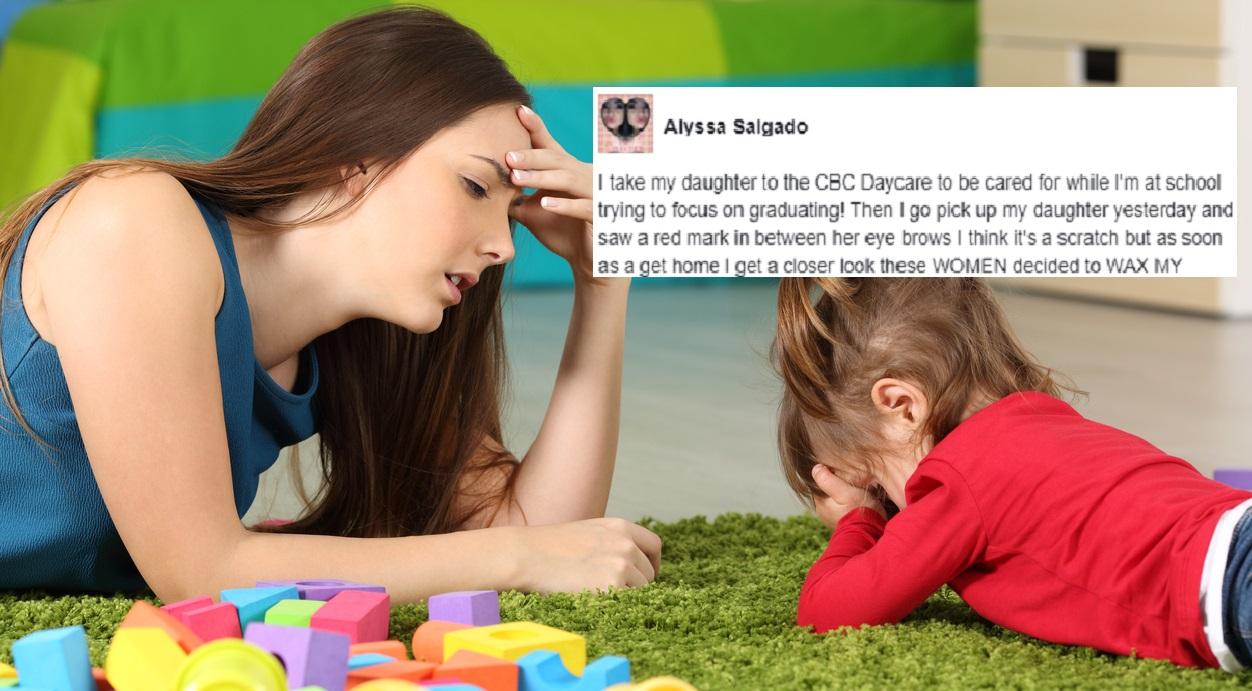 This Mother Claims Her Daughter's Eyebrows Were Waxed By Daycare Workers
By Aimee Lutkin
It's really scary to be a mom and trust your young child to daycare, but it's what a lot of parents have to do as they return to work or other responsibilities. When that trust is betrayed, it's frightening and enraging, as one mom's story illustrates.
A mom in Washington named Alyssa Salgado says she dropped her daughter Lilayiah off at daycare, and when she went to pick her up, it appeared that the daycare workers had altered her daughter's face.
Salgado writes she noticed "a red mark in between her eye brows," and at first thought it was a scratch. Then she looked closer and realized it looked like someone had waxed her daughter's eyebrows.
If you look at her before and after photos, you can see there does seem to be a definite change:
Salgado was clearly enraged. She writes:
"I immediately started to contact the director of the day care in many texts she tried to come up with multiple excuses then this morning I take my daughter in person to the director. She laughs in my face telling me a bunch of lies and I do get upset!!! I AM A MOTHER NOTHING LIKE THIS SHOULD EVER HAPPEN AND THEY HAD NO RIGHT TO TOUCH MY DAUGHTER AT ALL. I birthed my daughter and love every little thing about her and these so called women took it upon themselves to correct."
Salgado's post went viral:
"I will not let this get unnoticed. I would like this to get out, imagine if this was your son or daughter and if they were waxing them imagine how much pain you would be in.... I can imagine her calling out mommy and I wasn't there to protect her I failed her. But I refuse to let this go unnoticed!!!" she ended her post.
She also shared a photo of a scratch on her Lilayiah's arm that she says wasn't there when she dropped her off at daycare.
Salgado also shared video and audio what seems to be her confronting the daycare management about what happened and getting an unsatisfactory response.
And the story has not gone unnoticed. Salgado and Lilayiah were interviewed by the local news.
The daycare center is operated by the Boys and Girls Club of Benton and Franklin Counties, and is located at Columbia Basin College.
CBC responded to the story with a post on Facebook:
Columbia Basin College (CBC) was made aware that the Boys and Girls Club of Benton and Franklin counties is investigating a complaint regarding its staff at its childcare center operated for the Pasco School District on the campus of CBC. In addition, the Washington State Department of Early Learning, the licensing agency for childcare centers, will be doing its own investigation beginning Monday at the childcare center.
The Boys and Girls Club, Pasco School District, and Columbia Basin College take these allegations seriously and will work together to support the investigation process.
The Boys and Girls Club childcare center provides care and early learning for children of parents who attend New Horizons Alternative High School which is also located on the CBC Pasco campus.
KREM reports that Salgado also went to the doctor to have her daughter examined and was given a letter that stated that upon examination the doctor determined "Lilayiah has a patch of hair lost between her eyebrows." The letter also states that the doctor had observed the baby's unibrow on previous visits.
It's completely understandable that a mom would be incredibly angry that their child's appearance had been altered without their permission, especially in a procedure that could potentially be painful and indicates some sort of judgment about her looks. A toddler does not have to worry about facial hair, thank you.