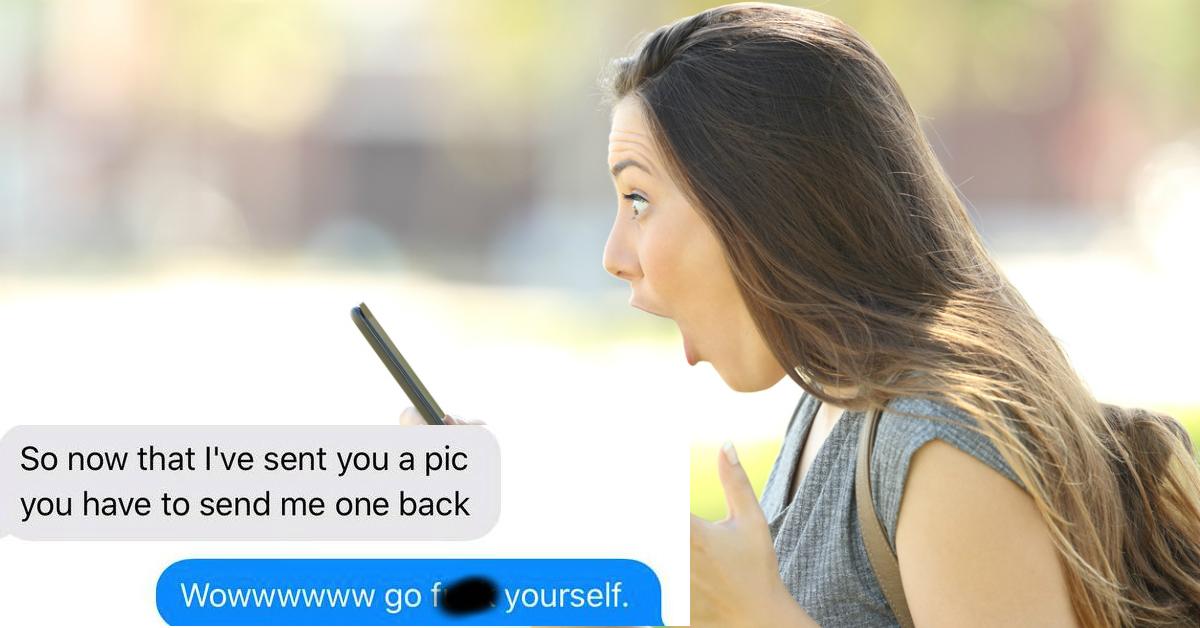 This Woman Sent A Guy's Unsolicited NSFW Pic To His Grandma
By Mustafa Gatollari
As a man, I'll never understand the phenomenon of the unsolicited genitalia shot.
I always thought that trench coat wearing flashers were mythical beings, that there were just a few of them creepily roaming the planet looking for unsuspecting victims to show their bodies to.
But thanks to the way the internet has evolved and the advent of camera phones and people sharing any photo they want with pretty much anyone they want, in a matter of seconds, humanity's learned that there are lots of flashers among us. It's a troubling thought that there are that many men who think it's no big deal to sexually harass women with pics of themselves.
You'd figure though that with social media and how easy it is to screencap conversations that guys would be a bit more careful with what they send to women they're creeping on.
Sadly, this guy, Hank, messaged an old classmate of his, Tamira, out of the blue, and made the same mistake that so many out there make.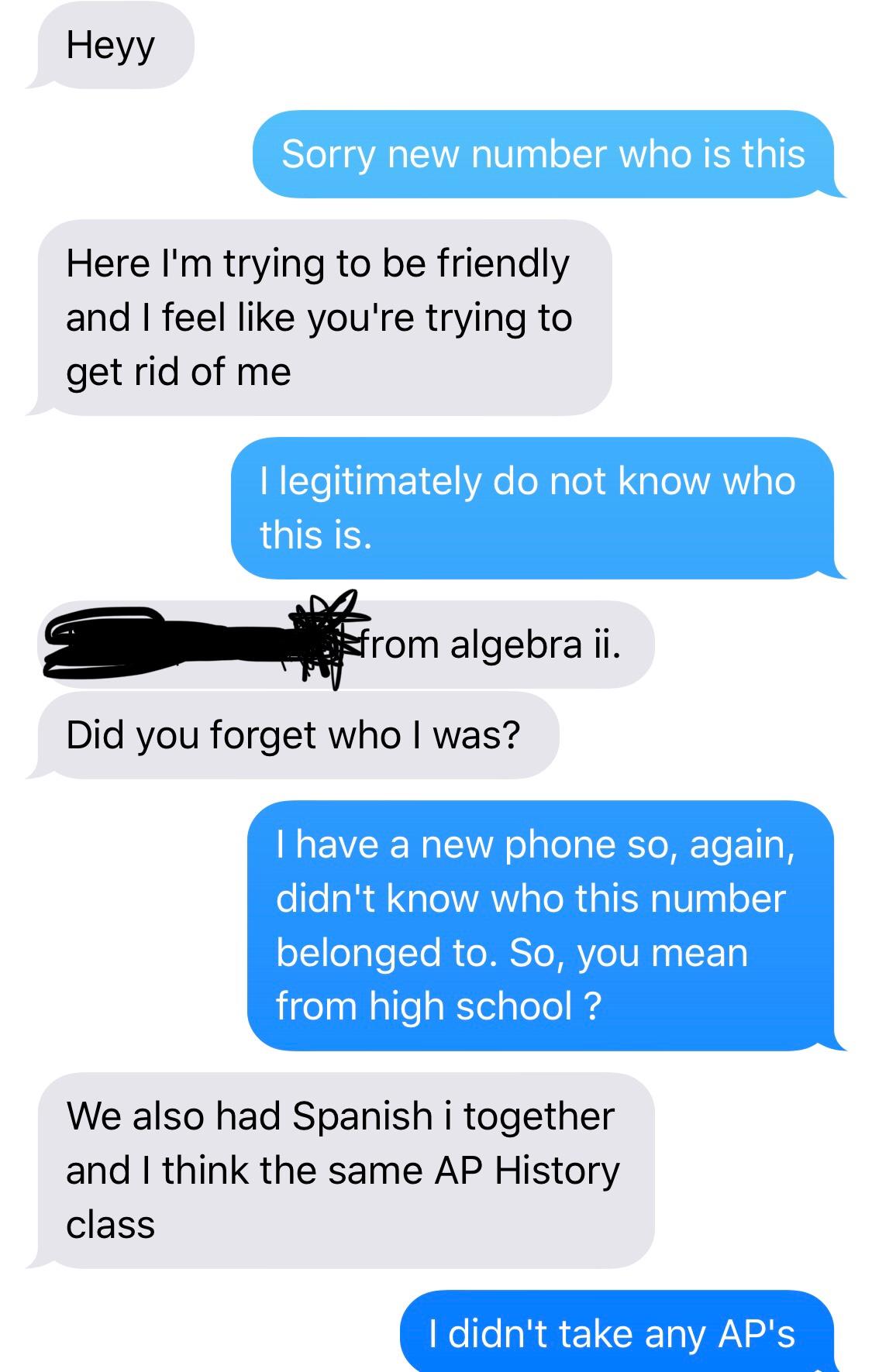 She shared screencaps of her conversation on Imgur. It didn't take long for him to reveal his long-standing crush to her, after a short back and forth.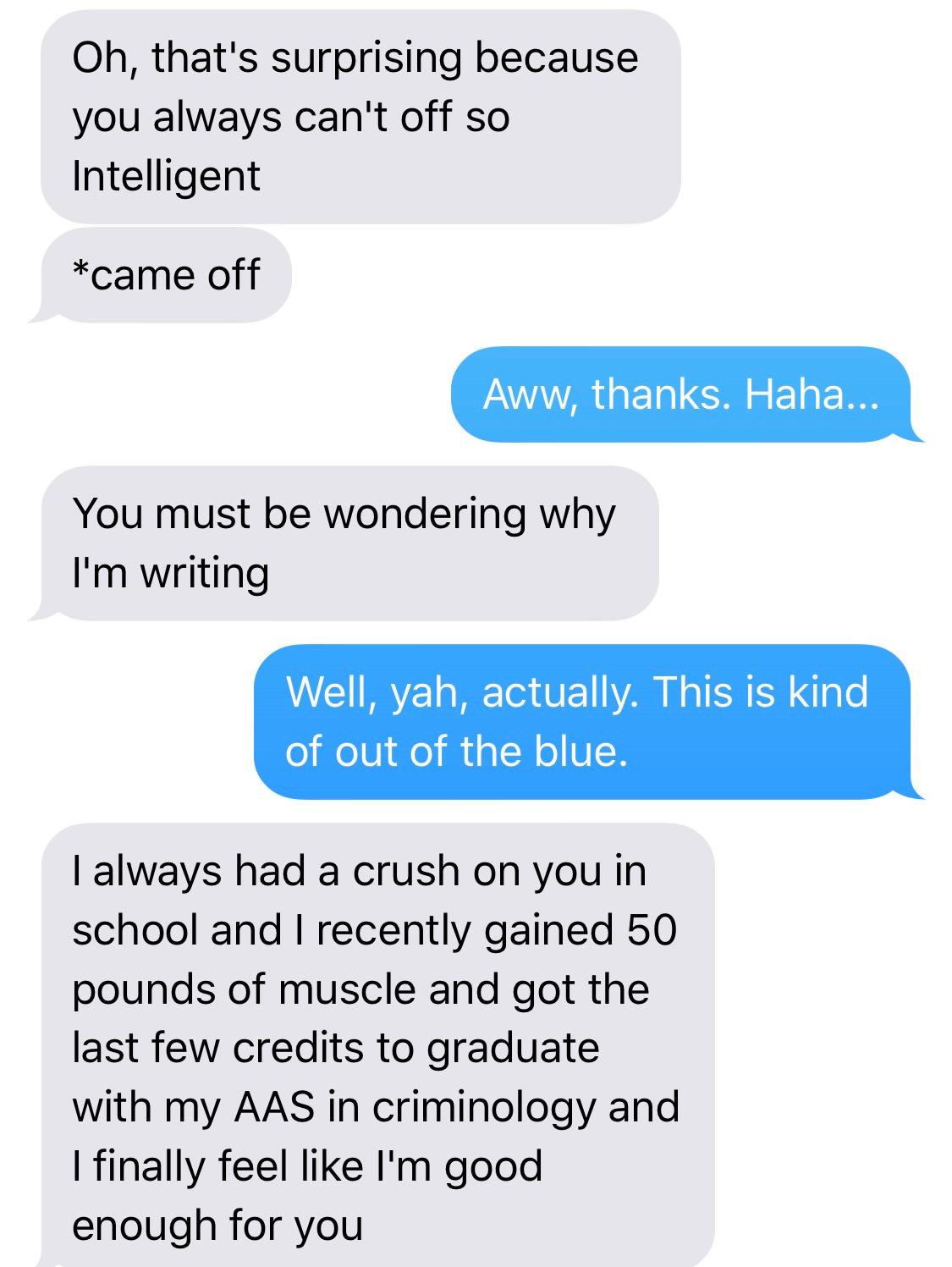 Once she tells him she's not interested in dating right now, he immediately goes into the "I'm not like other men" routine. Commence eye-rolling.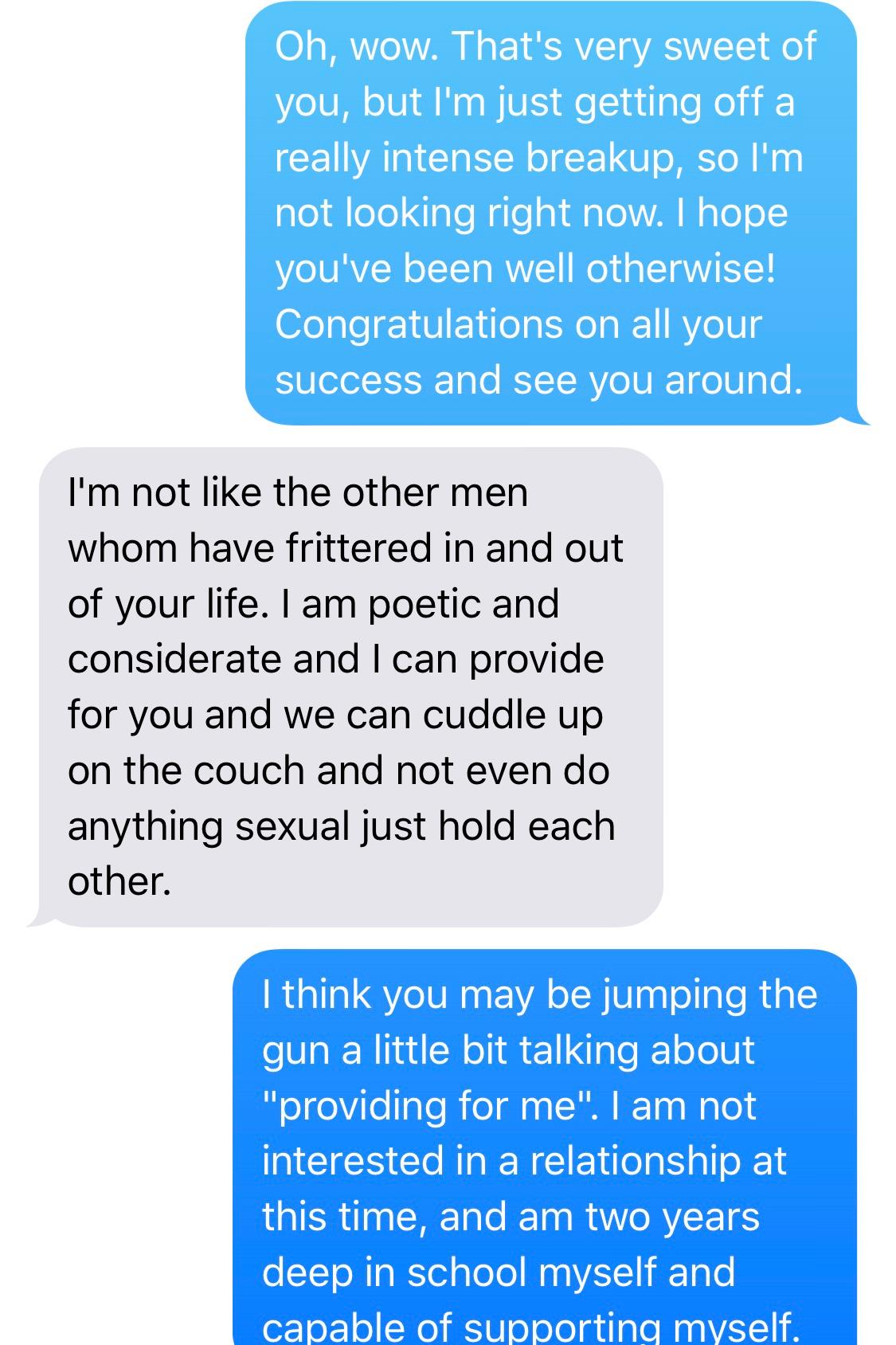 Then he starts bragging about the size of his muscles and that he'll "protect" her from her exes. As if they're waiting around every corner waiting to jump her or something because they're no longer in a relationship.
I don't know how this guy thinks dating works, but if I was a woman and was approached by a dude spouting nonsense like this, I'd steer clear. Tamira lets him know she's not feeling their conversation.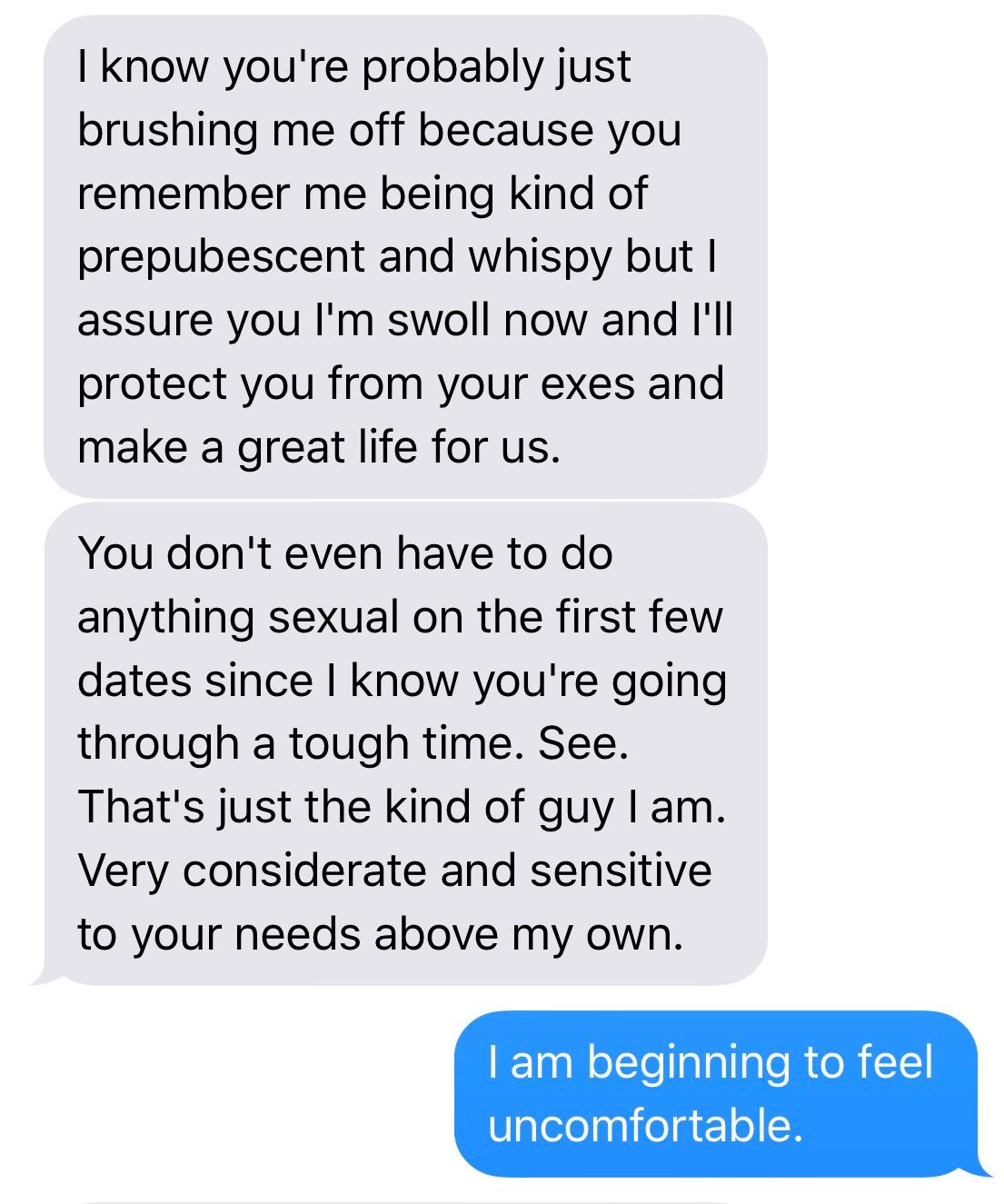 That's when the conversation pivots and Hank, thankfully, decides to change the subject. Tamira entertains him and tries to carry on a normal discussion.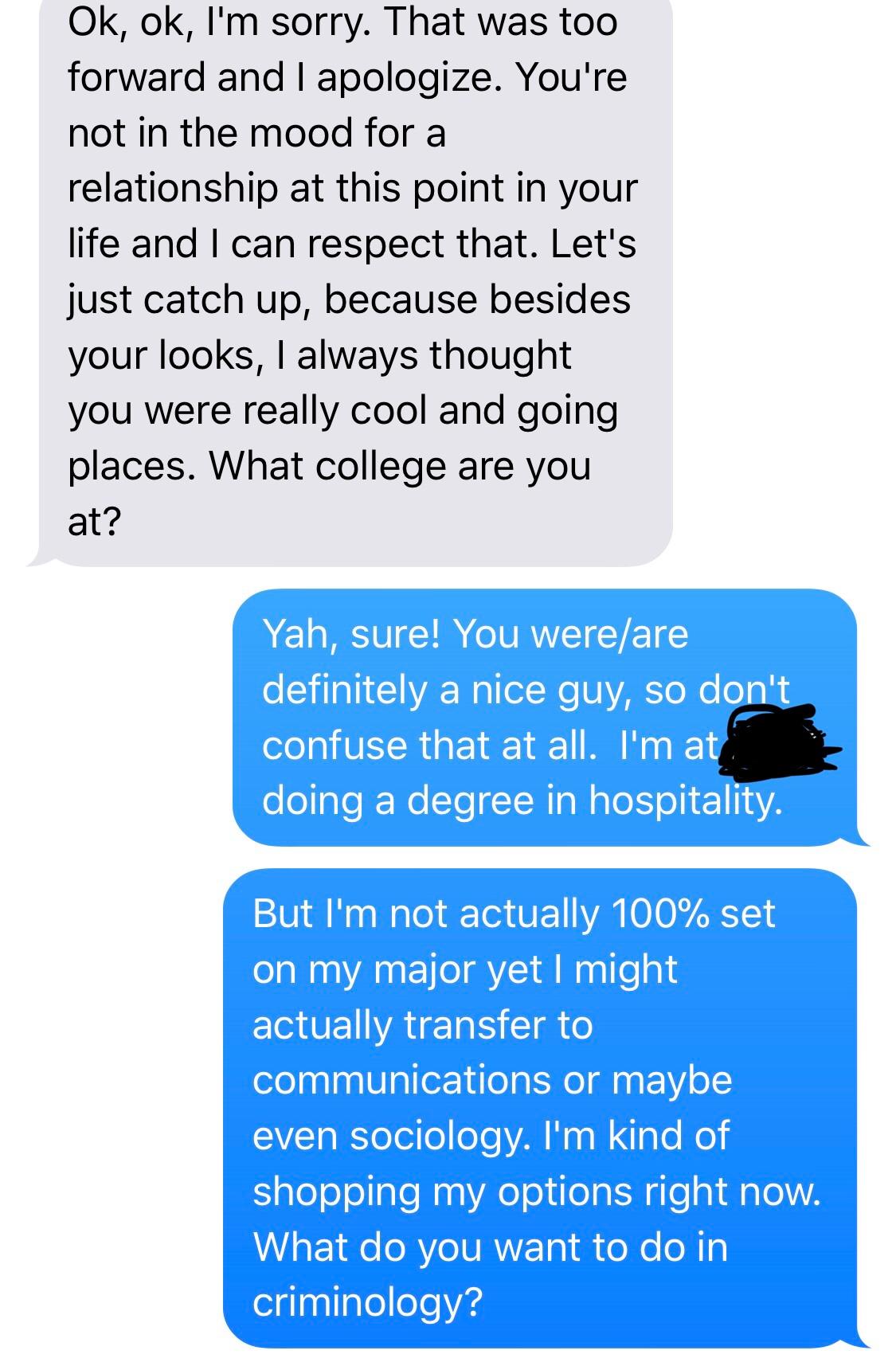 She tries talking about education and he uses it again as an opportunity to talk about how "jacked" he is. Not doing much for the "bro-cop" stereotype.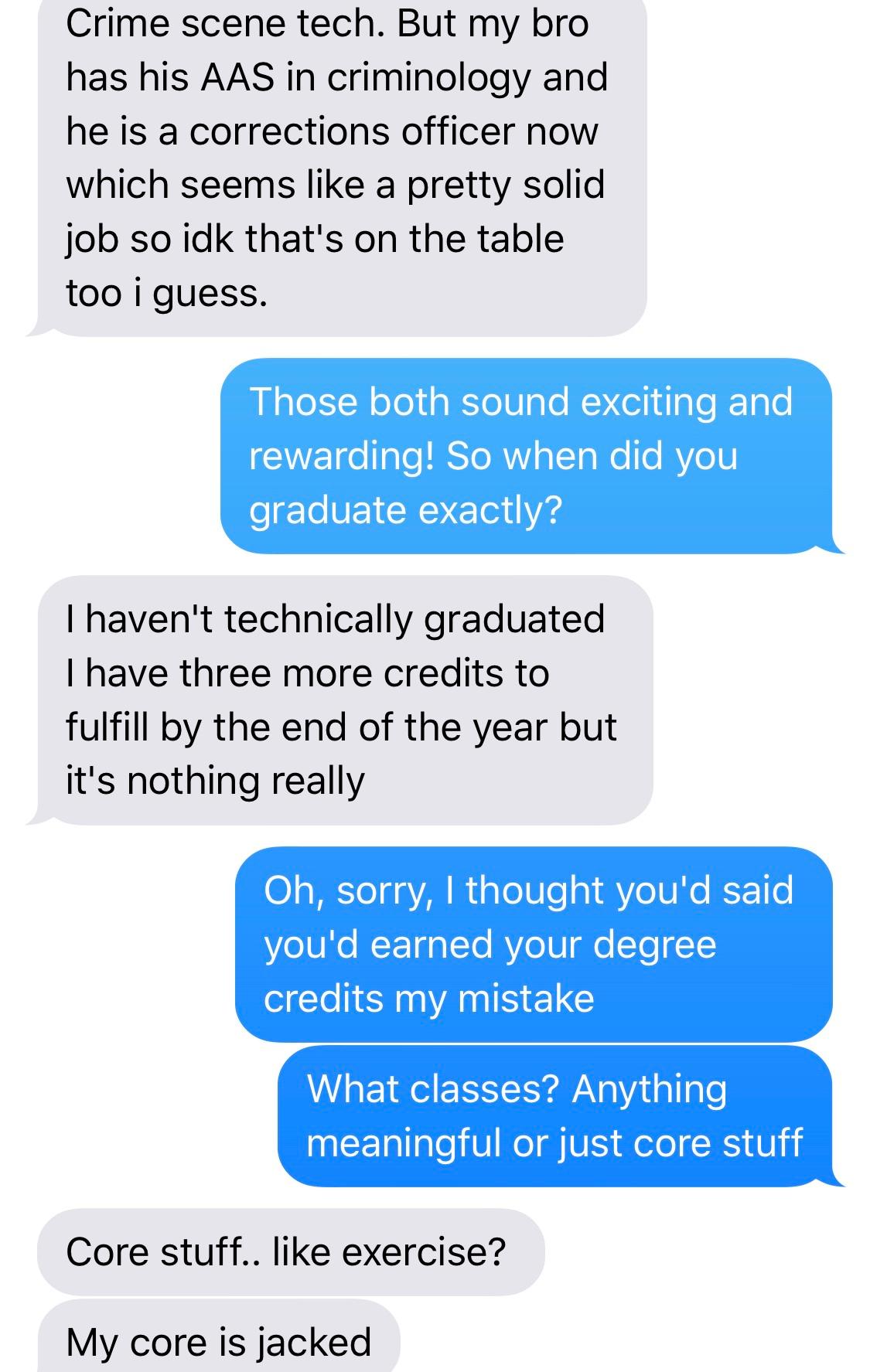 She then politely tries to end the convo, and Hank immediately wants to know when they'll be able to talk again.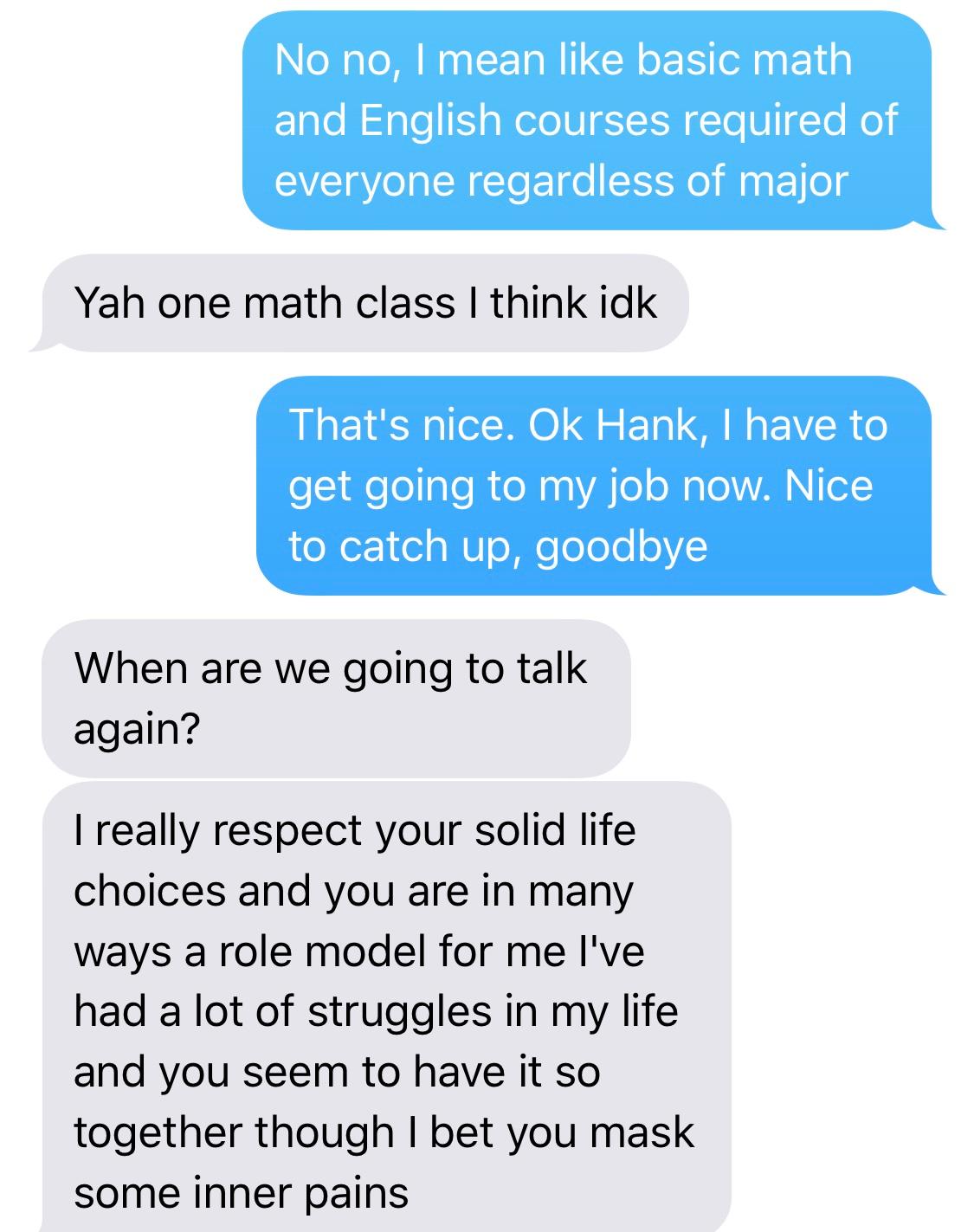 She tries to explain to him she's not interested in talking any more, but he refuses to take the hint.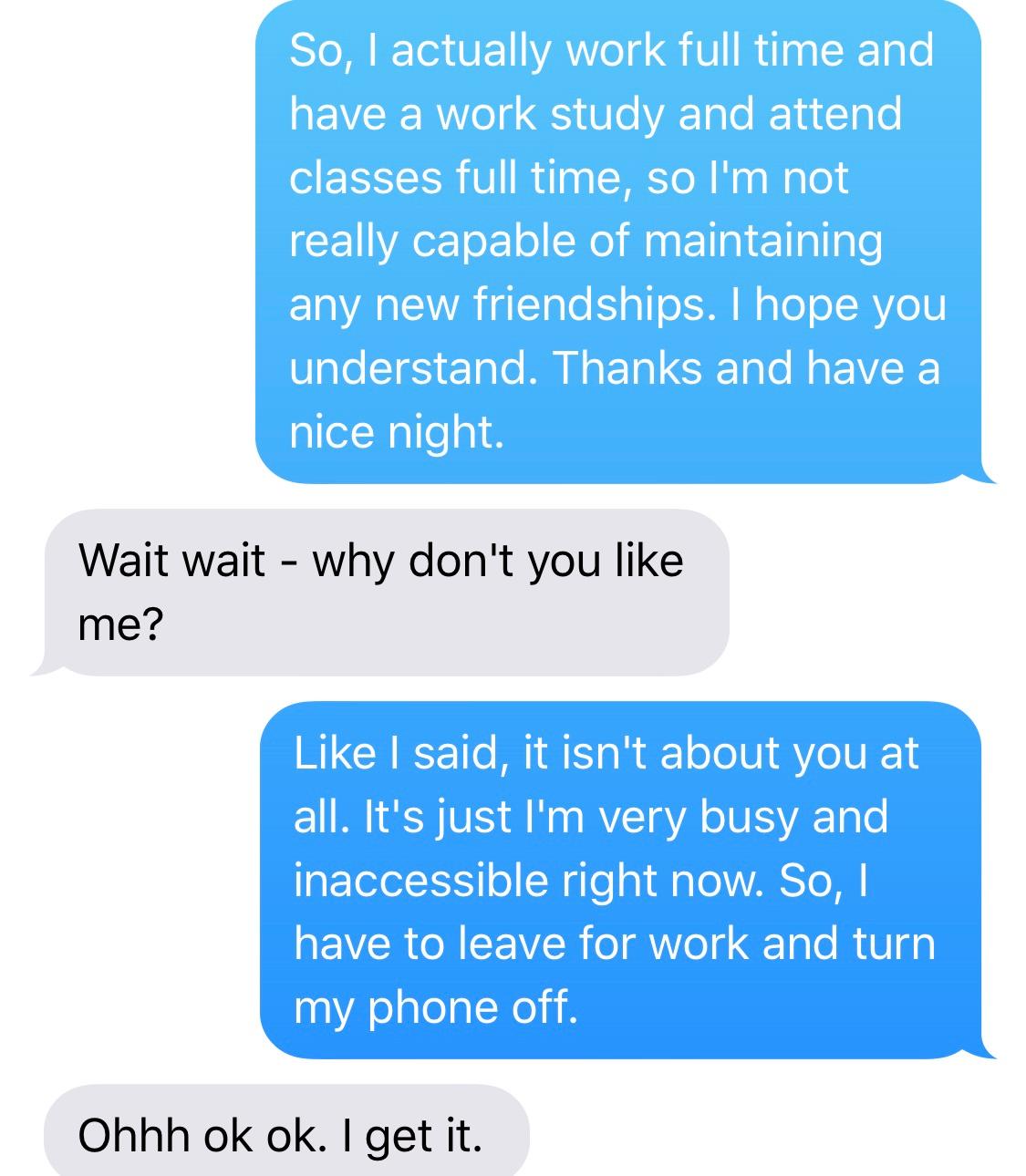 Then outta nowhere...that's right, a picture of his genitals.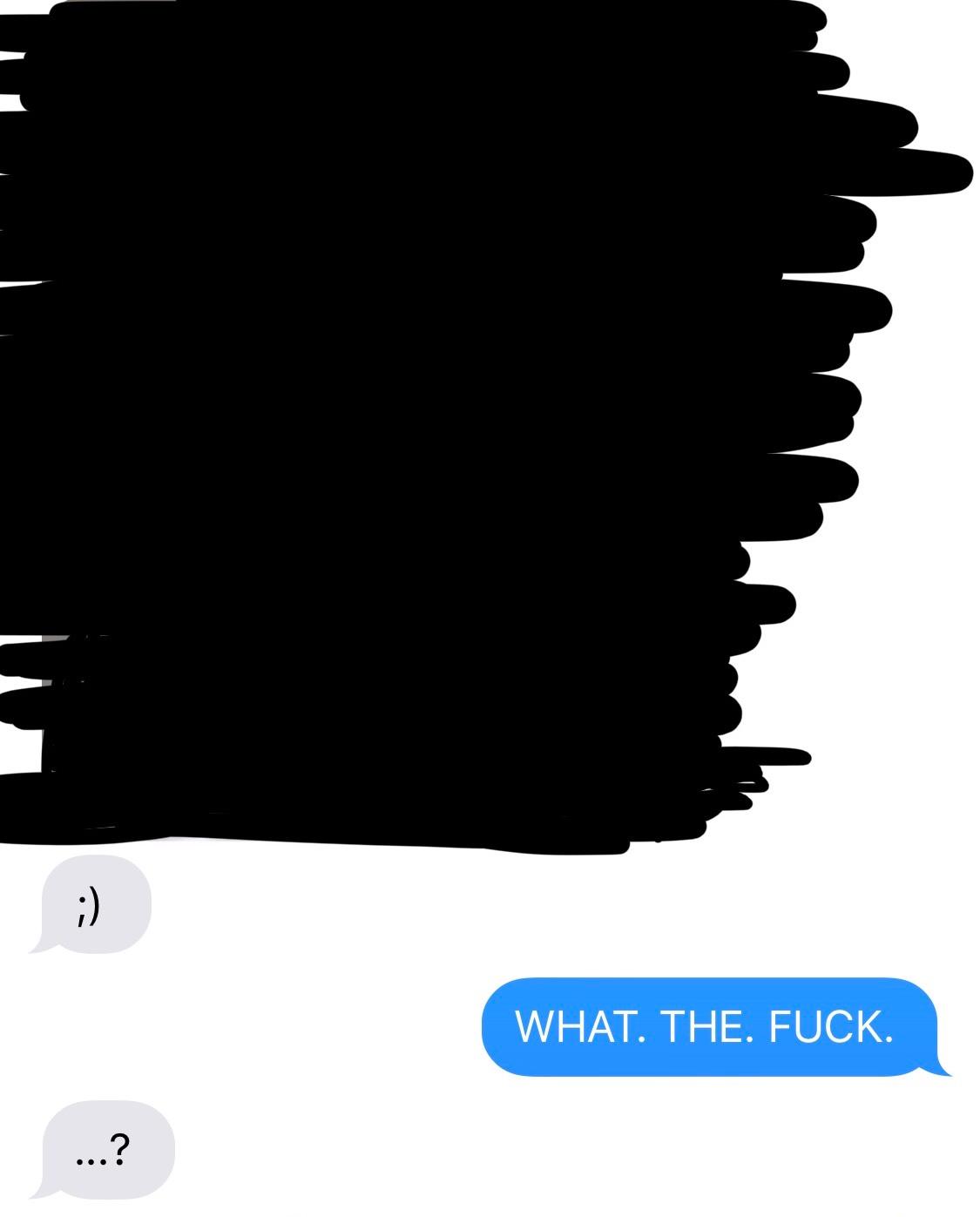 The wink emoji really ties it all together.
Tamira is understandably furious, but for some reason, Hank acts like him sending the picture out-of-nowhere was totally warranted.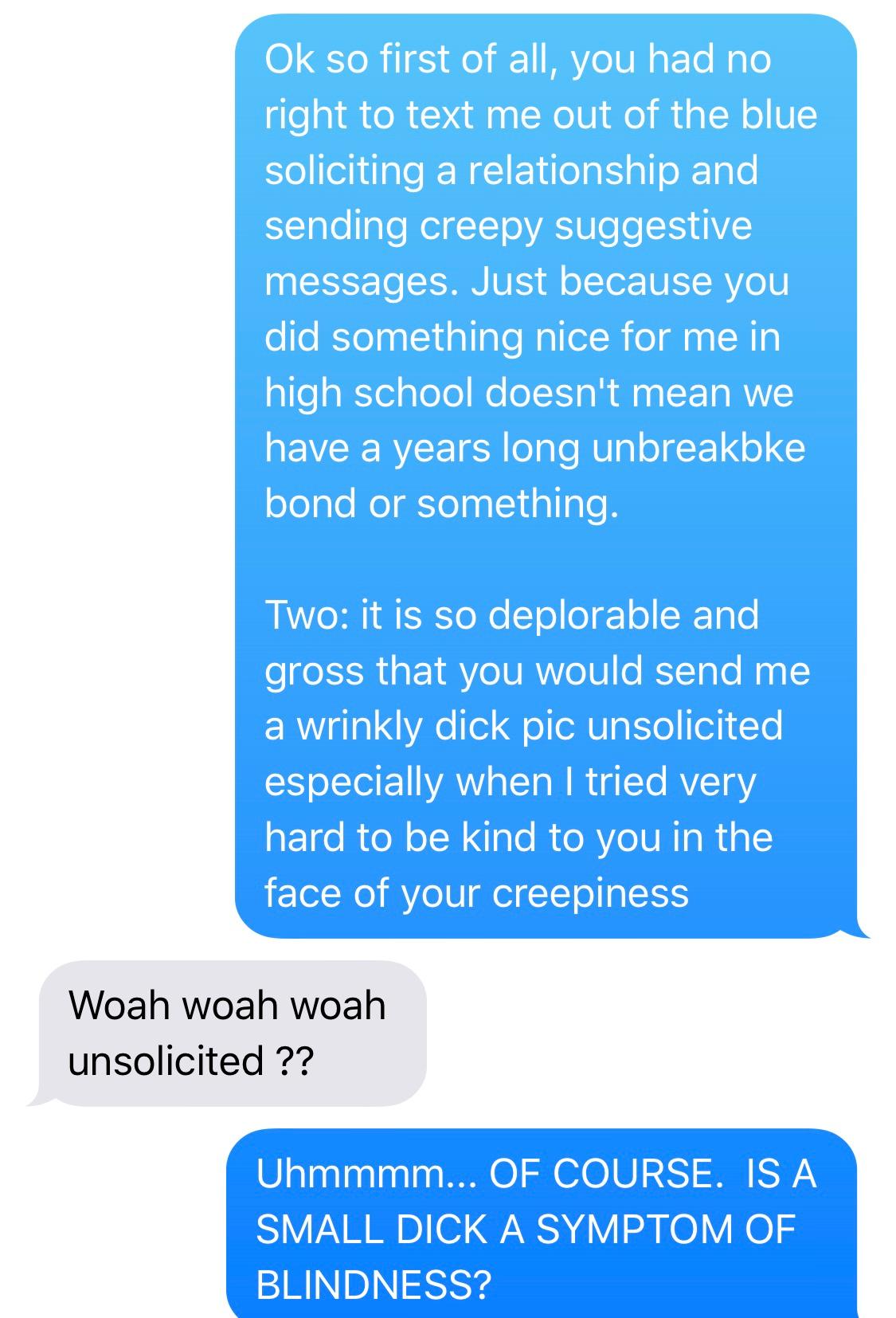 This is when things start to get especially rage-inducing. Not only does he spell "coy" incorrectly, but he has the audacity to demand a picture from her.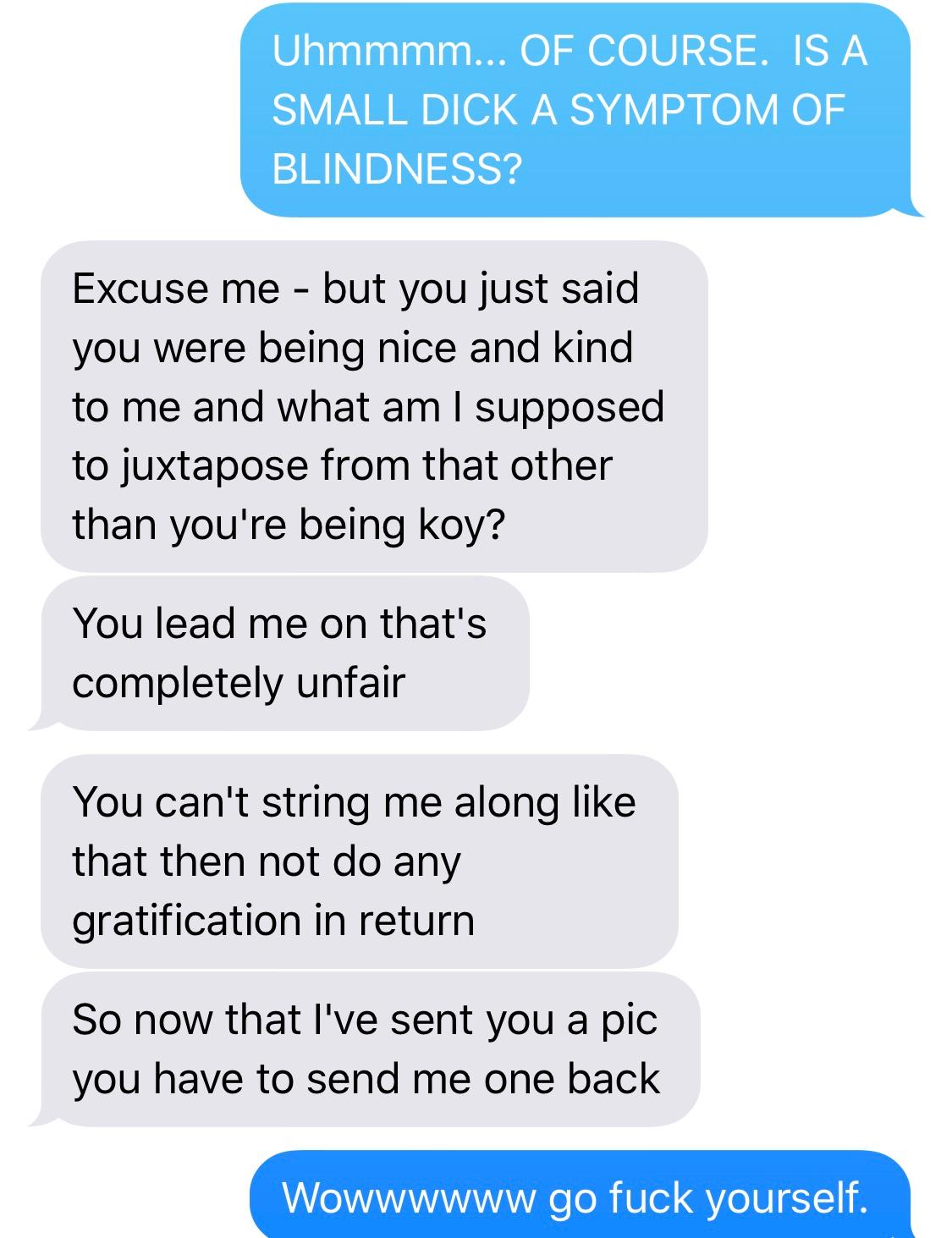 Then he has the nerve to tell Tamira what proper etiquette is and that she's missing out on a "great guy."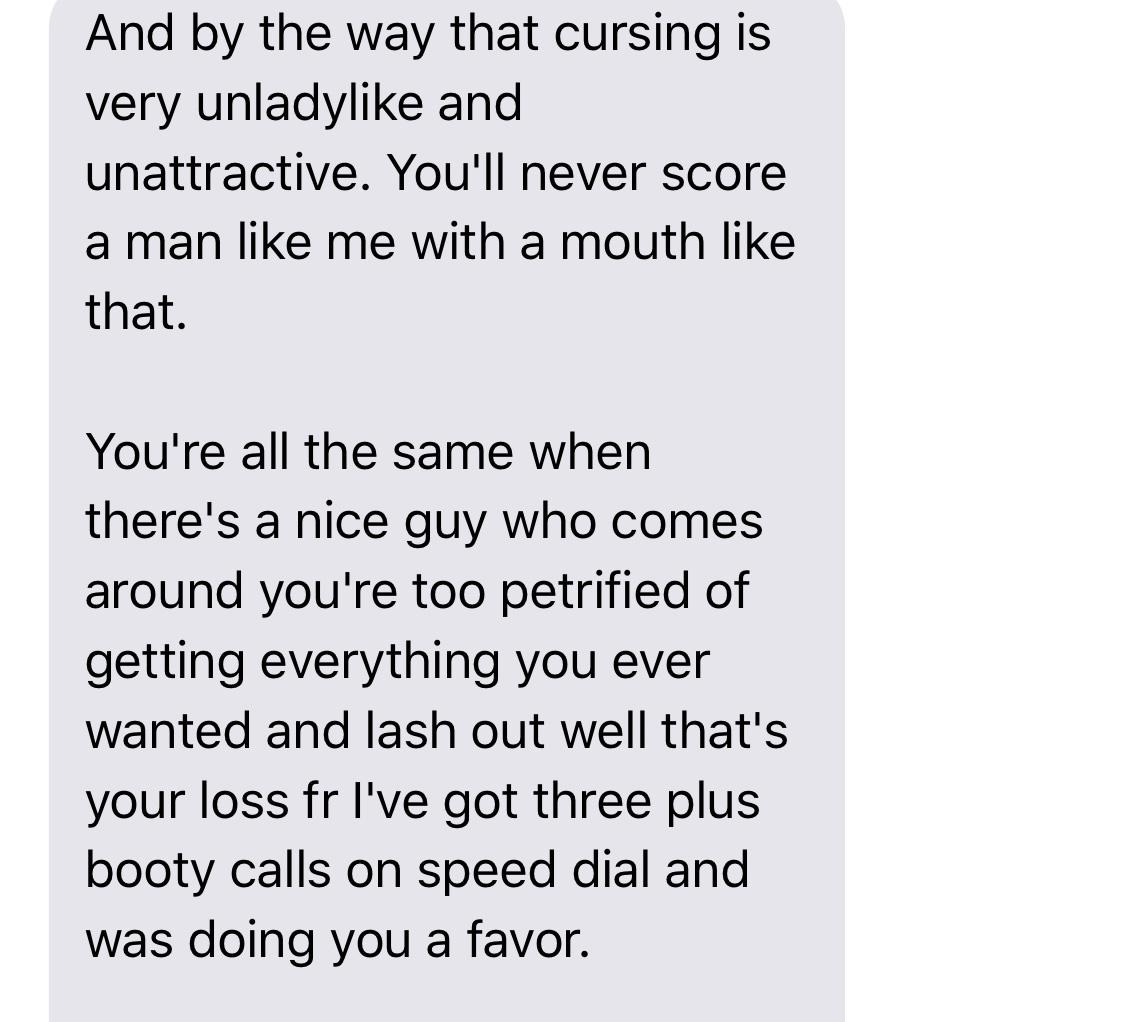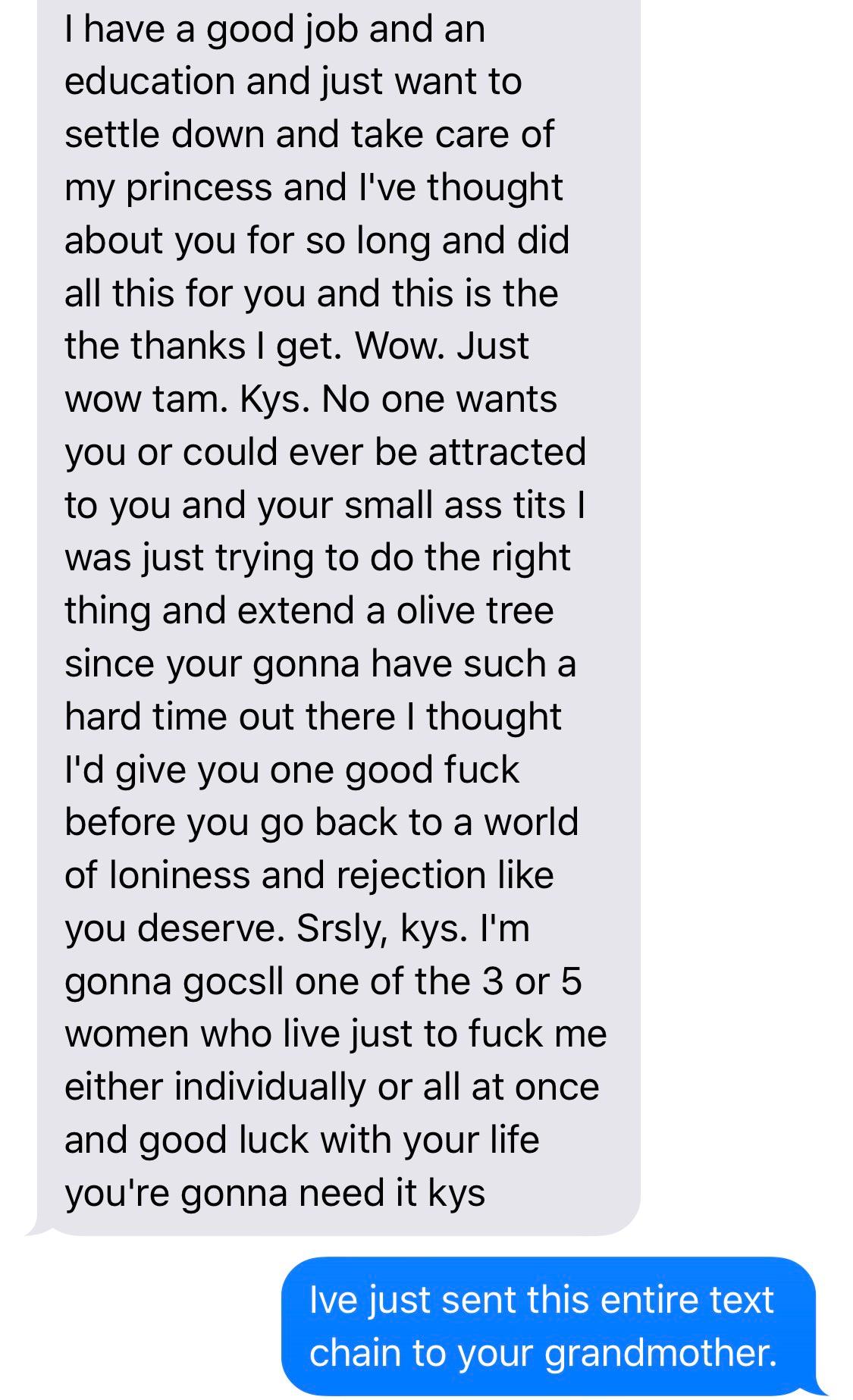 Tired of his BS, Tamira pulled the ultimate move and sent all the gross things he texted to her to his grandmother.
And she actually responded, and although she apologized she assured Tamira he was ultimately a "good guy."

I don't what the whole "uncourteously" comment was about (the dude literally messaged her out of the blue and exposed himself to her) and then went on an entire rant about how much booty he gets and how she would be lucky to have him.
I don't think "boys will be boys" is an appropriate response, hopefully Grannie teaches him some respect, but judging from her response to Tamira, I don't think Hank's going to learn his lesson any time soon. What do you think?