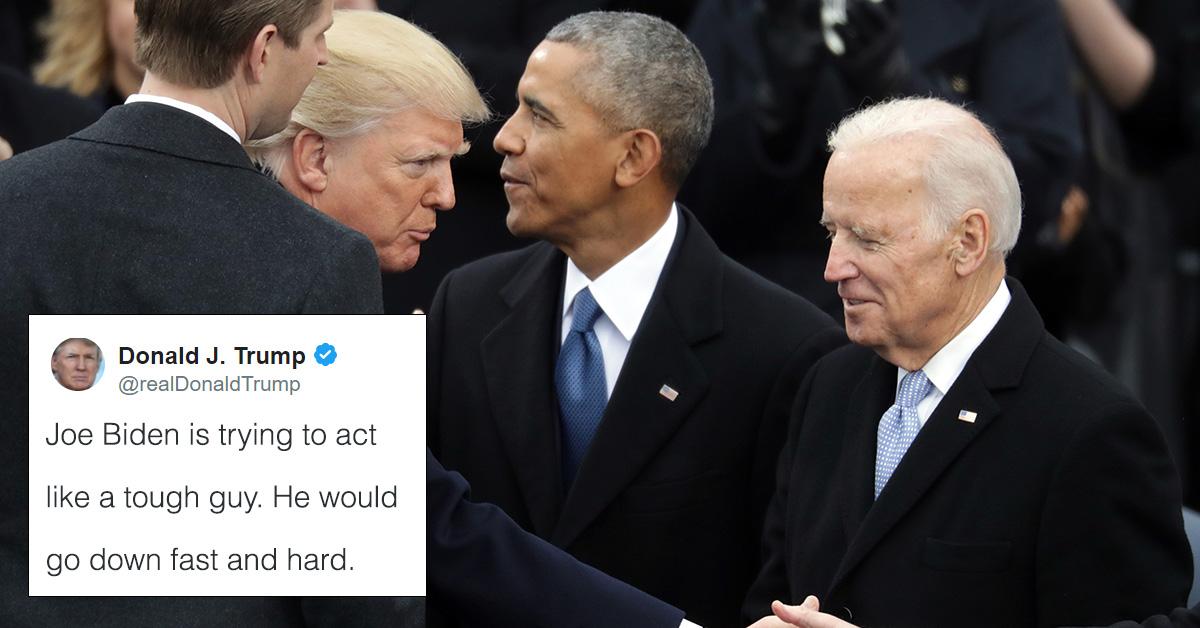 Donald Trump And Joe Biden Threatened To Fight And The Internet Is Picking Winners
By Mark Pygas
Former vice president Joe Biden attended the University of Miami for a speech on Tuesday, part of his nationwide anti-sexual assault campaign "It's On Us." And in reference to the 2005 Access Hollywood tape, in which Donald Trump seemingly bragged about sexual assault, Biden had the following to say:
"A guy who ended up becoming our national leader said, 'I can grab a woman anywhere and she likes it. They asked me if I'd like to debate this gentleman, and I said no. I said, 'If we were in high school, I'd take him behind the gym and beat the hell out of him.'"
And on Wednesday, Biden went all in, adding:
"I've been in a lot of locker rooms my whole life. I'm a pretty damn good athlete. Any guy who talked that way was usually the fattest, ugliest S.O.B. in the room."
"Did you see where Biden wants to take me to the back of the barn? Me! I'd love that. I'd love that. Mr. Tough Guy. You know, he's Mr Tough Guy. You know when he's Mr. Tough Guy? When he's standing behind a microphone by himself."
Now, it seems almost certain. Why? After Biden repeated the remarks, now-President Donald Trump took to Twitter saying: "Crazy Joe Biden is trying to act like a tough guy. Actually, he is weak, both mentally and physically, and yet he threatens me, for the second time, with physical assault. He doesn't know me, but he would go down fast and hard, crying all the way. Don't threaten people Joe!"
You can probably see why people think there's going to be a cage match. It is worth mentioning that while Donald Trump took part in WrestleMania 23, Bob Arum, Hall of Fame promoter of Muhammad Ali and Manny Pacquiao, didn't fancy his chances against Hillary Clinton.
Unsurprisingly, people had mixed reactions to the latest drama. One user referenced the start of First Lady Melania Trump's campaign against cyberbullying.
Others just can't seem to believe how far we've come.
Who do you think would win?