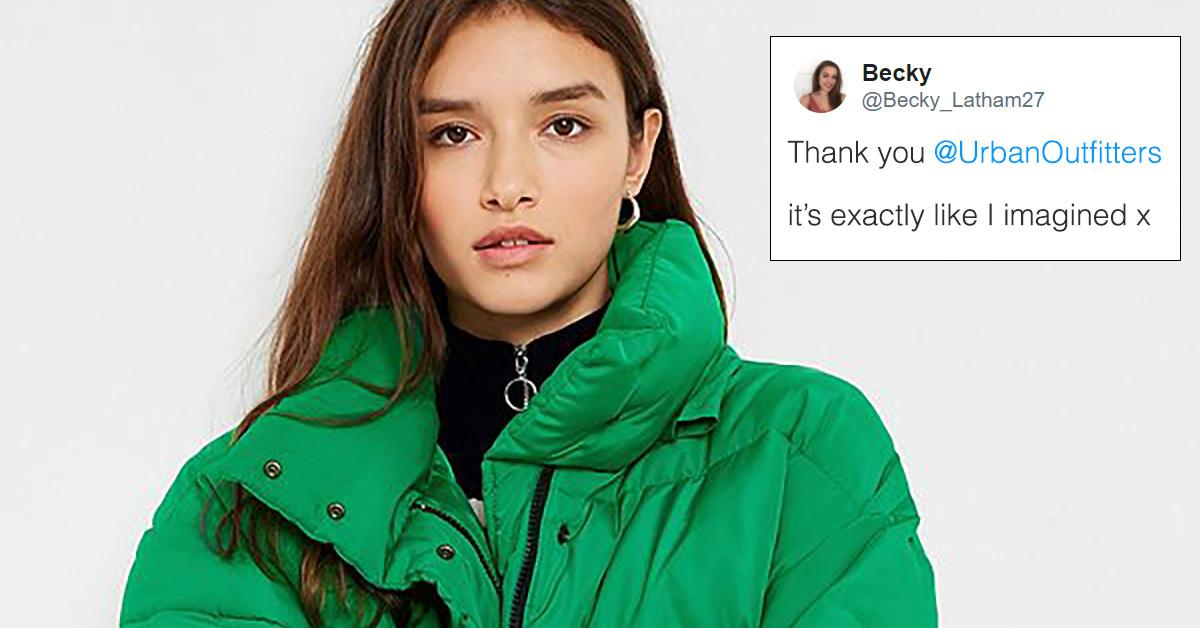 Woman Orders 'Puffer' Jacket Online And It Wasn't What She Expected
By Mark Pygas
You don't always get what you want when you order something online. Just ask these people. For some reason, clothing just looks ten times better online — we guess this is what happens when you can't feel the fabric, or you know, try on the item beforehand. Either way, sometimes there is no excuse for how far from the online image the product you actually receive is. Like, get it, we're not a model, but these pants should not be coming up past my ankles. And don't get us started on international sizing, and how you can go from being a medium to an extra, extra large in a blink of an eye. However, once you get over the frustration and accept how ridiculous you look in the mirror, it's actually pretty funny. And isn't that why free returns exist in the first place?
Anyways, Twitter user Becky Latham from the United Kingdom may be the latest victim of inaccurate photos, after she decided to order an Urban Outfitters jacket. It's gets cold outside and you need something extra warm so we can totally understand why she opted for not your regular puffer jacket but the surplus puffer jacket — vintage of course.
Here's the jacket in question, which looked like a bargain considering it was on sale for £55 ($77).
Actually, maybe not. Here's what she got...
Though some people saw it as an investment.
Others thought it was pretty retro.
This isn't the first time someone has regretted buying something online. This woman fell into the same trap as Latham.
While others didn't seem to take much notice of the dimensions.
At least it fits the cat.
This is just not accurate at all.
Always read before you buy.