This Wedding Venue Is 'Mortified' About Calling Bride-To-Be 'Cow' By Mistake
This wedding venue owner is mortified after a manager was caught calling a bride-to-be a "cow" in an email.
Life is full of moments where you want to stab yourself in the neck out of embarrassment. Getting caught saying something behind someone's back is one of them. Like when you're talking smack about a person via text and accidentally send that text to the person you're talking smack about.
Article continues below advertisement
Not cool. But the good news is that, since you're talking with a friend, you can either hash that stuff out and go back to enabling each other's bad behaviors or stop being friends entirely.
But if you get caught doing that when you're a business in the customer service industry that relies on having a good reputation with clients, then getting caught bad-mouthing people you shouldn't be bad-mouthing can be a big, big problem.
Which is reportedly what happened with The Mulberry Tree restaurant when Jade Sharp checked the venue out while she was planning her wedding.
Article continues below advertisement
Sharp posted about her experience with The Mulberry Tree on Trip Advisor. After getting drinks with her fiancé one night to get a feel for the place, they scheduled a time to meet with a representative from the venue to discuss potentially booking their wedding there.
Article continues below advertisement
When they arrived at their scheduled appointment time, things reportedly went downhill. Apparently, no one told the team about their appointment that day and the restaurant wasn't open for business. The entire exchange after that was an awkward one that left a sour taste in Sharp's mouth because the individual showing her the venue allegedly couldn't answer her questions.
Her Trip Advisor review tells her side of the whole story.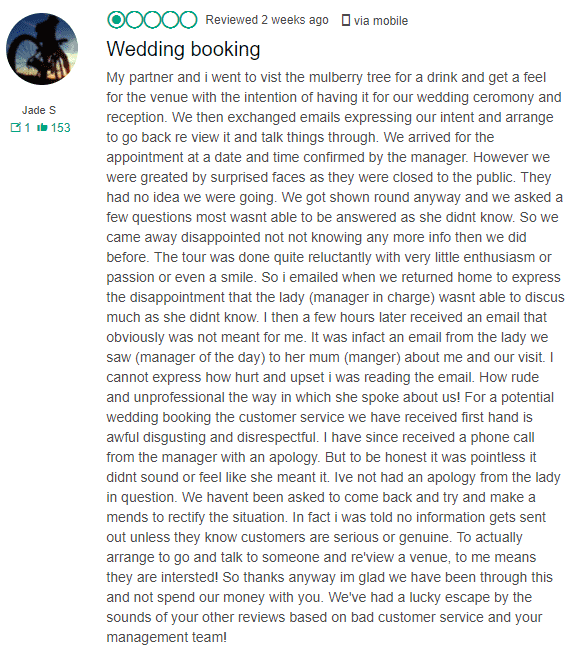 Article continues below advertisement
After following up with the restaurant via email, Sharp was shocked to see a response in her inbox that seemingly was meant for a work colleague. It begins with Jade being called a "cow," which is definitely not a great start. The writer says Jade never asked about prices but rather about food the venue ostensibly doesn't serve, which "pissed" her off.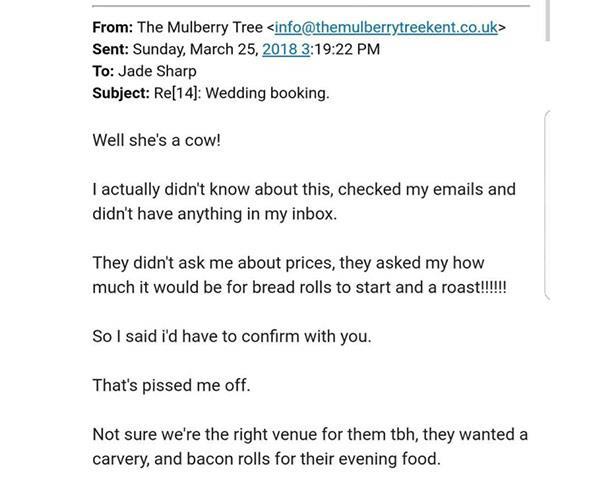 Article continues below advertisement
The email mix-up did little to improve Jade's opinion of the Mulberry Tree — in fact, it only further solidified her belief that the staff there are "rude and unprofessional."
The restaurant's manager, Karen Walker, responded on Trip Advisor, apologizing profusely to Jade's experience.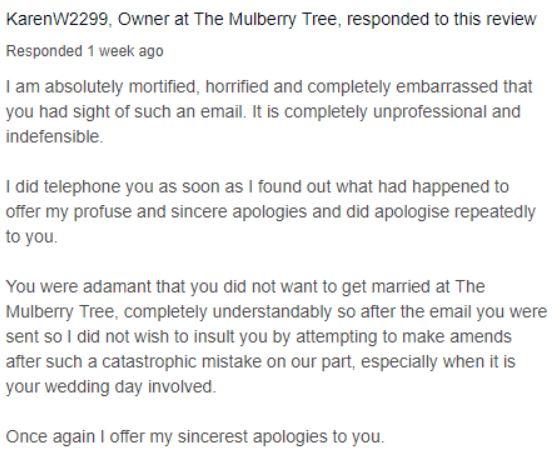 Article continues below advertisement
Before posting online, Karen also called Jade privately to apologize. As it stands now, The Mulberry Tree has a relatively good reputation online, but that all could change after a PR nightmare like this one.
Article continues below advertisement
However, despite a majority of overwhelmingly positive and 'very good' reviews when compared to "poor" and "terrible" ones. Jade hasn't been the only customer to complain about the rudeness of the restaurant staff.
A few users also complained that the food quality wasn't good enough to offset a surly server.
Article continues below advertisement
The theme among the negative reviews seemed to be in line with Jade's experience: rude staff who "were not really interested in your experience," and underwhelming food that was not hot enough, nor was anyone on the staff particularly interested in whether the guests were enjoying their meals.
Article continues below advertisement
Perhaps one of the most scathing comments came from someone who said their lunch at the restaurant was so awful, they were "better off going to KFC." Now, as much as I love their 11 herbs and spices, I think we can all agree Kentucky Fried Chicken isn't exactly the height of cuisine.
Article continues below advertisement
Another guest not only had a poor experience, but it happened to fall over the Christmas holiday, and it sounds like the staff, in particular the "lady in charge" made the experience a lasting one for all the wrong reasons.
Article continues below advertisement
There were only a few complaints about the quality of the food, with lots of people saying it was yummy. However it just goes to show how much a poor wait staff can affect the dining experience. After all, part of the appeal of going out to eat is feeling like a welcome guest, rather than an inconvenience. Otherwise, we'd all just go over to our moms' houses any time we wanted a decent meal out of the house.
Article continues below advertisement
While we'd never wish a small business anything but success in their community, here's hoping Jade's experience, along with some of the other dissatisfied customers, will help this country restaurant provide a better experience guests will want to enjoy again.
And let's also hope they'll at the very least triple check who's CCed on their emails before hitting send because, seriously, YIKES.