Usually when a teacher gets a student in trouble, the parents side with the educator, because let's face it, they are usually right and the student was not behaving or breaking the rules. However, it's always refreshing when a parent takes the side of a their kid who is clearly just having a bad day, or even worse, the teacher is being way too petty. And better yet, when the whole reason their kid got into trouble in the first place is because of their parents.
Writer Seann Walsh was going through some old papers when he came across a letter his dad faxed (yes, faxed) to his school after he got in trouble one day for violating the dress code. It has people screaming:
It reads:
Sean tells me you have confiscated his sweater. He tells me that in class he conforms to the school uniform. He was absent from school on Monday because he had a cold, so travelling on Wednesday without his sweater was not too clever.
He told me that the jacket he wears normally is acceptable, but it was stained, therefore he could not wear it. His mother was in Cyprus last week on a break and I, unfortunately, was not able to use the washing machine. Sean was too embarrassed at having a father who cannot use a washing machine to say this.
Anyway my point is: Isn't this just a little bit petty? life's hard enough.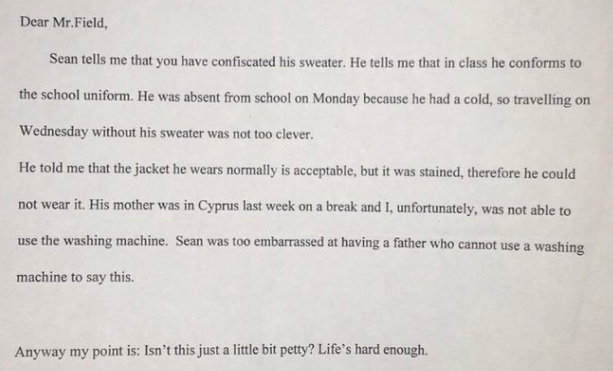 Everyone is applauding Walsh's pop for telling it like it is:
And also letting both Walshes know that schools are still petty most of the time by sharing their own stories of annoying interactions with the administration:
But, also, here's a good question:
Maybe Mr. Walsh the Elder got sent home before Home Ec class?