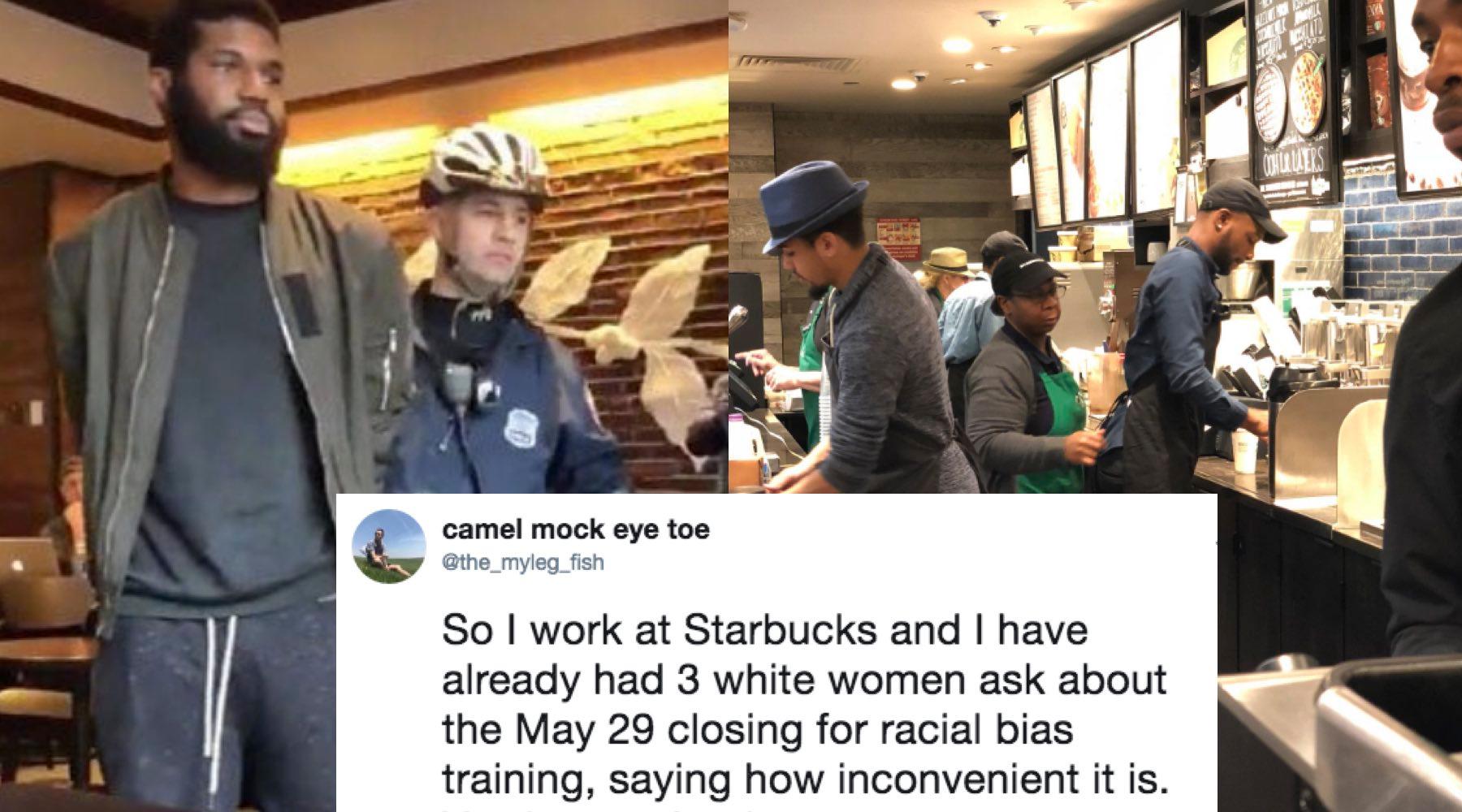 White People Are Having The Wrong Reaction To Starbucks Closing For Racial Bias Training
By Aimee Lutkin
About a week ago, two men were arrested in a Philadelphia Starbucks as they waited for a third friend to arrive and order drinks with them. ABC News reports the manager called the police, saying they were "refusing to make a purchase."
Video of the event sparked outrage, protests, and calls to boycott Starbucks:
Good Morning America's Robin Roberts had the two men, Donte Robinson and Rashon Nelson, in for an interview about what the fallout of their experience has been like.
Nelson said that when he walked in, he asked to use the restroom, but was refused, because he was told they were for paying customers. He says he "left it at that." He then joined Robinson at a table. An employee approached them where they were seated and asked if she could help with anything. Both men say they were never actually asked to leave, only that they couldn't use the restroom without buying anything.
Both were shocked when the police showed up.
"Initially, as soon as they approached us, they just said we have to leave," Nelson said. "There was no question of, 'Was there a problem here between you guys and the manager?,' No 'What happened?'"
"After the first time they walk over and said 'you have to leave,' I say 'we're here for a meeting,'" Robinson explained. Robinson offered to call the person they were waiting on, but was allegedly ignored. They were then put in handcuffs, reportedly without being informed as to why they were being arrested.
"We weren't read any rights, nothing" Robinson said. "Just double-locked, handcuffed behind our back, and escorted out and put in a squad car."
Starbucks CEO Kevin Johnson has said that the incident was "completely inappropriate" and "reprehensible." Johnson offered a personal apology to Robinson and Nelson, and the company decided they'd be closing all of their locations on May 29 so employees could receive racial bias training.
"While this is not limited to Starbucks, we're committed to being a part of the solution," Johnson said. "Closing our stores for racial bias training is just one step in a journey that requires dedication from every level of our company and partnerships in our local communities."
Since the announcement, things have been somewhat fraught at Starbucks. Twitter user @the_myleg_fish (who says they're in Ohio) shared what it's been like working behind the Starbucks bar as May 29 approaches. Basically, white people are being extremely insensitive:
One day without Starbucks is something you can deal with, Becky.
Kelli R. Parker, who works for the New York Daily News, wrote to people considering a Starbucks boycott. As she says, the problem isn't the company, the problem is racism:
There are people who don't think the racial bias training will do much, but at least agree that Starbucks is trying to do something about a persistent issue:
It's also important to consider how many people work for Starbucks, and who will have a day to either learn something new or share something of their experience. It could potentially make a huge difference if every franchise in America shut down for a day and had a serious educational workshop on racism.
And if that means you have to make coffee at home one morning, so be it.