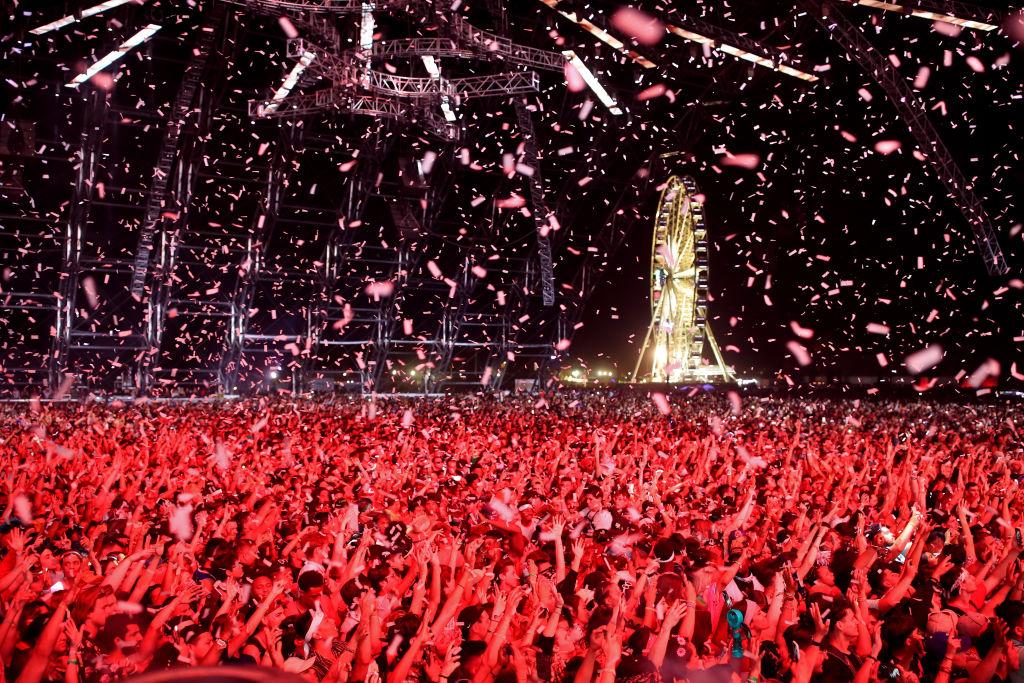 21 Moments From Coachella Nobody Told You About
By Pippa Raga
Over the last two weekends, we all sat in awe while Beyonce rebranded Coachella into Beychella. From General Admission to Free IP (aka the YouTube live stream), the world was able to witness the most exciting performances in real time. Coachella happens less than Fashion Week, but more than Christmas, giving festival goers and celebrities the option to fully indulge in the desert. The VIP area (complete with golf carts and craft services) is a good place to see industry heavyweights unplugged and up close.
Here are a few of the hottest, most iconic, moments from off stage that made us all a little sad we missed the history making desert fantasy that was Coachella 2018.
1. Rihanna and Teyana Taylor
The desert is a mystical place. After years of rumored feuding, like the dust, the past blows away.
2. Diddy and French Montana
Every time I see Diddy I wish I was a Ciroc Star. Weekend one is always the most lit. I call this Diddy does the desert.
3. Cardi B and Kehlani
Invasion of Privacy is breaking records left and right. With all of Hollywood's blessing a very pregnant Cardi B lit up both weekends with my personal fave Kehlani looking so chic!
4. Chloe x Halle, SZA and Sage
The VIP area of Coachella is like a who's who of right now. Cultures clash as guitars wail, you never know who you will encounter. We see the "Art Hoe" collective out at Coachella!
5. Princess Nokia and Friends VIP Area
New York's underground darling has had an exciting and well deserved rise "above ground." Who can resist that infectious smile, the eyes knowing she will headline Coachella someday!
6. Haim giving full fashion-desert fantasy — the REAL desert chic
Year after year we suffer through fashion bloggers appropriating and abusing trends. Haim is serving a full desert fantasy with Italian flare and California Dreams. No gladiator sandals and no floral crowns necessary.
7. Queen B and Jennifer Hudson
"IS THIS A DREAM GIRL?" -Everyone after Beyonce' s Set
8. 50 Cent's Guest Appearance in Eminem's set
Going to Coachella is not cheap. If you are the type to pay general admission, you can think of guest like 50 Cent as an added bonus. These two together again makes those who were 18 year olds in the aughts too hype!
9. Nile Rogers and Trevor Noah
Chic played Coachella! CHIC! Nile Rogers is too cool and seemed to have a blast with T. Noah.
10. Snoop Dogg and Bella Hadid at Levi's event
Snoop Dogg's Instagram is the stuff dreams are made of. While there is a full schedule on the festival grounds, the after parties, and off site events are really where the fun is at!
11. Miguel, Quin, Khalid, 6lack
Coachella was giving lots of Wakanda vibes this year.
12. Odesza at the Pool before the off-site DJ set
Have we talked about the heat? I mean, the pool is the only way to survive. Good thing Coachella has no shortage of pool parties, which often feature DJ sets from festival artists
13. Lion Babe, Vanessa Williams, Sasha Fox Generations of strong women
Lion Babe, daughter of the super legend Vanessa Williams, caught the attention of the zeitgeist with her hit "Treat me like Fire" a few years ago and I'm glad to see she's still burning up and serving us an evolved level of Mahogany glamour.
14. Ariana Grande and Kygo Backstage before her surprise appearance
Ari showing up to premiere her new track with Kygo must have caused teenage mosh pits, and glitter fits. The video, complete with a wall of lips, is a summer anthem in the making!
15. The war on drugs and Snoop Dogg "Blurry Nights"
After the final act, the festival grounds close down.
16. Kali Uchis redefining Desert Style as well
Everyone says Coachella happens in the desert but it's also an ancient ocean bed.
17. Kelela riding in the VIP cart backstage
The perks of the VIP bracelet are full on. The festival is huge and traveling behind the scenes can take a lot of time. Kelela is riding like the queen she is, probably to Kraft Service's! Backstage at Coachella again showing the practical as fantastical.
18. Moses Sumney and Fans
Moses Sumney is another future Coachella headliner. The ambient desert, day time trip we see here enjoyed by both artist and audience is very characteristic of the day time performances. As the night builds, the collective crescendo turns from sweet to sweetly sinister.
19. Jay Versace and The Black Madonna
The joy shared amongst the artist shows that support and camaraderie still exist in the desert sun.
20. Jorja Smith Ready for the Night
Performing at Coachella must be such a huge rush. The anticipation and the months of preparation leads to a cathartic release and a VIP celebration. No night would be complete without a party dress, and Jorja is clearly here to have fun in her printed mini and sneakers!
21. Dej Loaf looking like a coachella goddess in a visor with sunflower
Thousands of people fill the desert every year looking to connect with new people and their favorite artist. In the midst of all , it's nice to see that celebrities still take time to connect with the simple things and continue to share the small pieces of themselves with us.