If you have been living under a rock, you may not know that Kanye West has been firing up Twitter with incessant tweets about how much he apparently loves President Donald Trump. Like loves Trump more than Kanye loves Kanye, which we didn't think was possible. Kanye calls this "free thinking."
And Donald Trump loves it, of course:
It got so bad that Kanye's wife, Kim Kardashian, called to have a little intervention, which he promptly reported to his followers:
And she tried to defend him herself, to mixed results:
But he has only doubled-down, advertising his signed MAGA hat:
A lot of celebrities and friends of Kanye don't know what to say, but seem to want him to stop:
Two close friends of Kim and Kanye are John Legend and Chrissy Teigen. John wrote a measured reflection on the situation on his Twitter, but he didn't mention Kanye by name:
In private, Legend was apparently reaching out to his old friend. But it didn't stay private for long. Kanye screenshot their alleged text exchange and put it on Twitter:
In his message, Legend writes that he hopes Kanye reconsiders aligning himself with Trump, because he has enormous influence with his fans. He wants him to know how Trump's policies have particularly hurt people of color, and that it's a betrayal to them to back this administration. Kanye dismisses this as "manipulation."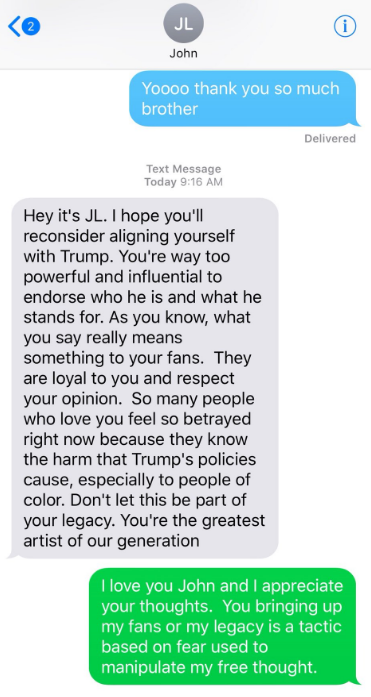 Teigen also wrote on Twitter that she is getting messages to intervene with Kanye, and wants to make it clear that they have been trying:
Yes, sometimes it does end up on Twitter, which Legend decided to take advantage of: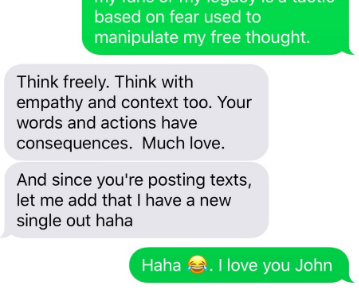 This seems like a painful situation, but everyone appears to be trying to make the best of it: